Macron: the truth beneath the veneer
Why British journalists are wrong to swoon over the French president.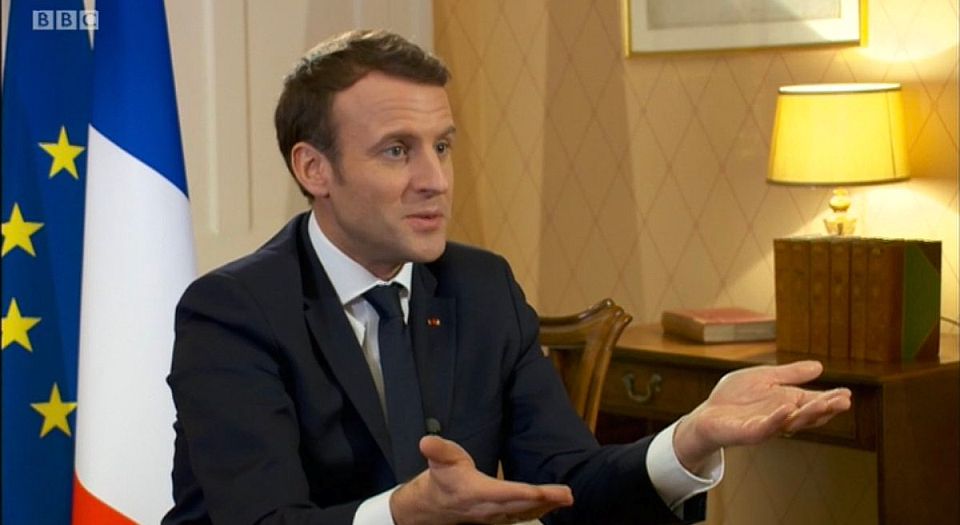 Us Brits have long been enthralled by French style and savoir-faire. So when the Emmanuel Macron show rolled into town last week, it's not surprising many were looking forward to a bit of Gallic panache. The French president didn't disappoint. Even before he arrived the media were lauding his flair for diplomacy following his promise to loan the Bayeux Tapestry to Britain.
Photos from Macron's visit, to discuss the Franco-British entente cordiale post-Brexit, showed him smiling charmingly at the staff in the gastro-pub he was about to eat in with Theresa May – not something many Frenchmen are able to pull off when faced with the prospect of British food. And then there was the grinning selfie surrounded by young people taken in the Victoria & Albert Museum – a reminder of how youthful and social-media savvy Macron is.
The final round of his charm offensive came when he was interviewed by Andrew Marr. Commentators were falling over themselves to sing his praises. 'My main emotion on watching that Macron interview on #Marr was profound embarrassment. Neither May nor Corbyn engage with interviewers that deeply & fluently – and English is their first language', tweeted one. 'Without going all fanboy, @EmmanuelMacron is a class act. Engaging and interesting interview with @AndrewMarr9. If only British politics could throw up someone similar', read another tweet. 'Macron speaking English with that accent…', another swooned.
Certainly, it was refreshing to see a politician answer a direct question with a direct answer. And surely no one was surprised to see that Macron demonstrated more charm than Theresa May? A sock-puppet has more charisma. Macron is undoubtedly a polished politician: engaging, youthful, always snappily dressed. But this is the striking thing: these are all matters of style; it is his words and actions that merit greater scrutiny.
The most shocking part of the Marr interview was when Macron admitted that, had there been an EU referendum in France, the French people would 'probably' have voted to leave. He is evidently well aware of the Euroscepticism in his own country and cannot be blind to the growth of this sentiment across many EU countries – and yet he is still pushing ahead with his plans for a more integrated Europe.
Towards the end of last year, Macron made clear his vision for the EU, which, according to his proposals, would include a finance minister, a budget and a parliament for the Eurozone. He also raised the idea of a European army and talked about the idea of a multi-speed Europe which could find a place for the UK again. He reiterated these ideas during the Marr interview and said his vision for Europe was 'more sovereignty, more unity, more democracy'.
His stance is confusing. If democracy is so important to him, then it would make more sense for him to listen to French citizens' views on the EU and act accordingly. Instead, he is ignoring the Euroscepticism in his own country and barrelling forward with his expanded EU agenda. Similarly, it is laughable to promote sovereignty as an EU value when the EU consistently tramples over the sovereignty of its member countries – just look at how the EU is threatening Poland's government with Article 7 if it doesn't reform its policies to fit in with EU values.
On Sunday, Macron met German chancellor Angela Merkel in Paris, where they discussed their planned EU reforms. In a joint statement, they said: 'We want to consolidate and renew our cooperation with a view to moving ahead with a prosperous and competitive Europe, more sovereign, united and democratic.' As evidenced by the success of Alternative für Deutschland in last year's German election, Euroscepticism is also on the rise in Germany, yet Merkel, too, seems bent on ignoring it.
Brexit was not indicative of a 'problem' unique to the UK. If anything, it highlighted how far the Brussels cliques have drifted from the peoples of Europe. Subsequent elections in Austria, the Czech Republic and Germany have seen a rise in votes for Eurosceptic parties. And that's the case in France, too – or has Macron forgotten who he faced in the second round of the presidential election? By his own admission, his own nation would 'probably' vote to leave the EU. If Macron really cares about democracy, now would be the time for him to listen to his people, ideally by having a referendum on membership of an institution that many French people and other Europeans consider to be anti-democratic and aloof.
It is easy to get blindsided by Macron the smooth operator; by a politician who comes to visit bearing gifts, looking stylish, smiling at all the right moments and who can talk confidently in front of a camera. But all the elegant suits in the world won't remedy his hypocrisy when it comes to the EU and the question of genuine democratic engagement.
Naomi Firsht is a spiked columnist and co-author of The Parisians' Guide to Cafés, Bars and Restaurants. Follow her on Twitter: @Naomi_theFirsht
To enquire about republishing spiked's content, a right to reply or to request a correction, please contact the managing editor, Viv Regan.