The one where millennials don't have a sense of humour
Applying PC standards to sitcoms is a surefire way to kill comedy.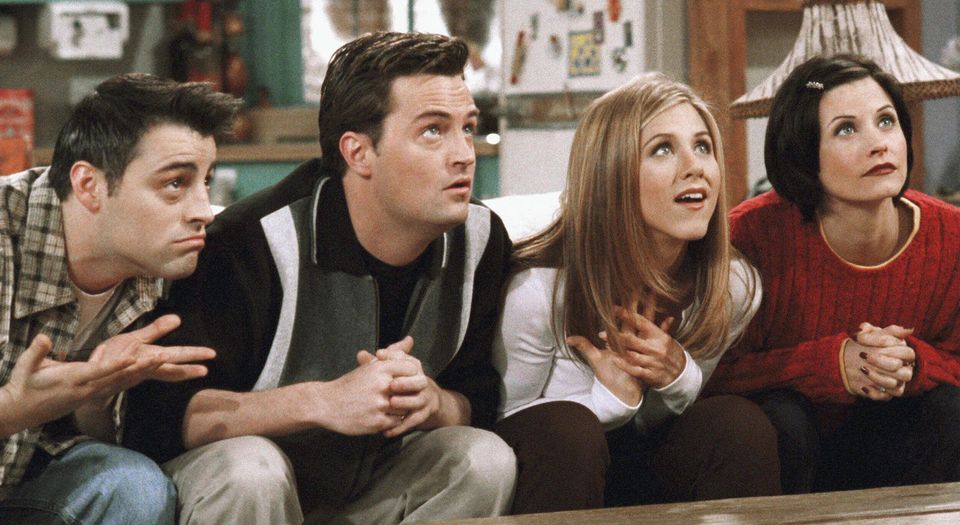 January can be a bleak, joyless month. Bank accounts are low, masochists take part in 'Dry January', and everyone is on a diet. Thank goodness, then, for a bit of light relief courtesy of Netflix, which has added the Friends boxset to its library for UK users. It has certainly brightened up the start of my 2018, but sadly not everyone else's.
Friends had a 10-year run from 1994 to 2004, and reruns were ubiquitous for years afterwards. But for some millennials – presumably the youngest ones, because how on earth could anyone else have missed the constant reruns? – the boxset on Netflix is the first time they have watched the show. And they find it 'problematic'. That's right: problematic. To misquote Chandler, could there be a more millennial word?
Friends' critics took to Twitter to denounce the show for being sexist, homophobic and transphobic. Some even claim it was racist given its lack of ethnic-minority characters. Naturally, some commentators have jumped in to sympathise with the offended millennials and prove their own right-on credentials.
An article in Cosmopolitan describes a 'shovel-load of homophobic commentary around Ross and his relationship with his soon-to-be ex-wife, Carol', accuses the show of 'fat-shaming' over jokes aimed at Monica's character having been an overweight teen, and says the jokes concerning Chandler's drag-queen father amounted to a 'sub-plot of transphobia'.
Appearing as a guest on Emma Barnett's show on Radio 5 Live, writer Rebecca Reid said: 'The sexism's pretty rampant as well… [and] it's the whitest show in the whole world.' She complained about the show's 'staggering' homophobia and Joey's 'perviness'. Although she can't have been too offended as she then went on to say she would continue watching until she had completed the boxset, admitting, 'I do sort of love it'.
By far the most ludicrous criticism has been the questioning of the appropriateness of the relationship between Monica and Richard Burke, a character 21 years her senior, given the current Weinstein allegations. I only hope these critics never come across an episode of South Park – the shock might kill them.
For Friends is surely one of the most anodyne sitcoms of the 20th and 21st centuries. You really would have to try extremely hard to be offended by it. Most of the criticisms show a complete misunderstanding of the jokes in the show. Lesbians are not the butt of jokes about Ross's ex-wife Carol – Ross is. And as far as I was aware, Chandler's father was not a transwoman – he was a cross-dresser. And, played by the formidable Kathleen Turner, he had plenty of zingy one-liners, and was far from a ridiculed character.
As to the lack of diversity – well, this was probably a fairly accurate representation of the social circle of white middle-class twentysomethings in New York at the time. But even if it wasn't, why must a work of fiction reflect reality? As for the fat-shaming of Monica, what can you say? The writers clearly recognised that Courtney Cox dancing in a fatsuit would generate a lot of laughs. When you're writing a comedy, that's usually what you aim for.
You do not create great comedy by running through a PC checklist of groups that must be represented and not offended. And yet some millennials have taken it upon themselves retrospectively to apply their own PC standards to TV shows from our not-too-distant past. Last December, a couple of American writers created the social-media meme Woke Charlotte to tackle what they saw as 'problematic dialogue' in Sex and the City (SATC). The meme involved photos of the SATC character Charlotte looking appalled at what other characters had said about subjects like transgender prostitutes and bisexuality. Written across the photo would be a specially crafted 'woke' response. One such meme has Charlotte telling Samantha to 'check your cisgender privilege' when Samantha says her neighbourhood is 'trendy by day and tranny by night'.
Even the recently returned series Will & Grace, which centres on the odd-couple relationship of a gay man and a straight woman, has not been spared and has been accused of promoting gay stereotypes.
Tellingly, one of the creators of Woke Charlotte told Nylon magazine: 'One of the takeaways we want the audience to have is that just because you love something, you shouldn't let it off the hook… This goes for beloved 1990s sitcoms, but could also apply to racist grandparents.' Well, thank goodness the 21st-century moral crusaders are here to save us from laughing at comedy that they find 'problematic'. Because as we can clearly see, being entertained by shows like Friends and SATC basically makes you a racist.
Perhaps this minority of people keen to lecture society on what they should and shouldn't find entertaining really do believe they're putting the world to rights. But to the rest of us they just seem like sad, joyless individuals, devoid of humour.
There is no value in holding up a piece of art to today's PC standards, because that is absolutely no way to measure its worth. Friends was successful because audiences found it funny. Watch the episode where the gang try to get a sofa up a staircase, or the one where Ross gets stuck in his leather trousers, and you might find you agree.
The great Mel Brooks said: 'We have become stupidly politically correct and it is the death of comedy… Comedy has to walk a thin line, take risks. Comedy is the lecherous little elf whispering in the king's ear, always telling the truth about human behavior.' He's right. Prioritising political correctness would kill comedy. The morality police want comedy writers to question themselves over whether their creation is PC or not, but the only question comedy writers should ask themselves is this one: is it funny?
Naomi Firsht is a spiked columnist and co-author of The Parisians' Guide to Cafés, Bars and Restaurants. Follow her on Twitter: @Naomi_theFirsht
Picture by: Getty
To enquire about republishing spiked's content, a right to reply or to request a correction, please contact the managing editor, Viv Regan.