Turning the army into a Safe Space
The British army's latest ads spell the end of the warrior ethos.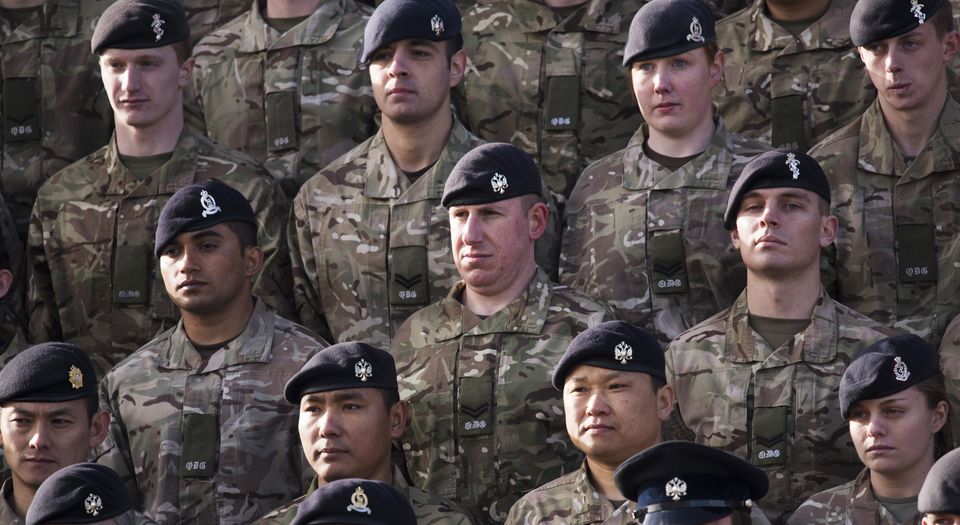 The British Army's new advertising campaign unwittingly highlights the crisis of this institution. Its ads seem keen to present the army as a Safe Space, where people's feelings and identities will always be affirmed and they will not be subjected to the kind of pressures normally associated with a military outfit. The message seems to be: 'We're no longer really an army, so sign up and have a nice, easy life.'
In line with today's celebration of emotionalism, the recruitment campaign tells would-be soldiers it's 'okay to cry'; it's cool to emote in public. Unlike older recruitment campaigns, this one downplays the physical and mental attributes that are usually associated with soldiering. Instead of emphasising excitement and adventure, it focuses on psychological validation and empathy. It all suggests that the army thinks emotional vulnerability will be the default characteristic of new recruits. So one of the feelgood ads shows a tearful soldier in a jungle opening a letter from a loved one; his mate affirms his emotions and offers him a cup of tea.
The flipside of this focus on the emotional is a self-conscious downplaying of the importance of physical fitness in those who join the army. One advert asks the question, 'Do I have to be a superhero?', and then implicitly answers with a firm 'No'. It features a lad who confesses that he is physically unfit but who later manages to gain some strength, with the help of his mates. The campaign's subliminal message – that it is okay to be soft – makes it look like an appeal to join the Brownies or the Cubs.
As it happens, no army ever expected new recruits to be 'superheroes'. So why this keenness to reassure would-be soldiers that it's fine for them to be regular lads and lasses? Because this is about distancing the army from its traditional association with the values of heroism, courage and valour. The emphasis of this strange public-relations exercise is on the ordinary and banal, not the extraordinary or brave.
The army has justified its campaign as a necessary response to its current recruitment crisis. It says its traditional recruitment pool of white men has diminished over the past 10 to 15 years, so it needs to reach out to wider sections of society. The army is portrayed as an all-inclusive institution where people can openly discuss their sexuality and practice their religion. One ad, titled 'Keeping my Faith', shows a Muslim soldier kneeling in prayer while his comrades turn down a crackling radio so that he can carry out his religious duties undisturbed.
Some have criticised the campaign for its one-dimensional focus on reassuring Muslim, gay or physically unfit recruits, claiming this panders to the fashionable ethos of diversity. But this overlooks the real issue at stake. The army should be open to people from all kinds of backgrounds. The real problem with this campaign is that it presents military life as a Safe Space where everyone can feel comfortable. And in doing so, it unwittingly lowers expectations of what it means to be a professional soldier. Instead of appealing to young people's quest for adventure and their sense of idealism, courage and duty, the army is trying to replenish its numbers by appealing to those who might be put off by such a hardcore militaristic outlook or image.
The recruitment drive, which its creators refer to as the 'Belonging Campaign', makes no attempt to explain the actual purpose of an army. It avoids spelling out just what kind of people might be suitable for a life of professional soldiering. Anyone watching these ads could be forgiven for not knowing that being a soldier involves fighting against, and sometimes killing, the enemies of one's country.
In one sense, the Belonging Campaign represents an important departure from previous public-relations initiatives by the army. Its implicit promotion of the Safe Space ethos and mawkish celebration of emotional vulnerability suggests the army has more or less given up on the values associated with the warrior ethos – at least publicly. But in another sense, the campaign can be seen as only the latest version of an effort to sell military life as little more than a sensible career choice for people looking to improve their skills and prospects. Over the past decade, recruitment material for the army has boasted that army life can equip people with skills and qualifications that can be easily transferred into civilian life. Such material always focuses on what recruits will get out of the army rather than on what is expected of the soldier him or herself.
For some time now, the army has tried to gain recruits by presenting itself as just another skills-and-training institution. It has downplayed military values and objectives. But now it has gone a step further. Now it explicitly distances itself from the values of a fighting force. It seems the only thing that distinguishes it from normal civilian institutions is that it expects its employees to wear a uniform and maintain a modicum of discipline.
This trend for turning the army into a borderline civilian institution speaks to a serious identity crisis. There is now very little cultural validation for the risky and sometimes dangerous actions soldiers often have to take. In recent decades the military has bought into the culture of risk-aversion that afflicts society more broadly. The ethos of safety has been institutionalised within the military. Army commanders have to draw up risk assessments for every aspect of soldiers' training. Some have stopped testing soldiers to their limits lest they inadvertently contravene health-and-safety rules. General Sir Michael Rose, former head of the SAS, has spoken out about the destructive impact of risk-aversion on the morale of the military. He has denounced the 'moral cowardice' that has brought about what he calls a 'most catastrophic collapse' in the military ethos.
What the Belonging Campaign has failed to grasp is that people do not simply want to belong – they want to be part of something that is meaningful. People will join the army if they feel this institution has some purpose, and if its values inspire and move them. People are prepared to expose themselves to the risk of battle if they feel that something important is at stake, and that their contribution will actually mean something. Unless the army can provide recruits with values that inspire them, and a way of life that has real meaning, then the recruitment crisis will drag on.
The Belonging Campaign is looking in the wrong places with these ads. Young people who want to settle into a Safe Space and never be challenged or confronted are unlikely to join an institution known for placing people in combat zones. The only beneficiary of the Belonging Campaign is the public-relations outfit that was commissioned to produce it.
Frank Furedi is a sociologist and commentator. His latest book, Populism And The Culture Wars In Europe: The Conflict Of Values Between Hungary and the EU, is published by Routledge. (Buy this book from Amazon(UK).)
To enquire about republishing spiked's content, a right to reply or to request a correction, please contact the managing editor, Viv Regan.