The real problem is plastic politicians
It is MPs' nonsense war on plastic that should be thrown away.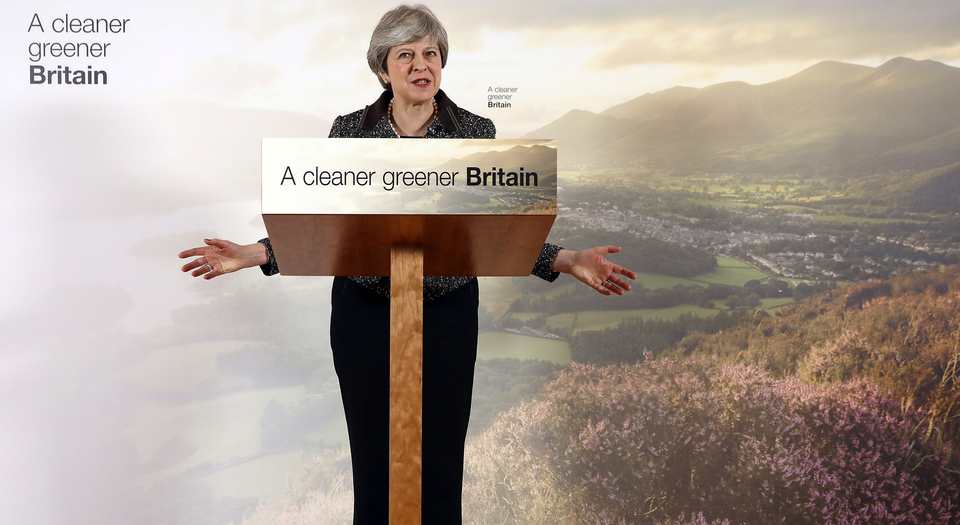 Last week, Theresa May declared an end to the 'throwaway culture' of waste plastic. It is 'one of the great environmental scourges of our time', she said, announcing the government's '25-year plan to improve the environment'. May's new policies, which include the expansion of the 5p plastic-bag levy to all shops, are being heralded as pioneering.
Unveiling such petty regulation of the management of refuse would previously have been the responsibility of some lowly junior at a yawn-inspiring department. It would not be announced by the prime minister with such fanfare, nor would it be splashed across the frontpages of newspapers. May should have more to worry about than plastic forks.
But this is what politics has become – the pointless management of daily life. Attempting to outdo the banality of May's announcement, Scotland's environment secretary, Roseanna Cunningham, announced that Scotland would be the first in the world to ban cotton buds with plastic stems.
May's green turn isn't surprising. Green NGOs, politicians and journalists have long been pushing the idea of a plastic apocalypse. The BBC's flagship nature series, David Attenborough's Blue Planet, featured the plight of marine mammals at the hands of plastic waste. May's environment secretary, Michael Gove, tweeted that he had been 'haunted' by the programme and vowed to 'identify further action'. May's announcement similarly echoed those images: 'This plastic is ingested by dozens of species of marine animals and over 100 species of sea birds, causing immense suffering to individual creatures and degrading vital habitats.'
It is true to say that plastic in the seas causes harm to animals. But there is no link between the use of plastic in Britain and the damage Attenborough, Gove and May are talking about. There are stringent civil and criminal penalties for littering and the illegal dumping of all forms of waste. No refuse is dumped at sea. Even an outright ban on plastic bags in the UK wouldn't benefit turtles. 

Though the amount of 'avoidable' plastic waste produced each year seems large, it actually amounts to very little of the waste produced by us 65million Brits in total. When it announced the plastic-bag levy, the government explained that the 7.6 billion supermarket plastic bags used in England in 2014 amounted to 61,000 tonnes of rubbish. But, in all, around 200million tonnes of waste is produced by the UK each year. Most plastic is recycled, and any that isn't is sent to landfill, not the sea.
Despite all this, the idea that we are dumping tonnes of plastic in the sea persists. So too does the idea that using plastic is both 'avoidable' and 'unnecessary'. The amount of plastic we use may seem excessive, but we forget that it allows producers and suppliers to get products on the shelves. There is little evidence to suggest that alternatives to plastic packaging would yield any benefit, either to the environment or to the consumer.
The question, then, is why are our politicians panicking about plastic? Because like so much green politics, this issue gives politically and intellectually bankrupt politicians some moral authority, a sense of higher purpose. What's more, politicians are now terrified of, and in hock to, green NGOs and journalists. Gove's predecessor as environment secretary, Owen Patterson, lost his job after a sustained campaign of green whinging about his use of the term 'green blob' to describe the overbearing ecological clergy.
Plastic is not the detritus of a throwaway culture, drowning in its own filth. It is one of the most useful substances ever created. Plastic protects almost all groceries from damage, pests, contamination and decay, ensuring clean and safe food with a longer shelf life. Plastic also provides the structure, casing and functional components of many of the devices we use. Without plastic, we would need to turn to more expensive, less useful and more scarce natural resources.
Despite its unrivalled utility, plastic isn't a sexy material. Like many politicians, it is associated with being disposable, inauthentic and cheap. But it is plastic politicians that are the real scourge of today's world. Rather than permit their endless recycling, it's time to send these greens to landfill.
Ben Pile blogs at Climate Resistance.
Picture by: Getty Images.
To enquire about republishing spiked's content, a right to reply or to request a correction, please contact the managing editor, Viv Regan.