A backdoor assault on democracy
Keir Starmer would make the UK even more beholden to EU law.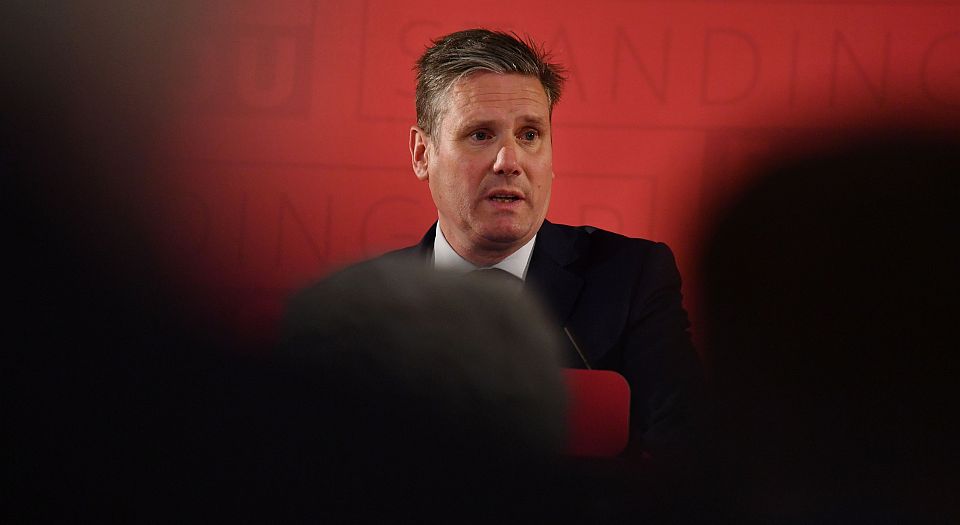 A bully gets his way by cowing opponents into silence: a lawyer, as often as not, by boring them into submission with ideas he hopes they won't understand. Last week's statement by Keir Starmer, Labour's shadow Brexit secretary and instinctive Remainer, on the EU Withdrawal Bill was a case in point. He called on the government to enshrine the EU Charter of Fundamental Rights in the legal system of the UK after Brexit, demanding 'a cast-iron guarantee in law that the rights contained in the charter will be given the same legal protection as those currently contained in the Human Rights Act'. Most people who heard him won't have had much clue what he was talking about. This is worrying because, when it's taken apart, what he said amounted to a direct assault on both Brexit and democracy.
The charter, with its comforting mention of fundamental rights, might sound like some kind of EU version of the European Convention on Human Rights, which we are a member of anyway. You might therefore think that incorporating it in the general law of the UK was no big deal. You would be wrong.
To begin with, while the charter currently applies here as part of EU law, we have an opt-out that largely neutralises it. Essentially, it is not binding except to control the activities of EU organisations and the application of EU law by UK bodies. Starmer's proposal to incorporate it in UK domestic law post-Brexit, if adopted, would cause it to be applicable generally, and thus ironically lead to a situation where an instrument of EU law will be more binding in this country after we exit the EU than it was when we were members.
Secondly, while part of the charter is indeed devoted to a reprise of the rights already in the ECHR in similar though not identical language (itself raising issues of duplication and confusion, but that's another story), it does a great deal more than that. It quietly creates numerous further and highly tendentious 'rights': a right to 'human dignity', tout court; a prohibition on 'eugenic practices' (whatever that means); a prohibition of discrimination, apparently even by private people, on grounds of social origin, property or birth; a right to vocational training; a right of access to a placement service (no, me neither); a right to social security; and so on. You don't need much imagination to see here an ideal wish-list for idle political manipulators who prefer persuading activist judges to order governments to do what they want to the dirty business of convincing a sceptical electorate that it is actually a good idea.
Note, too, the weasel words at the end: the 'same legal protection' as rights in the Human Rights Act. Now, for anyone who doesn't like democracy and prefers benevolent oversight by the bien pensants, the ECHR as applied by the Human Rights Act is the obvious go-to friend. Although strictly speaking parliament has the last word, in practice the respect accorded the words 'human rights' means that what the courts say ultimately goes and gets enacted, whatever the electorate may think about it. This matters. There are numerous cases where legislation democratically passed by the parliament has already been upset on this basis, including penalties for truckers carrying illegal immigrants into the UK, differential treatment of war widows and widowers, the detention of foreign terror suspects, prisoners' lack of the right to vote, and the bar on servicemen suing the government.
But at least the Human Rights Act, with its built-in bypass for the democratic process, only applies to the limited rights listed in the ECHR. What Starmer seems to want is a roving commission in the courts to play fast and loose with the decisions of parliament in a much wider context: the right to pronounce on such matters as the right to human dignity, non-discrimination, vocational training or whatever, with the usual unstated guarantee that the desires of the electorate should not be allowed to get in the way if a court decides that change is needed. And, of course, all in the name of the European values supposedly inherent in the EU-sponsored charter.
Or, put another way, he is determined to close the front door to European-style manipulation of democracy, but is taking very great care to make sure he leaves the side window open. When it comes to the worldview of the Euro-elite, an impeccably European poet saw the point 2,000 years ago: naturam expellas furca, tamen usque recurret (you may drive nature out with a pitchfork, but she will keep coming back).
Andrew Tettenborn is a professor of commercial law and a former Cambridge admissions officer.
To enquire about republishing spiked's content, a right to reply or to request a correction, please contact the managing editor, Viv Regan.