You can't reshuffle a knackered party
May's 'night of the plastic knives' showed how fragile party politics has become.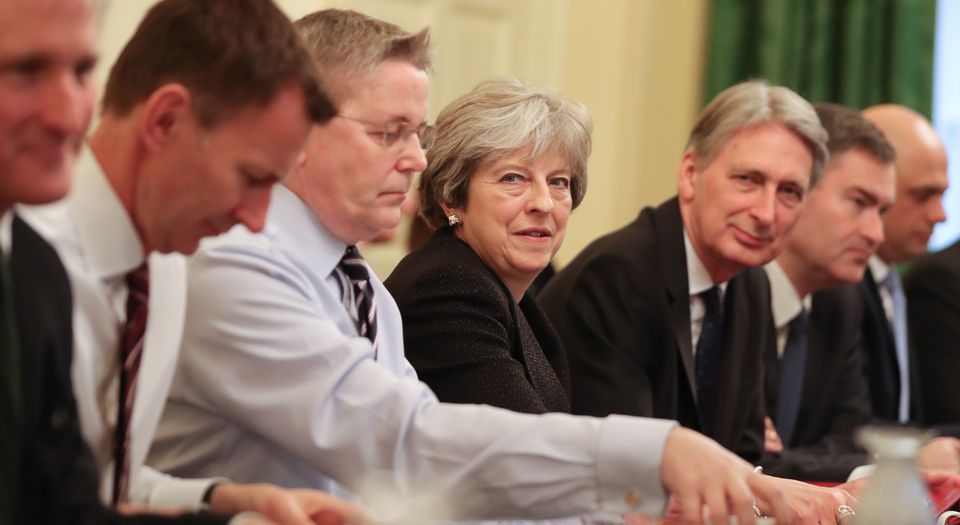 So, a cabinet reshuffle that was trailed as an opportunity for Theresa May to reassert her authority and knock into shape the knackered Tory campaigning machine has so far seen most ministers stay put, two ministers refuse to move, one resign and CCHQ (wrongly) announce on Twitter that Chris Grayling had been made Tory Party chairman, before deleting the tweet 30 seconds later. The only thing it was a good night for was schadenfreude. 'Night of the plastic knives', as one commentator dubbed it, more or less summed it up.
This level of incompetence is not normal, and particularly embarrassing for the Tories, the self-dubbed party of government. This farcical reshuffle comes only months after the bungling former Tory Party chairman, Patrick McLoughlin, now replaced by immigration minister Brandon Lewis, presided over a slow-motion car crash of an election campaign and a party conference which – from the coughing fit to the P45 prankster to the words of the party slogan falling from the wall as May spoke – was a series of unwitting metaphors for political decay.
Tory hopes that this would prove an opportunity to bring through a new generation have been disappointed, even though more junior appointments are expected today. Even so, while the promotion of the young, popular and Twitter-savvy James Cleverly, of the 2015 intake, to deputy chairman was celebrated, this obsession with young blood only belies how visionless the Tories now are. There's no clear faction in the ascendency, no set of fresh ideas. Instead there's blind hope that MPs the right side of 50 will magically rejuvenate this prehistoric party.
The rest of it was so much shuffling of deckchairs. Karen Bradley is now Northern Ireland secretary, following the stepping down of James Brokenshire for health reasons. David Lidington has been made Cabinet Office minister to take the place of the sacked Damian Green (though May stopped short of making him deputy PM). David Gauke went from work and pensions to justice. And Esther McVey took his job at the DWP late last night after education secretary Justine Greening refused it and resigned from government (she has now been replaced by Damian Hinds).
Oh, and health secretary Jeremy Hunt (who refused to swap places with business secretary Greg Clark) has had social care added to his title, even though it was already in his brief anyway. Same goes for Sajid Javid, formerly the communities and local government minister, responsible for housing, who is now the housing, communities and local government minister. You know, because what our chronic social-care and housing crises were crying out for was a ministerial rebrand.
Compare this to the 2016 reshuffle, when a newly elected May sacked George Osborne, and it's hard not to hear the funeral march. But May has only ever had a semblance of authority because she entered No10 in a time of political-class chaos. She won a clown-car leadership race by default, when everyone else dropped out. The lip service she paid to Brexit, and her talking tough to Brussels, gave her considerable short-term popularity, but as soon as the election campaign began, her lifeless, technocratic nature was revealed.
In any case, May's enemies within the party need to take a look in the mirror. The Tory Party is in Last Days of Gordon Brown-style stasis: a PM too weak to move anyone, and big beasts and backbenchers seemingly incapable of moving against her. Though dispatching Justine Greening, who is defending a 70 per cent Remain London seat, to the backbenches may have created another 'mutineer', the hardcore rebels are few and the rest of the party is petrified that more disruption will hand Corbyn the keys to No10.
Meanwhile, Corbyn's Labour looks vaguely coherent by comparison. But for all the Labourite gloating this morning about May's weakness and Tory infighting, the PLP remains deeply divided between its Corbynista and Blairite factions, and between a leader that knows, deep down, that Brexit is the only way he can implement his agenda, and MPs (Blairite and Corbynista alike) who are either wounded Remainers or full-blown Stop Brexiteers. The post-election honeymoon can't last forever.
The focus on May's (obvious) weakness as leader distracts us from the fragility of party politics itself. Stripped of any clear mission, or set of ideas, parties quickly become unfocused, incompetent, bitchy. They go from being representatives of sections of certain interests, rooted in communities and institutions, to husks in which MPs fight over promotions and positions. Corbyn's Labour, even with its hundreds of thousands of £3-a-pop members, is struck by the same problem.
But for the Tories, this botched reshuffle has brought it out for all to see.
Tom Slater is deputy editor at spiked. Follow him on Twitter: @Tom_Slater_
Picture by: Getty
To enquire about republishing spiked's content, a right to reply or to request a correction, please contact the managing editor, Viv Regan.