Time for a truce in the 'generation wars'
The old and the young need to come together. But how?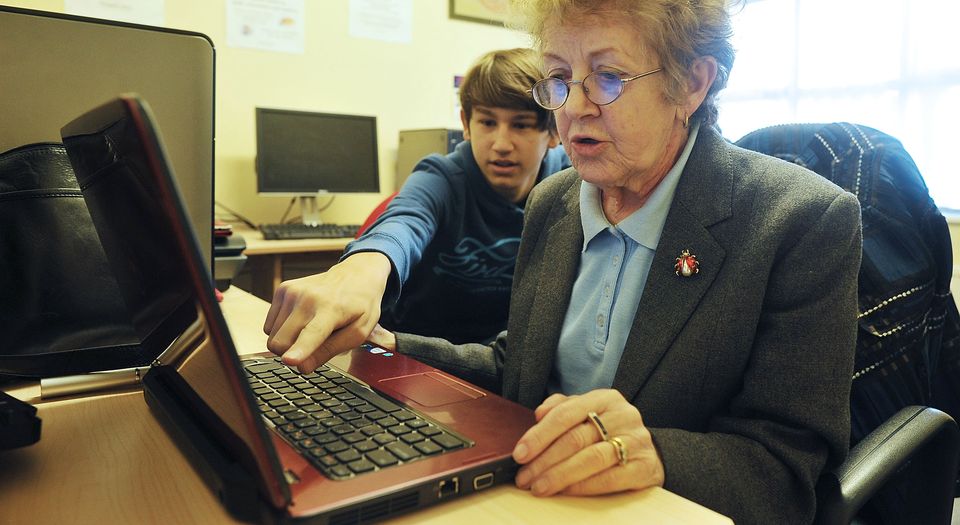 Mixing Matters, a new report by the charity United for All Ages, has called for the promotion of 'shared sites' that can facilitate contact between older and younger people. These include nurseries sharing a space with care homes, sheltered housing developments letting flats for students in return for volunteering, and schools hosting day centres for older people with conditions such as depression and dementia. The aim of these proposals is to tackle the increasing segregation between the generations in today's society – what the charity has previously termed 'age apartheid' – and to allow young people to benefit from the concern and experience of the elderly, while tackling the loneliness and isolation experienced by many older people.
This is a really nice idea, and, on a practical level, proposals for shared spaces, particularly between the very young and very old, have a lot going for them. There is something depressingly wrong about communities that keep elderly people sequestered in retirement homes on one part of town and young children locked away in nurseries on the other. It is true, as United for All Ages points out, that 'many of the places where people traditionally mixed have changed or disappeared in recent decades' – from 'pubs, clubs and local shops to places of worship and the workplace'. And the charity is also right to state that a lack of connection between the generations 'fosters mistrust, suspicion and misunderstanding'. 'We all lose out through the ageism and exclusion that result', it says.
But can shared spaces solve the problem? While some of the creative initiatives discussed in this report could be very good for the old and young people engaged in them, there is a whiff of social engineering that should give us pause. The deeper problem is that a cultural 'mistrust, suspicion and misunderstanding' means that relations between older and younger people are increasingly formalised, throwing up barriers even in the mixed spaces that do exist. Interactions that were once spontaneous – old ladies telling kids off for mucking about in the street, middle-aged blokes coaching the local football team on a Saturday – have become more distant, problematic and tense.
There are various reasons for this. An uptight, risk-averse parenting culture, which means children are kept under close supervision by their parents and teachers at all times; a regulatory climate in which adults are discouraged from interacting with children unless they have been formally vetted and approved; a defensiveness among older people about how their concern for children might be interpreted… All of it leads to a climate in which young and old people feel rather unsure about each other, and this is unlikely to be solved by simply pushing them together.
Generational interaction at a community level works best when it is informal, backed up by social convention. Traditional assumptions that older people should look out for younger people, that children should respect their elders, and that young adults should learn from the wisdom and experience of senior companions, once provided a backdrop against which relations between the generations could be constructive – despite inevitable tensions. Young people have long chafed against the slow pomposity of the old guys, and pensioners have long decried the bad behaviour and manners of kids today. But living through these tensions helped the generations to know each other; to rub off each other's sharp corners and work out ways of coexisting.
We still see this today, of course, in the moments where people are able to come together and be themselves. But this interaction is not taken for granted as a part of community life: as evidenced by the fact that organisations like United for All Ages get so excited when they see it, and come up with proposals to develop more of it. The trouble is that the promise of intergenerational spaces can quickly be thwarted by the anxieties that have fuelled generational distancing in the first place.
The starting point of the Mixing Matters report is that 'Brexit Britain is dogged by divisions', of which age is an important one. 'Older people have been pitted against younger people over issues like housing, wealth, debt and pensions', it claims. This leads to mistrust, 'fuelled by the lack of connection between different generations', which in turn can 'breed myths and stereotypes, misunderstanding, ageism and exclusion'. Absolutely – and this is why the constant harping on in policy and media circles about 'generation wars' is so destructive and divisive.
But focusing on ways to resolve this situation by physically 'connecting' old and young people implicitly endorses the terms of the generation-war debate. It is assumed that the problem lies with the people living in different generations, rather than with the cultural misgivings that our society has about simply letting people get on with each other. Attempts to engineer connections turns everyday generational contact into a series of formal, instrumental objectives, designed to enhance measurable diversity and achieve a whole range of other social goals.
For example, Mixing Matters notes that 'low levels of trust negatively impact our health, our immune systems, stress levels and blood pressure', as well as correlating with 'higher rates of suicide'; whereas 'building stronger ties lowers the incidence of mental ill-health and improves health outcomes', such as 'the prevention of depression, especially among children' and 'enhanced immune-system functioning and recovery from a stroke'. The attempt to tie increased generational interaction to specific, desirable health outcomes may just be classic advocacy-speak: inflate the problem, and the boxes that can be ticked by your own response to it. But it reveals a particular view of generational interaction that is very different from a shared pint down the pub.
Some of the proposals for encouraging 'the joy of mixing' are frankly alarming. The report contains a suggestion by Liz Emerson of the Intergenerational Foundation (IF) that 'encouraging older generations to downsize in their own homes – by subdividing their properties – could help to bring the generations together'. She continues:
'Our report estimated that as many as 4.4million households across England have enough spare living space to create at least one new dwelling that would meet national space standards. And that new dwelling could be rented out to, or sold to, a younger person, thereby invigorating and slowing the rapid ageing of our local communities, helping different generations to live more closely together, and delivering a retirement income for older generations. It's a win-win arrangement for all generations.'
Whether guilt-tripping old folk into selling their spare bedroom to a cash-strapped millennial represents a 'win-win' for anyone is debatable. And it reveals another danger lurking in the desire to engineer intergenerational 'mixing'.
The relentless claim that we live in a country divided by age, that generations are pitted against each other and that we can no longer communicate across the gulf of their years, has disoriented older people and put them on the defensive. They are constantly castigated for being out of touch with the new values, the new technologies, the new norms of behaviour; they are told that by owning a house and drawing a pension they are greedy, selfish and directly responsible for the problems facing their children's children.
In this hostile climate, retreating to a child-free pub (if such a thing still exists), or their own back garden, or the wrinkled homogeneity of their retirement community, may be the only way older people can experience the privacy and security they need to live life on their own terms. Dragging them out for mentoring duty at the local intergenerationally mixed garden-centre café/toddler group, to be patronised by graduate volunteers wondering how soon they could move into their converted garage, may not quite be their cup of tea.
Jennie Bristow is senior lecturer in sociology at Canterbury Christ Church University and an associate of the Centre for Parenting Culture Studies. Her new book, The Sociology of Generations: New Directions and Challenges, is published by Palgrave Macmillan.
To enquire about republishing spiked's content, a right to reply or to request a correction, please contact the managing editor, Viv Regan.