Why is Britain funding jihadis?
Western foreign policy has deepened the conflict in the Middle East.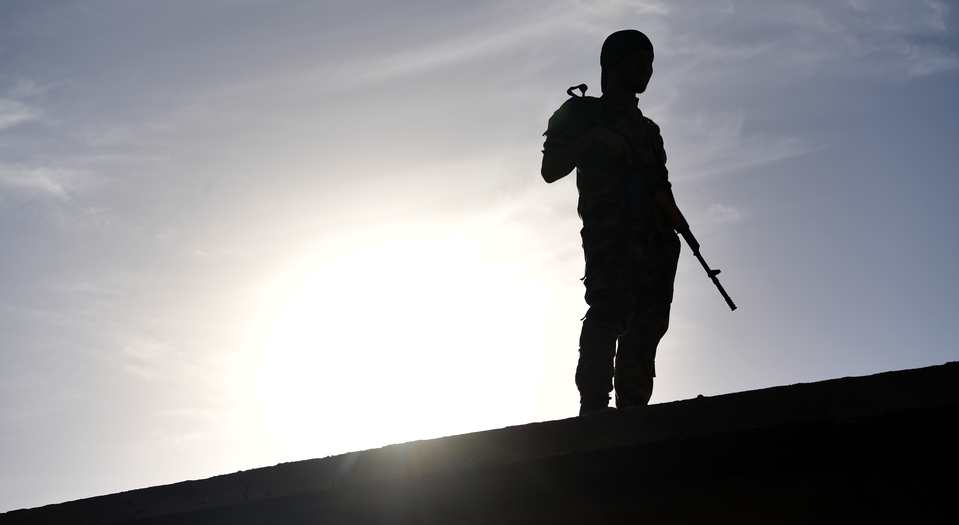 What is the British 'national interest'? That phrase often gets thrown around by politicians, with no explanation as to why a particular policy is actually in the 'national interest'. This is especially true of our foreign policy, which some might be surprised to hear supports and funds barbaric jihadists in the name of 'democracy and human rights'. (Or, in plain terms, in the pursuit of regime change in the Middle East.)
The standard narrative, pushed by the British media, is that Syria was lost to Russia because the cowardly West refused to act. But the truth is that Britain, the US, the Gulf States, Saudi Arabia and Turkey have all been heavily involved since the beginning of the conflict. Outside powers internationalised the war in Syria in pursuit of overthrowing Assad, leading to catastrophic consequences.
A significant part of this was the funding of jihadi groups, including previous iterations of ISIS and their various offshoot organisations. As Max Abrahms argues in Foreign Affairs, from 2013, the policy of the US and various European states was to support these so-called rebels in order to weaken and overthrow Assad, and establish some kind of liberal democratic state in Syria. France was sending arms by 2014. The US was sending weapons to the Free Syrian Army (which later spawned jihadi groups) via Saudi Arabia and across the Turkish border. Weapons from the EU were sent via Croatia and Saudi Arabia. And other European states also supplied weapons, after the arms embargo imposed by the EU against Syria lapsed in 2013.
But the 'moderate rebels' were always a myth. As Syrian opposition journalist Mowaffaq Safadi argued in 2015, the idea that there was some kind of coherent democratic opposition was just not true. When David Cameron claimed there were 70,000 'moderate opposition' forces waiting to fight, this was a fantasy. The Western media have consistently whitewashed these so-called rebels, leaving out the inconvenient truth that most of the Syrian opposition has been made up of militant jihadists.
And boy, have these radical Sunni extremists been well armed by the West. Last month, the UK-based NGO the Conflict Armament Research Group analysed 40,000 weapons recovered from ISIS between 2014 and 2017. It found that most were purchased from EU member states in Eastern Europe, and supplied by the US and Saudi Arabia.
Alongside pouring weapons into Syria, the West also provides jihadists with a steady stream of cash. In December, an episode of BBC Panorama revealed that the British government had been funding the so-called Free Syrian Police Force (basically the law-enforcement arm of local jihadi groups). It was only after the episode was aired that the funding was stopped, despite previous warnings.
And when we're not arming jihadis, we're giving them a free pass. According to a recent BBC article, a secret deal was reached with Britain, the US and the Syrian Democratic Forces (SDF), an alliance of Kurdish and Arab forces, during the fight for Raqqa to allow the free passage of hundreds of ISIS fighters and their families. These brutal killers were then allowed to melt away – either returning home to their countries of origin or continuing to fight against Assad. In December, a former commander from the SDF who defected to Turkey told Reuters that about 4,000 ISIS fighters and their families were allowed to leave. The SDF stopped any travel to and from Raqqa, allowing thousands of jihadists to go to Deir al-Zor – an ISIS-held area under attack by the Syrian army.
For over two decades, Britain has supported this catastrophic policy of regime change partly by funding and supporting some of the most revolting armed groups in the world. Where is the outrage? Why isn't the British media talking about this? Britain has indirectly ensured that ISIS, a group of rapists and murderers, has been given weapons, cash and even allowed to escape. Is this in Britain's 'national interest'?
The principled position for those who care about the lives of people on the ground must be to oppose all Western intervention. This doesn't mean supporting Assad, or being blasé about human rights. It means that we understand that intervening in an exploding civil war always causes more harm than good.
Tara McCormack is a lecturer in international politics at the University of Leicester. She is author of Critique, Security and Power: The Political Limits to Critical and Emancipatory Approaches to Security, published by Routledge. (Buy this book from Amazon(UK).)
Picture by: Getty Images.
To enquire about republishing spiked's content, a right to reply or to request a correction, please contact the managing editor, Viv Regan.