In praise of Iran's brave rebels
Why aren't more Westerners cheering this epic fight for democracy?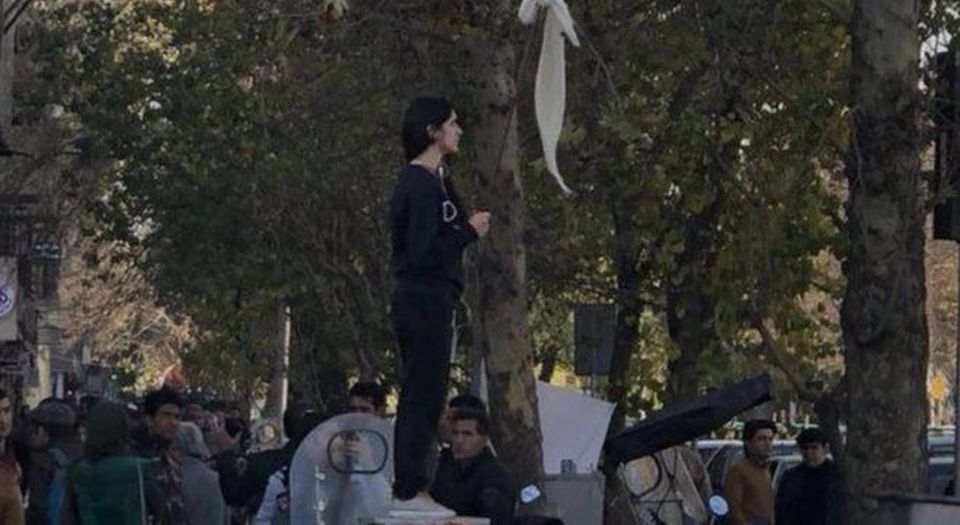 Women defying archaic dress codes and ripping off their hijabs in public. Young hard-up people taking to the streets to rail against economic contraction and religious greed. 'People are paupers while the mullahs live like gods!', they holler. Democrats who no longer want to live by the stifling codes of Islamist theocracy committing the ultimate treason by chanting: 'We don't want an Islamic republic!' People even tearing down images of their so-called supreme leader – Ayatollah Khamenei – in acts of high rebellion of the like Iran hasn't seen for years. These rumblings in the Islamic republic, this deep democratic stirring, should cheer everyone who believes in freedom and choice. They have got 2018 off to a brilliant start.
It's hard to tell from much of the mainstream media coverage in the West – especially in outlets like the BBC and the Guardian, whose flat, cautious coverage betrays a discomfort with the sight of masses of people flagrantly throwing off Islamist garb and rules – but what's happening in Iran is monumental. Of course it's impossible to predict how it will turn out (though more conflict seems certain). But right now, a week into the unrest, with at least 21 people dead and 450 slung in jail, we can say that the scale of the revolt is huge.
Not only in terms of the numbers of cities and towns that have been struck by dissent, from Mashhad in the north-east to Tehran itself to Kermanshah in the extreme west, where video has emerged of protesters capturing a member of the Revolutionary Guards. And not only in terms of the breadth of people involved, which includes the young working-classes, 'alienated from a political system rigged by the ruling mullahs', and middle-class Tehranis who seek a freer, more modern lifestyle. No, in terms of something else, too; in terms of what some of the protesters are demanding – an end to religious rule.
The revolt kicked off in Mashhad on 28 December, with protests against rising prices and the man Iranians hold responsible for them: President Hassan Rouhani. Cash-strapped inhabitants of Mashhad, most of them under 25, took to the streets to express fury with Rouhani's economic policies, in particular his December budget, which outlined cuts to government subsidies of certain goods and services. 'Death to Rouhani!', they cried. That was radical enough, but soon these initially economic complaints morphed into something else – or rather something more – as more and more 'Iranian malcontents', in more than 20 cities, took the cue of the Mashhad protest to register their own displeasure with the regime they live under. Before long, people weren't only demanding a fairer economic deal – they were also questioning the very idea of Islamic theocracy.
'We don't want an Islamic republic', some have cried. Others have chanted, 'Death to the Revolutionary Guards' – who are the guardians of the Islamic revolution, no less, which in 1979 turned Iran from a constitutional monarchy into an Islamic republic. There are reports of some protesters breaking into police stations to steal weaponry, though this nationwide spate of revolts is very far from being an actual revolution (sadly). This means the current revolt is more far-reaching, and potentially less containable, than even the massive 2009 Green Movement protests. Those were largely protests against the 2009 presidential election results, which delivered a disputed victory to Mahmoud Ahmadinejad, and in favour of the opposition candidates, Mir-Hossein Mousavi and Mehdi Karroubi. That is, they were protests largely guided by, and supportive of, Iran's more reformist political wing. This time it is different. Very different.
One of the most popular slogans in the current revolt is: 'No to conservatives and reformers alike.' As Middle East analyst Torbjorn Soltvedt says, the protests 'have now taken on a life of their own' – they are 'firmly beyond the control of any political factions or movements'. The Eurasia Group says the protests have no leadership as of yet, and are 'diffuse around Iran'.
Of course, in the longer term this could prove to be a fatal weakness, as it did during certain Arab Spring revolts, where the self-consciously leaderless, social-media-reliant style meant these informal movements were unable to make good on their demands, far less seize power. But right now, there is something very positive in the Iranian malcontents' rejection of the nation's traditional factions: it allows for more radical thinking, more daring demands, and for the public expression not only of economic and political grievances, but of an existential challenge to the post-1979 set-up.
These protesters deserve the support, the enthusiastic support, of us in the West. But they aren't getting it. In many Western political circles, including supposedly radical ones, there's a notable lack of enthusiasm. There's even a sense of dread, or at least discomfort, towards the Iranian revolt. Corbynistas are largely silent, or are raising concerns about the dangers of 'regime change' (failing to recognise that there is a colossal difference between regime change done by outsiders, as in Iraq, and regime change secured by a people itself, which would be the ideal for Iran). Leftists who get excited about supposedly socialist uprisings in Latin America or the rise of Syriza in Greece are cautious on Iran. Why?
It's hard to avoid the conclusion that some Westerners' caginess over Iran springs from their own growing discomfort with the idea of democracy and their unwillingness to criticise too harshly Islamic ideas and institutions.
People having greater control over their own destinies and their nation's destiny is no longer a popular ideal among the Western intellectual and political classes, as can be seen in the ongoing meltdown over Brexit. Indeed, it's remarkable no one has yet castigated Iranians for being 'low-information' and 'anti-expertise'. After all, some of the protesters are ill-educated and they are raging against an Islamic system made up of a Guardian Council and an Assembly of Experts, whose wisdom apparently makes them better suited than the ungodly oiks to running public life. In revolting against their intellectual superiors and insisting they themselves are more than capable of governing their lives, aren't these uppity Iranians, like Brexiteers, committing the cardinal sin of putting democracy ahead of theocracy / technocracy? Perhaps the New European will tell them off in its next issue.
Then there's the fear of calling out anything Islamic, of criticising Islamist values. Westerners who have devoted so much energy in recent years to ringfencing Islam, and even political Islam, from serious criticism and 'blasphemy' are not well placed to cheer those who are defiling images of the Iranian supreme leader or saying they want to wipe aside the Islamic republic. Perhaps these revolters are being Islamophobic, like Charlie Hebdo was when it mocked Muhammad, or like those people who dare to get angry after acts of Islamist violence. In sacralising the Islamic way of life, many in the West have forfeited the right, or just the ability, to support people in Iran who are openly calling into question Islamic political life.
That is, they fear the thing the protesters want – democracy – and are reluctant to criticise the thing many of the protesters hate – the politics of Islamism. But there are still many of us who believe in democracy, and freedom, and the right of women to wear what they want and live as they please, and that the injection of religion into politics is always a bad idea – and we should be cheering on the mass of malcontents who are shaking up Iran, and the world.
Brendan O'Neill is editor of spiked.
To enquire about republishing spiked's content, a right to reply or to request a correction, please contact the managing editor, Viv Regan.