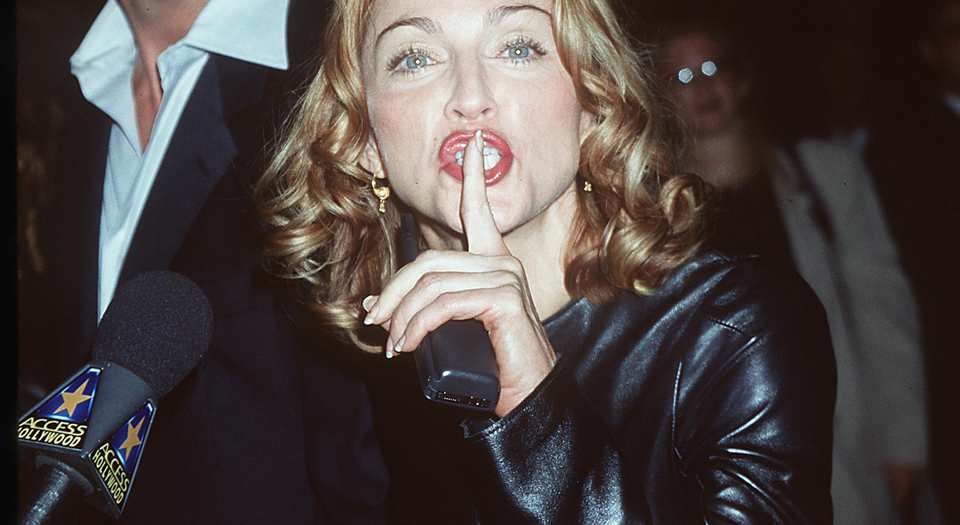 Long-read
The 1990s: the dirtiest decade
David Friend on sex and scandal in the Nineties.
'It's funny, it's dirty, it's deeply reported – and millennials like it.' This is how photographer and editor, David Friend, describes his own book – and one of this year's most compelling – The Naughty Nineties: The Triumph of the American Libido. As an editor of photography at Life magazine for many years (he is now an editor at Vanity Fair), Friend was perfectly placed to witness the huge cultural shifts of the Nineties, from the explosion of celebrity culture and the rise of reality TV, to the free-for-all nature of pop culture. Who better, then, to get to grips with this dirty decade?
Friend's approach is not academic pop-culture history, however. He has gone straight to those who did so much to shape the decade, and pulled together an impressive number of first-hand interviews. Be it Monica Lewinsky or Hollywood madam Heidi Fleiss, anyone who was involved in high-profile scandals during the Nineties has spoken to Friend. But The Naughty Nineties is more than a first-person record of a decade. It also purports to be an explanation for the rise of Trump, who back then was a perma-tanned minor star burning none-too-brightly in the celebrity firmament.
So was Trump a mere product of the Nineties? Was it really such a game-changing decade? And, in such a scandal-ridden age, has our sensitivity to sexual misconduct become more acute over the succeeding years? To find out more, the spiked review grabbed Friend, who was riding the train home from New York City at the time, for a quick phone chat.
spiked review: Why the Nineties – it's not the most common decade people think of when they think about sex?
David Friend: The people who were practicing free love in the Sixties – who benefitted from the Pill and espoused countercultural values during that era – were running the world in the Nineties. They were raising families, running Hollywood, Madison Avenue and, for the first time, the White House. So I wanted to look at what it was like when Boomers ruled the world. Plus, at that stage, when I started doing the book in 2007 and 2008, the Nineties were still pretty recent. And to do a history of the Nineties seemed idiotic. I don't know why I wanted to do it, maybe because no one else had really done a big history of the Nineties. By the time I'd finished it, there was a sort of Nineties resurgence – a boom. So I guess the nostalgia, and this sense of the chickens coming home to roost in relation to some of the negative parts of the Nineties, is what we're seeing now. Obviously I couldn't have predicted that, but I sensed there was something sub rosa happening in the culture of that decade that was going to have reverberations for a long time. That's why I fixated on the Nineties.
review: Let's talk about this chicken coming home to roost. You've argued that the gains made by the right – Donald Trump's election win being the most obvious – wouldn't have been possible without the Nineties. Why? Wasn't Trump as much part of that excess as anyone?
Friend: Well, here was a guy who embodied some of the group values of the greed-is-good Nineties, and of the Me-decade of the Seventies. He was a man who, by the Nineties, was hosting the World Wrestling Federation in one of his casinos in New Jersey. He was really sort of part and parcel of a society that had come to accept casual lying and reality TV (which was a new phenomenon) as a matter of course. He was part of this wave of people who were more trivial, less honest, less introspective and, in time, he would become a promoter and a practitioner of social media (which was really in its infancy in the Nineties). The World Wide Web began in 1993, social-media sites like Friendster and others began in the late Nineties. So he was sort of this creation, this Frankenstinian creation of an era that gave us trash-talk TV, tabloid TV, reality TV, and the internet. He was the spawn that came from that swamp. He was the creature from the black lagoon.
review: You talk about the fact that the Nineties was defined by scandal. Have we become less tolerant of scandal? For example, in relation to the difference between Bill Clinton's indiscretions and the current #MeToo call-out culture?
Friend: In the Nineties there was 24-7 scandal. You had this new thing called Fox News and competition on television for information that could titillate. You had a tabloid war on the magazine stands. You had a new website called The Drudge Report, and a lot of new websites were trafficking in rumour and scandal – places like The Smoking Gun. And this was so new that people gorged on it, and didn't have a way to limit themselves. It became a constant diet of exposure and titillation. Who will be brought down this week? There was Pee-wee Herman one week, and OJ Simpson the next week, and another politician after that – it was constant. And people were entertained by it; their own lives felt hollow, or shallow, or not as glamorous in comparison, and they loved to see the high brought low. It made them feel better about themselves. But then, they felt guilty about it. So they tried to resurrect some of these people. A way to assuage one's guilt was to argue that people could have a second chapter in their lives.
But what do we have now? People who are so fatigued by scandal, and sickened by the behaviour of many of these men who feel they can get away with it. Building on the pioneering bravery of women like Anita Hill, who spoke out against the perceived sexual misconduct that she saw on the part of her boss at the time (who was Clarence Thomas). It took another generation (it's been 25 years since Anita Hill testified in 1991) for people finally to have a critical mass of outrage at this behaviour, and to have the internet to bring them together. So you had people like Anita Hill, millennials who were outraged and wouldn't tolerate any of it, plus the internet, which allowed many people to say #MeToo. You also have a really vigorous free press going after Trump and these people. Those factors together made us totally intolerant of this sort of behaviour. But a lot of what we're seeing today was built on the foundation of the Nineties.
review: Do you think the Nineties were a re-staging of the Sixties' Culture Wars – uninhibited sexuality versus a more conservative tradition?
Friend: We were fighting the same wars that we're fighting now – the Culture Wars. And I don't know how the polarisation that you're talking about will play out. I wish I had an answer for it.
review: Perhaps that's an answer in itself?
Friend: [Laughs] The problem is that we still have a lot of men running things – we should let the women run things for a few years. The men should step aside and all the computers should be turned off and maybe we'd be better for a while.
review: There are hundreds of interviews in the book, all in incredible detail. What was your favourite?
Friend: It's hard to say. Some of the best stuff I didn't even use. I interviewed Harold Bloom, the Yale scholar, about political correctness. I interviewed Woody Allen about his movies, and I only ended up using a paragraph. I interviewed the woman who created the pole-dance videos, who taught people to pole dance. I interviewed people responsible for Madonna's Sex book, which sold millions of copies and was the first time a public figure really put themselves out there sexually in such a graphic manner. But my book was just getting so big, and it's hard to pick just one – even the ones I didn't use were so much fun. I had such a fun time with the book. I loved talking to Anita Hill. I loved talking to Monica Lewinsky — she's become a friend. I loved talking with Heidi Fleiss, the Hollywood madam. I loved talking to Jesse Jackson about the million-man march. It was really an amazing journey.
review: You're quite downbeat about the Nineties – is there anything redeemable in this decade for you?
Friend: It was a period of prosperity, when a sense of community and globalisation was really important. I think technology grew by leaps and bounds in ways that helped us enormously. There was a sense that we need to focus on evening out the income and distribution in the world, and look at climate change. All these things were great positives and wake-up calls in the Nineties. But you know, I think Trump just flew in the face of many of those things. [train doors open] And this is my stop.
David Friend is an editor at Vanity Fair, former director of photography for Life magazine, and an author of many books. The Naughty Nineties: The Triumph of the American Libido, is published by Twelve.
Picture by: Getty Images.
To enquire about republishing spiked's content, a right to reply or to request a correction, please contact the managing editor, Viv Regan.