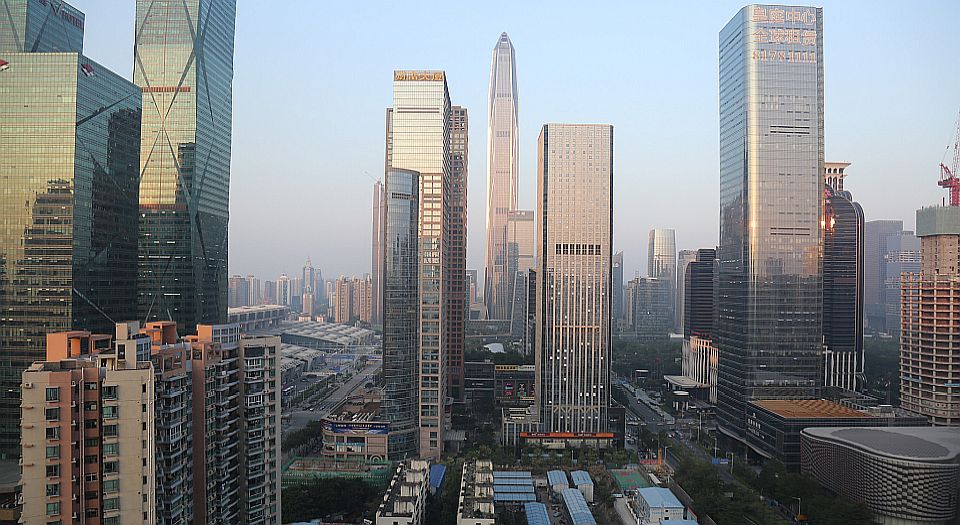 Long-read
China's supernova cities
Austin Williams' new book explores the world's most spectacular urban revolution.
By 2020, the Chinese government hopes to have a new and national Social Credit System (SCS) ready. Subsidiaries of the giant IT companies Tencent and Alibaba, it's reported, will help the state monitor your connections, purchases, finances, security and – importantly – your compliance with the law. Then the SCS will give you a social credit rating, or score, of your trustworthiness, honesty and integrity; and your rating will determine just how much access you get to schools, housing, travel, jobs and other necessities. Already Shanghai and 30 other local administrations in China have similar systems in place.
As the Economist has noted, the SCS aims to join together the government's existing databases, digital surveillance systems and mechanisms for reward and punishment, adding 'we-know-best paternalism' into the mix as well. Yet as Lund University's Nicholas Loubere has also observed, the SCS scheme is still quite undefined, and allows for local policy experimentation. There, 'Internet finance facilitates multifaceted forms of control in China's digital landscape'.
Stripped of mobile banking and its IT technicalities, SCS is very like the changes in China's physical landscape surveyed in Austin Williams' new book, China's Urban Revolution: Understanding Chinese Eco-cities. With both, China can be said to be pioneering, in idiosyncratic and ambitious practice and for the whole world, some of the most mainstream and most questionable policies developed by Western liberalism since the end of the Cold War.
It is China that has implemented Richard Thaler and Cass Sunstein's Nudge (2008) doctrines of behaviour control more comprehensively than America, where those doctrines originated: indeed China's then president Jiang Zemin in some ways anticipated them back in 2003, wanting China's new middle classes to be, Williams recalls, 'educated, cultured, civilised and creditable'. It's China that is setting the world's pace in wind and solar power, energy efficiency and electric cars. Similarly, Yichun City in Jiangxi Province, in the southeast, announced its intention to become China's first eco-city as early as 1986; while Guiyang, capital of Guizhou Province in the southwest, became the first Chinese eco-city to focus on a waste-free circular economy as early as 2004. Indeed the Chinese state first noised its official commitment to that idyllic concept in 2006, a good six years before the European Commission adopted it.
China's population is now 60 per cent urbanised. China now casts pretty much every new city, plus peripheral areas around a whole lot of old, de-industrialising cities, plus even 'a park, or a well-insulated industrial zone, or a waste incinerator', as an eco-city. Indeed Williams suggests that, with their air and water quality edicts, impending 'sponge' drainage systems, their parks, trees and farmers-turned-municipal-gardeners, some of China's newer, less-hyped, more modest and more thoughtful Eco-cities, like its greening of Beijing, haven't turned out all bad – even if the usual Western architects, all enthusiastic about having their own blank sheet of green canvas to experiment with, are often involved. One could add that president Xi Jinping's efforts to curb corruption may just have boosted him with a second wave of less fraudulent, less mega, more realised eco-cities. Cleaning house in two senses.
China's Urban Revolution is a terrific book. China's supernova cities deserve better than the equal parts gleeful derision and uncritical adulation they've had from the West. They get much better from Williams. His commendably balanced approach to China reflects six years working, travelling and interviewing there. His references run from Atmospheric Science Letters to the Texas International Law Journal, and he brings together real evidence, great statistics and a laconic wit. His architectural history allows him deftly to contrast 100-year-old Western concepts of the 'garden city' with contemporary and rather different Chinese interpretations of these concepts. Above all, he gives a vivid, visual and level-headed critique of what might just be abbreviated as China's authoritarian dynamism: an 'unelected technocracy', he calls it, one whose fiat can't much be contested, and one bringing development that's undeniable, but with results that are often regrettable.
As the book's conclusion says, the most recent eco-cities are, at a time of slowing growth and often painful industrial restructuring, a test bed for some of China's new industries, research facilities and innovation themes, and thus 'a prism through which to explore China's fascinating incongruities'.
Take the question of how to measure the greenness of China's cities. In fact, in economics and business, measurement against targets is an interesting historical question. In the 1930s, Joe Stalin had his targets for industrialisation, and in the Great Leap Forward (1958-1962), Mao Tse-Tung attempted a still more disastrous repeat of all that. Despite these setbacks, however, the West too has adopted the target mentality. In the 1990s new, non-financial measures of performance management spread from Harvard Business School through to New Labour's governance of universities, housing and the environment – all league tables, tick-boxes and 'aspirations'. What Williams shows, however, is that these trends have today been succeeded by a bizarre, target-driven approach to verifying the relative greenness of China's cities. It is one that, decades on from Mao, chants almost Blairite performance-management scores and ratings in what might nearly be a Germanic green descant. And as Williams rightly says, these new targets are as ripe for local government abuse as the brute GDP growth targets of old.
In 2011, the Chinese Society for Urban Studies created the first checklist of criteria for eco-cities, insisting on no fewer than 28 indicators, laid out over five categories. About China's individual buildings, Williams continues:
'The Chinese three-star environmental monitoring system (similar to the US Leadership in Energy and Environmental Design rating) requires one year's operational data to be assessed before a building can be certified. I found that one of the Tianjin Eco-Business Park research centres had turned the heating off to provide a low-energy usage figure in the first year. Fortunately, there were many vacant offices in the building that also helped reduce the recorded energy averages too. Maybe after certification, the workers can finally turn the lights and heating on for real.'
Such are the bittersweet fruits of authoritarian dynamism on the ground.
New eco-cities are thrown up in a sequence that, in theory at least, sees them run from oodles of branding and concrete through to genuine R&D and business activity and residential follow-up. Old ports based on coal, oil and steel (Caofeidian, Tianjin), together with old edge-of-town blackspots, have their environs variously renamed, relocated, their soil remediated or their edifices physically and structurally revamped, very quickly. High-carbon airports are offset by low-carbon eco-cities nearby (Shanghai's Nanhui), or are at least, against the evidence, listed as eco-cities (Zhengzhou Airport Economic Zone in Henan Province). These things are broadly on the dynamism side of China's urban growth and economy.
On the other hand, residents relocated after mass demolitions often have little choice in the matter, and while millions gain better accommodation in the process, other millions – especially if they are old, or migrants from the countryside – are made subject to uncertainty, delay, upheaval, the chicanery of local officials, and what Williams calls 'a palpable disorientation towards the future'. These things are on the authoritarian side. China is dynamic, certainly; but, in the absence of democracy, that dynamism can, in its own way, prove as wasteful and costly as a tortuous Western planning enquiry.
The example of the divide between rural and urban highlights China's unique political economy right now. Writing of hukou documentation, the de facto internal passports that designate people by place and status, Williams sums up:
'Some farmers leave the land entirely and gain urban hukou and resettle in urban areas. Some give up their farmland for monetary reward but stay in their old homes, thus retaining their rural hukou. Others leave the land entirely but still retain their rural hukou precisely because of its potential market value. While the poorest and most unfortunate leave the land voluntarily or forcibly, lose their rural hukou but are not granted a full urban hukou. And many wealthy urbanites are looking at downsizing to smogless country retreats. The rich-poor and urban-rural divide is not as clear-cut as once it was.'
Yet while authoritarian dynamism is accompanied by significant social differentiation, whistleblowing and, increasingly, outright protest, there's a fair bit of popular support for it and for getting things done. It is coercive, but also, at times, vaguely consultative. Indeed, at a time when Western elites lack moral, political and economic legitimacy, the Chinese Communist Party uses green rhetoric, Williams acutely remarks, 'to promote national renewal and to counter much of the West's moral high ground by developing its own variant of environmental soft power'. Few Chinese thus ridicule two decades of eco-museums, officially dedicated to protecting natural resources and cultural identity; few ridicule the Village Beautiful programme, begun in 2011 and dedicated both to infrastructure provision and the preservation of rustic charm – a kind of bureaucratic response to the widespread sense of loss now afflicting the Chinese country dwellers.
Williams writes with great empathy and sympathy for ordinary Chinese. He shows how China has absorbed urban planning lessons from the West and given its own twist to best practice – and that, he pronounces, is no bad thing. Inevitably, he says, China's urban policies make a mess of things on occasion; but it has been eager to learn, and has chalked up some real successes.
Importantly, too, China for the most part continues in the view that nature is something for mankind to overcome; and in this it differs from and improves upon the dominant Western idea that nature is something sacred, something always to be conserved and protected from human intervention. In Chinese green policies, it's economic growth, human living conditions and human health that remain paramount, and if, as in the city of Lanzhou, in Gansu Province, central China, the authorities have had to move mountains, literally, in the hopes of improving urban air circulation, then nature is there to be so violated.
Still, the fascinating incongruities to which Williams refers persist. Take then president Hu Jintao's 2007 national plan to build China an ambiguous-sounding 'ecological civilisation'. That has resulted in the government's National Civilised City Assessment System, which lays out an audit trail of ethical behaviour by which cities can and must compete to obtain civilised city status: coverage includes the carbon footprints of party officials, the proportion of shops that are free of counterfeit goods, the extent of (often vapid) cultural facilities, volunteering for public works and environmental quality. Thus, in Anhui Province, inland from the east coast, Hefei has made its heavy population of migrants from the countryside behave in a civilised manner, and offers cash rewards to citizens who take it upon themselves to inform on litterlouts.
So far, so uncivilised, in fact. Yet the Chinese leadership's mix of Stalinist targets and Confucian pragmatism about its cities' environmental agenda is already tinged with spiritual thought about nature, whether the thinking is Western or Daoist in overtone. Yes, citizens and regional politicians alike support eco-city development – precisely, Williams says, because the phrase contains the word 'development'. But gentrifrication, he drily adds, 'is not a dirty word in China. Yet.'
China does not quite flaunt Green moralism and a misanthropic sense of limits at every street corner, like Western cities do (and not a few Indian ones try to do). China does not go to Africa, in the manner of the EU, recommending small-scale, low-carbon, urban villages. China views harms done to nature as a product not of hubristic overdevelopment, but of economic underdevelopment. Not for the Chinese a fashionable, faux support for growth so long as it is only growth around green technologies. Not for them the Western fad for urban 'resilience' against the forces of nature – a fad that, Williams jokes, 'counter-intuitively seems to revel in a permanent state of frailty'. In China, Williams writes, the struggle against subsistence continues to this day, 30million people are reputed still to be living in caves, and a good million are homeless. Industrial accidents, and, we might add, fires in slums peopled by migrants, are a fact of life. In these circumstances, then, economic efficiency remains a worthy goal, and no love is lost on nature.
And yet. Inspired by modern European urbanism, the boutique hotels, high-end teahouses and horse-riding stables that characterise the life of the well-heeled weekender at Suzhou eco-town are, Williams insists, 'toying with the Western restraint model': nature as something to be cosseted, not tamed. Similarly, the 2011 paean that vice minister for environmental protection Pan Yue made to the 'deep ecological wisdom' supposedly contained within China's 'cultural ideals' was not just a routine outing for modern Chinese Communist Party nationalism, but also a nod to older, more mystical thinking about humanity's relationship with nature. And as if that were not enough, in 2016 China's State Council called for the boundaries around cities to be strengthened against incomers, so that their supposed ecological carrying capacity could not be exceeded. As Williams notes, caustically, this immigration policy dressed up as environmental stewardship 'shows how much China has learned from Western enviro-speak'.
In this book, China's exchange of urban and environmental ideas with the West, and its unique framework for thinking about and acting upon nature, form a riveting counterpoint to Williams' fly-on-the-building-site vignettes. At little more than 200 pages, loaded with charts and photographs, China's urban revolution is, unlike China's cities, commendably compact. But like China's cities, it's a buzz.
James Woudhuysen is visiting professor of forecasting and innovation at London South Bank University. He is also editor of Big Potatoes: the London Manifesto for Innovation. Read his blog here.
China's Urban Revolution: Understanding Chinese Eco-cities, by Austin Williams, is published by Bloomsbury. (Buy this book from Amazon(UK).)
To enquire about republishing spiked's content, a right to reply or to request a correction, please contact the managing editor, Viv Regan.