Masterpiece Cakeshop: are we free to disagree?
The US Supreme Court case represents a fork in the road for freedom.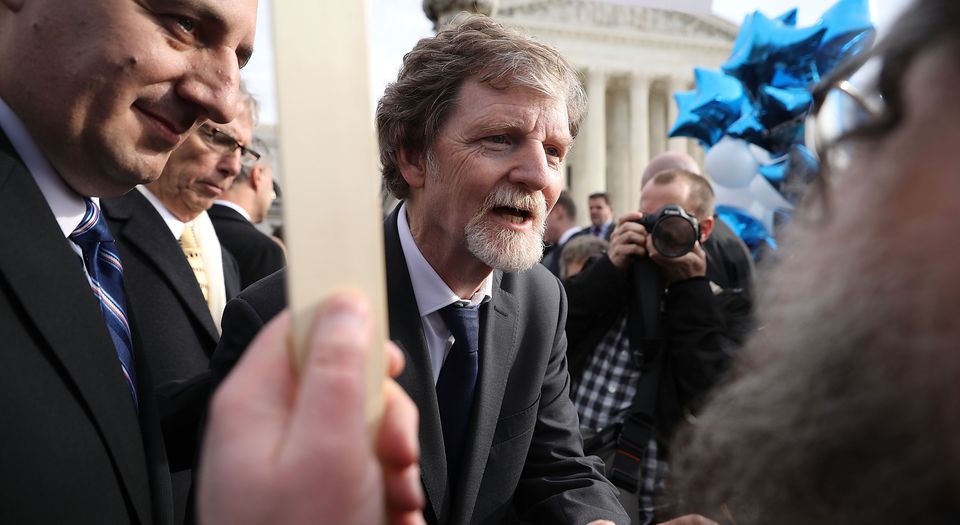 Last week, the US Supreme Court heard the case of Jack Phillips and his Masterpiece Cakeshop – an increasingly familiar story of a regular citizen caught in the firing line for following his conscience.
The facts of the case are straightforward. In 2012, two men asked Jack to design a wedding cake for their same-sex marriage. Jack believes marriage is the lifelong union of one man and one woman, and for reasons of conscience, he could not design a custom cake to celebrate a same-sex marriage. Jack told the couple he would happily sell them anything in his shop, or create a custom cake for them for another occasion. This nuance is important and often misreported in the media. Jack serves all customers; he does not want to be forced to create all messages.
However, this distinction was lost on the Colorado Civil Rights Commission, which ordered Jack to design wedding cakes that celebrate same-sex marriages (if he continues to create any wedding cakes), teach his staff why he was wrong, and file quarterly reports with the government for two years, informing them if he declines an order and explaining the reasons why. Notably, the same Civil Rights Commission held that other cake artists in Colorado could lawfully refuse to design cakes with messages opposed to same-sex marriage.
As a result, Jack stopped designing wedding cakes, lost 40 per cent of his business, and therefore most of his staff, and received death threats. Ultimately, his appeal made its way up to the Supreme Court.
The case has received extensive coverage in the US and has been billed as one of the most important free-speech and religious-liberty cases in the nation's history. Indeed, the case raises novel and interesting First Amendment questions that one way or another will shape the future of US constitutional law.
But even more than that, the case is a watershed moment for American democracy, and by implication, much of Western society. Can the government compel private actors to create messages with which they disagree? And if it can, what else will the government compel citizens to do in the years to come? The backdrop to this case may be a small cake-decoration business in Colorado, but these are hugely important questions that affect everyone.
The freedom to disagree is now well and truly on life support in the West. It has all but vanished as a concept, and an elitist, coercive conformity has taken its place. A slew of hate-speech laws and non-discrimination laws has given the legal firepower to those seeking total uniformity. And even if such laws are not engaged, political correctness and the baying Twitter mob is often enough to eradicate dissent.
Many cases before the courts involve Christians not wishing to act in a way that they feel endorses, condones, or celebrates same-sex marriage. In the UK, we've had the Christian marriage registrar, Christian guest-house owner, Christian printer, and many others who have been forced to choose between their conscience and their livelihood. And of course there's the very similar case of Asher's Bakery, which is due to be heard by the UK Supreme Court in April 2018.
But the coercive conformity we see is by no means limited to this one scenario. For every public or political issue there is now a 'right' and a 'wrong' view, and if you're in the wrong, civil disagreement is impossible. You are a bigot, on the wrong side of history, and you must be punished. We see this play out in politics, in the media, on university campuses, in every facet of public life.
Which brings us back to the case of Jack Phillips. Will the US Supreme Court carve out a different path, and set an example for others to follow?
As is often the case in US Supreme Court cases involving cultural skirmishes, Justice Kennedy may have the decisive vote. At one point during the oral arguments he remarked, 'Tolerance is essential in a free society. And tolerance is most meaningful when it's mutual. It seems to me that the state in its position here has been neither tolerant nor respectful of Mr Phillips' religious beliefs.'
These comments offer a glimmer of hope. Just two years ago, Kennedy voted in favour of redefining marriage. After that decision I wrote an article for spiked called 'Can religious freedom survive same-sex marriage?'. The result of the Masterpiece case will go some way to answering that question.
Western society will either find a way to live peaceably with those who hold such differing views, or the coercive conformity will roll on to more and more areas of life.
Paul Coleman is a British solicitor and the executive director of ADF International, a global partner of Alliance Defending Freedom, which represented Jack Phillips before the US Supreme Court.
Picture by: Getty
To enquire about republishing spiked's content, a right to reply or to request a correction, please contact the managing editor, Viv Regan.