Trump isn't the only one grandstanding on Jerusalem
Both the president and his haters use Israel to signal their virtue.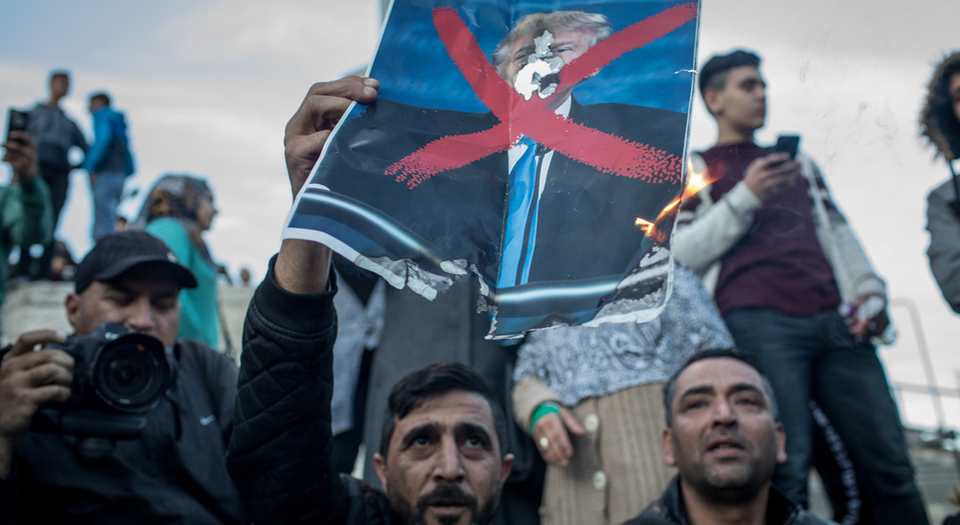 It was guaranteed to send self-righteous politicos into an uncontrollable rage. The man they hate above all others, Donald Trump, recognising Jerusalem as the capital of the country they loathe most of all: Israel. All their prejudices about the president's stupidity, orange skin and bad hair were recycled in response to his seemingly avid support for the Jewish state.
Of course, only a small minority took to the streets to protest. This included a ritual demonstration outside the American embassy in London's Grosvenor Square (reportedly including anti-Semitic jihadist chants). Meanwhile, several prominent artists performed their now traditional role of condemning Israel as a racist state rife with ethnic cleansing. Similar sentiments were expressed in numerous tweets and Facebook posts, as well as no doubt being echoed in countless party conversations.
In some parts of Europe it got even uglier. In the Swedish town of Malmo, a crowd of demonstrators waving Palestinian flags reportedly said in Arabic: 'We're going to shoot the Jews.' Further north in Gothenberg, a synagogue was firebombed. In Amsterdam a man was arrested for smashing the windows of a kosher restaurant while shouting about Allah and Palestine. In Berlin there were demonstrations which included the burning of an Israeli flag and chants of 'death to the Jews'. Naturally, there were also protests in the Middle East and beyond, but that is a story for another day.
Mainstream politicians thankfully condemned acts of violence and rejected overt anti-Semitism, but they were also anxious to distance themselves from Trump's decision. Theresa May described it as 'unhelpful'. Jeremy Corbyn, UK Labour leader, said Trump's announcement was a 'reckless act'. President Emmanuel Macron said it was a 'threat to peace', while the official spokesman for Angela Merkel keenly distanced the German government from Trump's move.
Those tempted to go along with this criticism of Trump for taking reckless unilateral action would do well to look more closely at his official statement. Trump is more than capable of saying foolish things, but in this case he included an accurate observation that is worth pondering. If its implications are considered carefully, it could throw an entirely different light on Trump's initiative:
'In 1995, [US] Congress adopted the Jerusalem Embassy Act, urging the federal government to relocate the American embassy to Jerusalem and to recognise that that city – and so importantly – is Israel's capital. This act passed Congress by an overwhelming bipartisan majority and was reaffirmed by a unanimous vote of the Senate only six months ago.'
In other words, Trump's announcement was not a new policy but one that was officially adopted 22 years ago but never enacted. US presidents, including Bill Clinton and Barack Obama, supported the embassy move in principle, even though every six months they signed a waiver to stop it from happening.
Even more remarkable is that after Trump made his statement, he sat down and signed another presidential waiver stopping the transfer of the embassy from Tel Aviv to Jerusalem. In other words, despite all the hype, the move will not happen this year and may well be postponed again in the future. Trump seems to have been lured by the publicity associated with making a high-profile announcement without any particular desire to follow it through.
There should be no doubt that the key questions here are symbolic rather than practical. Trump's claim that the US needs 'architects, engineers and planners' to complete a new embassy is nonsense. The US already has a substantial consulate on Jerusalem's Agron Street that it could easily rename as the embassy.
Several points can be gleaned from this bizarre tale. It is certainly not evidence of unwavering US support for Israel or reckless unilateral action by Trump, as many claim. On the contrary, the US president is indulging in his own form of posturing, which in some ways mirrors that of his critics.
Firstly, the days of solid US bipartisan support for Israel are long gone. Obama's notorious loathing for Benjamin Netanyahu, the Israeli prime minister, reflected a broader shift away from Israel by many in the American political establishment. Trump seems to be taking a more pro-Israeli position than his predecessor did, but his stance is far more tentative than is widely understood.
Secondly, anti-Israel posturing has become central to radical political identity in the West. There are many big questions on which they can refrain from taking a position, but Israel is not one of them. Any mention of the Jewish state will elicit knowing comments about 'ethnic cleansing' and the occupation.
To be sure, Israel has many faults – but the scale of its critics' double standards is breathtaking. There are numerous grave problems in the Middle East and beyond, but these are either not mentioned at all or, if they are, they have not become central to defining radical identity. Consider, for example, the war in Yemen. Saudi Arabia, with backing from the US and Britain, is complicit in a war that has killed many thousands of people and caused a humanitarian crisis. Or consider the Syrian Civil War, in which the West has also played a central role, where hundreds of thousands have been killed and many millions more have been made homeless. The list could go on, but the central point is this: none of these conflicts has come to play a role in the Western left's virtue-signalling, while Israel has.
As I have argued previously on spiked, the views of Western radicals on Israel strangely parallel the grandstanding of Arab and Islamic regimes. They are also keen to focus on the failings of Israel as it provides a welcome distraction from their severe domestic problems.
Finally, European leaders are more than willing to go along with this masquerade. They hide behind platitudes about the 'peace process' and international law in relation to the Middle East and elsewhere, but they are unwilling or unable to challenge the alarming double standards on Israel.
It is a tragedy for both Israelis and Palestinians that they have become the playthings of Western egos.
Daniel Ben-Ami is a writer based in London. Visit his website here. An expanded version of Ferraris for All: In Defence of Economic Progress is available in paperback (Buy this book from Amazon (UK)
Picture by: Getty Images.
To enquire about republishing spiked's content, a right to reply or to request a correction, please contact the managing editor, Viv Regan.