After Alabama: Democrats still don't get it
It's a remarkable result, but it won't fix the Democrats' problems.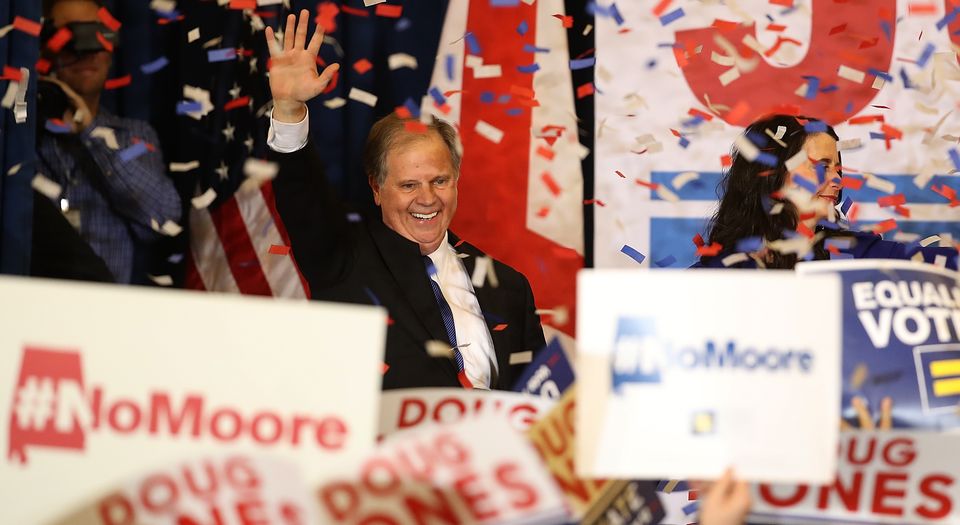 Rarely has a US Senate race in Alabama drawn such worldwide attention. In yesterday's historic special election, Alabamians returned the deep-red state's first Democratic senator in 25 years, with Doug Jones triumphing over Republican Roy Moore. But it wasn't just the result that was remarkable. This was a race that took on national, and international, significance.
Former Alabama Supreme Court judge Moore – a self-promoting theocrat, made famous for refusing to remove a granite monument to the 10 Commandments from the state judicial building – would be a polarising figure in ordinary times. Add to this the lurid revelation that Moore allegedly sexually abused teenage girls, and the ongoing rage against his White House booster, Donald Trump, and it became a battle for the future and soul of the nation, in this supposedly dark, Trumpist, post-#MeToo age.
But what did the result really tell us? First, that Moore was a terrible candidate. Even without the charges levelled against him, he was bigot and a loon. Not only does he think homosexual acts should be criminalised, he also once wondered, out loud, if the amendments to the US Constitution should have stopped at the 10th – ruling out, that is, the 13th, which abolished slavery.
Then there were the gaffes. When Moore was accused of anti-Semitism, his wife, Kayla, took to the stage at a rally to let the media know that, actually, their lawyer is a Jew. Another of his surrogates, attempting to burnish Moore's bruised moral credentials, told a story about him insisting he and his friends leave a Vietnamese brothel, chock-full of 'very young girls', when they accidentally happened upon one.
Second, this is as much Trump's loss as it is Moore's. This race was framed, by both sides, as a referendum on Trumpism. The two men have a chequered history – Trump originally endorsed the establishment candidate, Luther Strange, for the nomination. But in recent weeks, as leading Republicans lined up to disavow Moore, Trump became one of his few enthusiastic party supporters. Moore was first endorsed by Trump's old campaign chief, Steve Bannon, who saw him as the Trumpist, anti-establishment candidate. And, reportedly, Trump saw something of his own campaign, and the infamous Access Hollywood scandal, in the post-allegation pile-on against Moore. He embraced him, he campaigned for him, and yet it made little difference. Trumpism is far more fragile than some would make out.
But thirdly, and most crucially, the Democrats' troubles are far from over. Yes, they've cut the Republicans' already slim Senate majority. Following congressional victories in New Jersey and Virginia, they have all the momentum going into the midterms next year. But though Trump is inept, weak and unpopular, not to mention still in open warfare with his own party, the response to the Alabama upset shows that the Democrats still haven't learned the lessons of last year. Doug Jones' campaign fed off Moore's toxicity. He put out flyers in urban areas suggesting Moore would never make the ballot if he was black. And on the national level, commentators went full-blown Culture War, holding up a vote for Moore as a vote for bigotry and misogyny – precisely the sort of patronising broadsides that have so enraged the Rust Belt in recent years.
The Democrats are doing nothing to win back the white working-class voters who have been edging away from the party over decades. As happened in the Virginia governor's race last month, Democrats triumphed in Alabama by picking up college-educated suburbanites. The huge turnout among black voters was decisive, and, given Moore's worldview, completely understandable. But the excitement this has sparked among liberal commentators and Democratic strategists, rekindling the belief that they can win without having to bother with working-class whites, smacks of the divisive demographic games that didn't work for Hillary. It was the blue-collar people who voted for Obama twice and then broke for Trump who proved so decisive in last year's presidential election. And these are precisely the 'forgotten' people the Democrats are supposed to represent. Identity politics and coastal-elite scorn won't win them back.
Trump's election was a political reckoning. He tapped into a bubbling discontent with the status quo, he spoke to people long forgotten by the political class, and he caused one of the biggest upsets in American political history as a result. But he was always more of a blunt instrument than a leader. Poll after poll, study after study, showed many people voted for him in spite of his crazier policies, not because of them. They liked that he shook things up, and they were repelled by his opponent. But as the last year has shown, there's only so far that can get you. To the extent that he had a programme that resonated – his promises to bring back jobs and reset free trade – it's all been forgotten in the tax giveaways for the rich and legislative gridlock. And he's now more unpopular than ever.
Trump is weak. It shouldn't be hard to beat him and the party he's taken hostage. But everything the Democrats are doing only serves to remind his voters why they plumped for the perma-tanned charlatan in the first place. The Democrats could well retake Congress in 2018, and topple Trump in 2020. But until they reckon with what Trump's victory represented, and reconnect with those who put him in the White House, these will be Pyrrhic victories. That the Democrats have a senator in Alabama is remarkable, even if they needed a clownish alleged paedophile for an opponent to clinch it. But the jubilation around Jones' win reveals the Democrats still don't get it.
Trump may fall sooner rather than later. But the hopes and desires, the anger and frustration, of those who voted for him will not go away.
Tom Slater is deputy editor at spiked. Follow him on Twitter: @Tom_Slater_
Picture by: Getty
To enquire about republishing spiked's content, a right to reply or to request a correction, please contact the managing editor, Viv Regan.