Morrissey: dangerously English
Why Moz still shocks after all these years.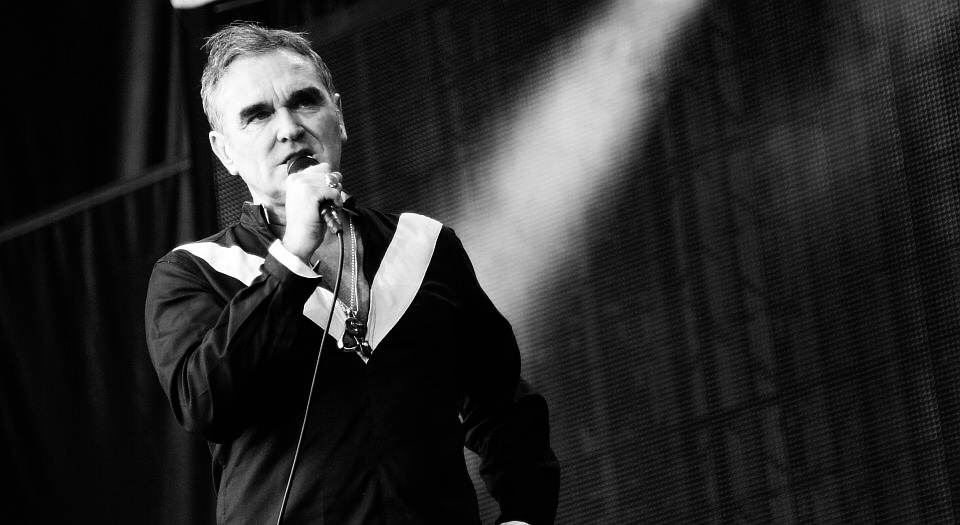 'Teach your kids to recognise and despise all the propaganda / Filtered down by the dead echelons mainstream media.' So croons Morrissey on 'My Love, I'd Do Anything for You', the stomping opener to his new album, Low in High School. Not too long ago, such lines might be taken by critics as a stab at defiance and rebellion. But no longer, where Mozzer's concerned. The former Smiths frontman turned solo artist, you see, is now seen by the hacks who once loved him less as an unfiltered, often un-PC, rebel and more a Trumpish demagogue, wailing against the modern world and the dreaded MSM.
In the run up to this LP, as Morrissey has done the interview rounds and aired his increasingly unfashionable views on a range of topics, the knives have been out. 'As he ages, Morrissey's worldview gets smaller and smaller', says a writer at Pitchfork. One columnist, responding to Morrissey admitting 'I like Nigel Farage a great deal', implores Johnny Marr, the guitar-player wunderkind and other half of the Smiths songwriting duo, to disassociate Mozzer from the Smiths legend, so it wouldn't be 'tainted by the lunk-headed ravings of a professional irritant'. 'Old greatness spoiled by ugliness and spite', was the headline of the Guardian's lukewarm review of his new album.
They're entitled to disagree with him, not to mention dislike his music. If anything, the backlash to Morrissey's comments about #MeToo (he said what's now called sexual harassment is often a 'pathetic attempt at courtship'), Brexit ('a fascinating strike for democracy'), and the anti-Israel BDS movement ('absurd and narrow-minded'), is taking the heat off the serviceable but often-tuneless Low in High School. Sonically, he's at a Maladjusted-era low – the 1997 album that effectively sealed his irrelevance and sent him into the wilderness for seven years – with cluttered electronics trying to fill the gap where the melodies once were.
But you also can't help but wonder what they expected. For years, bigmouth has struck again and again and again. With Morrissey's literary, biting wit, matched with Marr's gorgeous rolling chords, the Smiths gave resplendent voice to teen angst and needled the old establishment with songs that dealt in homoeroticism ('This Charming Man'), parochial perversion ('Vicar in a Tutu') and regicide ('The Queen is Dead'). But Morrissey has also long wound up those who might have thought they were on his side. And this is especially true of his solo career, which has now spanned 30 years and 11 albums, as opposed to the Smiths' five years and four albums.
His dismay for both establishments – the dowdy political class and the cultural metropolitan set – is one of Morrissey's rarer qualities. He claims the police searched his home in 1988 over his anti-Thatcher song 'Margaret on the Guillotine', the closer on his first solo album, Viva Hate. And he's been in open war with the more right-on sections of the music press for decades. But where, in the past, he always had his defenders, those capable of seeing that, as Stuart Maconie once put it, for all Morrissey's effete indie lank, he was also a 'white working-class northern Englander who was refusing to play the metropolitan game', few seem willing to defend him today.
The only real protest song Morrissey ever penned was 'Meat is Murder', the title track of the Smiths' second album. And though he continues to sound off colourfully about the evils of carnivorousness in interviews ('I feel quite smug about foot-and-mouth disease', he said in 2002), it's his more oblique explorations of Englishness that have often ruffled the most feathers. Though it was punk pioneers the New York Dolls that first inspired the young Steven Morrissey, then jobless in working-class Manchester, to pick up a microphone, his creative palette was always quintessentially English.
Morrissey was always steeped in English culture, from musical hall and George Formby to kitchen-sink dramatists like Shelagh Delaney and his former neighbour Alan Bennett. And he was haunted by a sense of cultural loss. Though he loved punk, and floated about the edges of the Mancunian Seventies scene, he seemed to sense that British culture was in terminal decline, leaving the Eighties with little but garish imported disco music and escapist, dumbed-down TV. As his solo career wore on, this obsession with some old, real England that no longer existed took his work down some sometimes questionable alleyways.
Morrissey raised eyebrows in 2007 when he said England was 'losing its identity' following mass immigration. And some of his tunes have dealt in murkier stuff. On Viva Hate, there's 'Bengali in Platforms'. 'Life is hard enough when you belong here', is the standout dodgy line. Later, on Your Arsenal, his seminal 1992 album produced by glam legend Mick Ronson, there's 'National Front Disco', easily the best pop tune about the fash ever written, where a mother bemoans the fact that her boy has disappeared off to the eponymous racist social. But it's never clear who is speaking, and whether Moz is indulging these views or just darkly fascinated by them.
The Your Arsenal tour culminated in a notorious appearance at the Madstock Festival in Finsbury Park, supporting Madness – a band who, despite their best intentions, attracted something of an old skinhead element. Morrissey, as he did at each show that year, draped himself in the Union flag, leading a (presumably) non-skinhead section of the crowd to coin him off the stage. The NME, which had long had an open beef with Morrissey, ran a cover story that week asking if he was 'flying the flag or flirting with disaster?', documenting his various questionable statements over the years under the headline 'This alarming man'.
Morrissey's recent provocations seem tame in comparison. Praising Brexit and Farage – incidentally, he loathes Donald Trump – seem small fry compared with draping yourself in the flag in front of some skinheads. Morrissey has always said he deplores racism. So unless you know otherwise, the worst you could safely say about him is that he's a bit of a Little Englander, who, like much of the country, worries about the effect of mass migration. That now, more than ever before, it feels like Morrissey is persona non grata, suggests it's not so much that he has changed – more that the world has; that polite society has become even more iffy about those who dare to stray from the script.
The irony is that Morrissey is far more '2017' than either he or his critics would like to admit. His veganism and box-bedroom mopery did much to foreground our downbeat, navel-gazing times. 'Spent the Day in Bed', the strangely jaunty single from his new album, encourages us to shun our meaningless workaday lives and retreat to the covers. If you read the passages about his upbringing in his infamous Autobiography, which would make you think he grew up in Dickensian squalor, it becomes clear he largely despised where he came from; to this day he's still more of a misanthropic observer, repulsed by the drabness of ordinary existence, than some self-styled man of the people.
But in this age of identity politics, national identity is the one identity you're not supposed to talk about. And Morrissey's preoccupation with it marks him out. There's nothing radical about his nostalgia for an England long disappeared, nor his discomfort with immigration. But as a republican and a Brexiteer, something many of his critics might see as a contradiction in terms, he's clearly more interested in the nation as something made up of people, culture and democracy, than tradition, blood and soil. And he's someone who will say what he thinks, regardless of what anyone else thinks. Perhaps it's no wonder that this man is now more alarming than ever.
Tom Slater is deputy editor at spiked. Follow him on Twitter: @Tom_Slater_
To enquire about republishing spiked's content, a right to reply or to request a correction, please contact the managing editor, Viv Regan.