Louis CK and the rise of Sexual Stalinism
Like a disgraced commissar, his work is scrubbed from the record.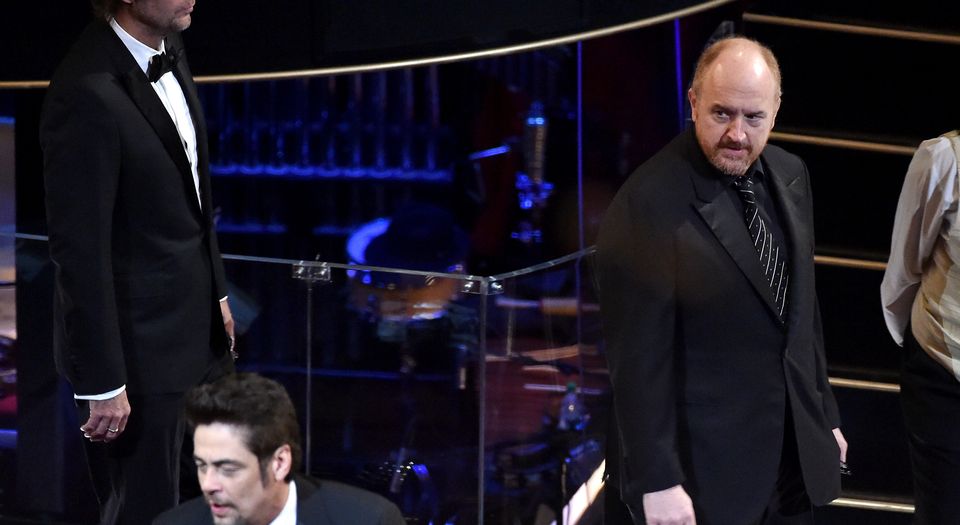 Life is messy. Everyone's a bit of a perv. Can we separate someone's work from their potentially sordid private life? These seemed to be the issues at the heart of I Love You, Daddy, a new film written and directed by comic king Louis CK. I say 'seemed' because its release has been suspended, perhaps indefinitely. And the likes of you or I won't be able to see it, at least legally, any time soon. All we have to go on now are a handful of reviews, many scathingly written in light of revelations of CK's 'sexual misconduct' towards five women – many of them other writers and comics.
In the past week, the post-Weinstein Sexual Salem has turned into a kind of Sexual Stalinism. Not only have men been outed, sacked and shamed, allegations printed as fact and due process suspended; they're now being airbrushed out of records, like disgraced Soviet commissars scratched out of party photos. As I write, Ridley Scott is furiously reshooting Kevin Spacey's scenes in his new thriller, All the Money in the World, with Christopher Plummer in his stead. Following a rape allegation made against actor Ed Westwick, the BBC has shelved a three-part Christmas drama he starred in.
But the memory-holing of CK has been particularly swift. As the New York Times prepared to publish an exposé alleging he had asked and then proceeded to masturbate in front of five different women, the NYC premiere of I Love You, Daddy was cancelled. FX, home of his hit show Louie, cut all ties with him. Netflix has cancelled his forthcoming comedy special. And HBO has announced it will erase all of his past specials from its archive. Various films, sitcoms and shows that the prolific CK has been involved in have been shelved or his role has been snipped out.
For what it's worth, CK has owned up. 'I said to myself that what I did was okay because I never showed a woman my dick without asking first', he said in a statement. 'But what I learned later in life, too late, is that when you have power over another person, asking them to look at your dick isn't a question. It's a predicament for them.' Most of the incidents were clearly consensual, though later regretted – others were more blurry. One can't ignore the difficulty these women would have faced in turning down such a major player in their industry. But that this is being referred to as 'misconduct' makes it clear CK is more perv than predator.
That we are even moved to speculate over what amounts to a comedian's awkward sexual behaviour speaks to how sordid and febrile the #MeToo debate is. As has the fact that CK has effectively been excommunicated from the entertainment industry. He's not been accused, let alone tried, of any crime. And even if he was – as in the case of Spacey and Westwick – should our next move be to expunge his every trace? A rational, grown-up society should be able to handle an alleged abuser or philanderer's presence on screen, to say 'we take this allegation seriously, but the movie's still going out on Friday'.
The history of art is full of morally ambiguous people, far more questionable than CK. Which is where I Love You, Daddy is grimly relevant. The film, going on those reviews, is both an ode to CK's hero Woody Allen and a meditation on the moral questions that swirl around his private life, and the infamous marrying of his stepdaughter. CK plays a comedy writer whose 17-year-old daughter takes up with John Malkovich's Allen stand-in. The film wrestles – or so I read – with whether we can separate the artist from the work; with questions about where adulthood begins and the limits of sexual tolerance.
It sounds like precisely the kind of nuanced story that is increasingly impossible to tell. And it is testament to the pearl-clutching nature of the post-Weinstein climate that CK's work is now being re-read as suspect, littered with nods and winks to his dubious ways. The responses to the revelations make constant reference to the masturbation jokes in his stand-up. Reviews of I Love You, Daddy make dark note of a scene in which CK's screwball sidekick, played by Charlie Day, mimes masturbation to completion. This is the kind of philistinism that was once the preserve of the religious right.
Of course, an artist's private life or views on women, for example, may well bear some imprint on their work. And everyone comes to an artwork with their own experiences and predispositions, about both the subject and the author. Some will be unable to watch a film by Woody Allen or Roman Polanski and disregard their pasts. Others will. But while this is a question of criticism and judgement, the discussion now is more about whether they should even be allowed to work. The current climate demands not simply sympathy or understanding for victims, but a kind of vengeance against the alleged perpetrators.
Just as we balk at rappers with violent pasts being shut down by the authorities, as routinely happens in London, we should be nervous about the gleeful expulsion of people like CK due to their personal transgressions. It takes nothing away from those making allegations to say that someone's private life shouldn't lead to them being cast out forever from their chosen profession. No one needs to forgive these people. Nor is the 'artistic temperament' an excuse for bad behaviour. But it's a sign of a civilised society that artists with dubious private lives or even heinous, criminal convictions are allowed the space to create.
Whatever his private predilections, CK is a giant of comedy – the best and most accomplished of his generation. That shouldn't be scrubbed away. A handful of his specials are still on Netflix, for now. Watch them while you can. And make up your own mind.
Tom Slater is deputy editor at spiked. Follow him on Twitter: @Tom_Slater_
To enquire about republishing spiked's content, a right to reply or to request a correction, please contact the managing editor, Viv Regan.