From Priti to sex pests: the scandal of 'Remainergate'
Every hint of wrongdoing is now exploited as anti-Brexit ammunition.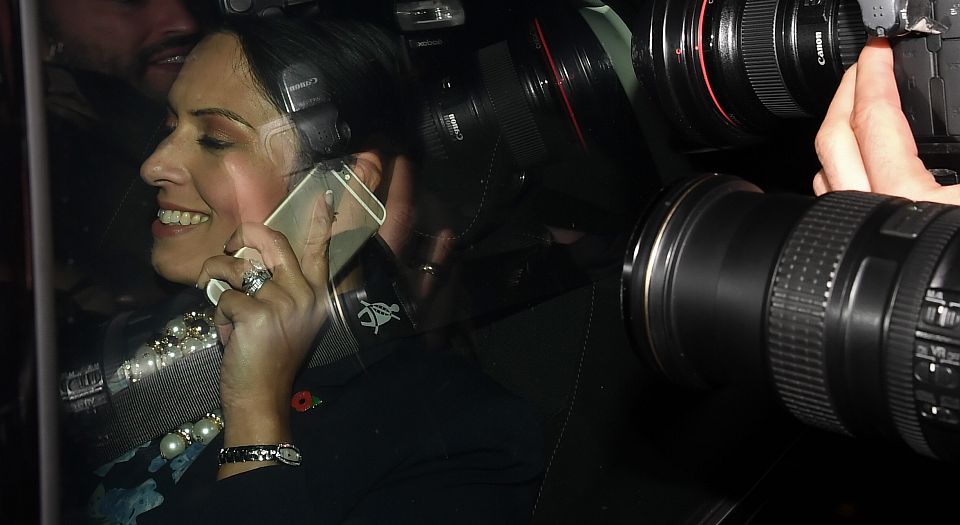 Everybody appears to agree that Brexit is the biggest issue facing UK politics for a generation. And the battle for Brexit is reaching crisis point, with the EU elites trying to teach upstart Brits a lesson.
So, why is our political life obsessed instead with petty scandals, from 'kneegate' to 'Pritigate'? How has Theresa May's Tory government reportedly been reduced to 'chaos', with the loss of two cabinet ministers in a week, by 'crises' that few people outside the Westminster bubble would consider critical at all?
Let's be honest: who really believes that the scandals now rocking Westminster are seriously matters of political life and death? The first time many people would ever have heard of Priti Patel, the Conservative international development secretary, was when the headlines started screaming about the 'scandal' of her holding some, apparently unofficial, meetings with Israeli officials while on holiday in the Middle East. To judge by the condemnatory tone of the media and political reaction, they might be forgiven for thinking she must have commandeered an Israeli tank and rampaged through a Palestinian village with all guns blazing. Patel has been forced to resign.
Patel's Tory cabinet colleague/rival, foreign secretary Boris Johnson, has also come under pressure to resign or be sacked, for uttering a few ill-chosen words in support of Nazanin Zaghari-Ratcliffe, a British-Iranian woman jailed in Iran. Johnson suggested that it was wrong for the Iranian regime to lock people up merely for 'teaching people journalism' – a remark which apparently contradicted Zaghari-Ratcliffe's defence line that she was in Iran only for a holiday with her young daughter. The furious reaction to this supposed Boris blooper made it sound as if the UK foreign secretary rather than the Islamic state was persecuting a political prisoner, with MPs demanding he be sacked and online petitions calling for his head.
The meta-scandal of 'Pestminster' still hangs over everything in parliamentary politics. As documented elsewhere on spiked, the allegations of 'historic' sexual harassment involving MPs and ministers to date amount to little more than 'fleetingly' touching a knee, 'lunging' for a kiss in a lift, sending suggestive text messages or cracking naughty jokes. Not much, surely, for the most innocent of observers to get overexcited about – and certainly, as Ella Whelan points out, bearing no comparison to the systematic abuse and rape of working-class girls in northern towns which Labour councils and the police sought to cover up for years. Yet the Westminster 'sex pest' panic has already led to a cabinet minister resigning and MPs being suspended, amid calls for mass sackings to 'clean the stables' from top to bottom (apologies for touching on the offensive b-word).
Meanwhile back in the real world, Brexit is in crisis as the EU seeks to punish UK voters for daring to support Leave. This is a moment when we need leaders who will stand up for democracy and be prepared to walk away from the EU's sham negotiations rather than sell it out. Yet, bizarrely, Brexit has barely warranted a mention lately, in the scandal-soaked atmosphere of Westminster politics.
What's going on? Some suggest that parliament has become obsessed with sex pests because it's easier to talk and strike poses about this scandal than confront the minefield of Brexit – a classic psychological 'displacement activity', according to former Tory MP and Remainer columnist Matthew Parris. Other more conspiracy-minded observers deem the sexual-harassment panic a deliberate distraction, a wag-the-dog type political diversion to keep the public's eyes away from the mess they are making of Brexit.
But you don't have to be a conspiracy nut to see that it's even worse than that. These scandals all initially became bigger issues because of the parlous state of May's pathetic government. They have then been blown out of all proportion because they are being used as ammunition in the Battle for Brexit.
The outrage around each successive petty scandal is being stoked and exploited by influential Remainers in politics and the media. At the least they aim to add to the chaos in the minority Conservative government and get Brexit bogged down in the mud. At most they hope to get rid of pesky leading Brexiteers and perhaps even bring down the government, throwing the future into such confusion that the Remain camp can overturn the referendum result by default.
This is the other political scandal that needs to be highlighted now, far more important than all the others put together: we might call it 'Remainergate'.
No doubt Priti Patel would normally have been rebuked for apparently failing to follow ministerial protocols on meetings with foreign officials. That faux pas became a bigger deal because it involved Israel, the despised bête noire of many opposition and some Tory MPs. It became a much bigger deal because Patel is a leading Brexiteer, one of the few rising stars of UK politics to have always backed leaving the EU. They were not going to miss their chance to leak and browbeat her into resigning from the cabinet.
Boris Johnson can of course often be relied upon to 'misspeak' in buffoonish style. But there seemed little wrong with the UK foreign secretary speaking up for journalistic freedom. His intervention in the Nazanin Zaghari-Ratcliffe affair was seized upon as grounds for sacking by those who really object not to the few words he said about her, but to the many Boris has spoken in support of Brexit since he became a late convert to the cause of Leave.
The 'sex pests' scandal is a messier, more out-of-control affair which has caught Remainer as well as Leaver MPs in its swinging net. Yet this scandal, too, is being used and abused as part of the campaign to mess with and maybe even bring down May's government, in order to put the brakes on Brexit. After all, if enough MPs and ministers can be knocked over by throwing around allegations and 'dirty dossiers', who knows what chaos might result? Never mind the lack of light produced by this scandal-mongering – they want us to feel the heat that could send the government into what reports now describe as 'meltdown', and take Brexit with it.
Far-fetched? There is no need to take my word for it. Just listen to the overexcited Remainers themselves. One media commentator's headline – 'How the Westminster sexual-harassment scandal could stop Brexit' – is only outdone by the next one: 'How Harvey Weinstein could stop Brexit.' Why bother recognising the democratic mandate given by 17.4million Leave voters when you can mobilise the ghosts of a disgraced Hollywood mogul and a few tarnished MPs?
In the world of politics, too, there is a big clue in who is talking up these scandals. There are of course plenty of Labour scandal-mongers looking for an easy way to undermine May's teetering Tory government. But this goes beyond party politics, just as Brexit cuts across party lines. There are Conservatives as well as opposition MPs who want to stop Brexit by foul means, even at the expense of their 'own' government.
Anna Soubry MP, the godmother of Tory Remainers who wept at the revolting referendum result, has been across the media urgently stirring the scandal about everything from 'kneegate' to foreign affairs. Boris Johnson, she now decrees, should be sacked because he 'has proved himself lacking in the qualities needed in a foreign secretary'. The main 'quality' he currently lacks being an obvious willingness to kowtow to the EU.
A Tory MP on the other side of the debate, Jacob Rees-Mogg, told the BBC's Newsnight programme that the leaks which brought down Patel had probably come from Remainers inside the Foreign Office: 'There are still some people who are still very bitter about the result a year ago and inevitably that colours their behaviour.' That bitterness was evident recently, when Rees-Mogg's own reactionary-but-principled opposition to abortion made outraged headlines. Why was this Conservative's well-known backward view of abortion suddenly made the stuff of scandal, at the time when he was being discussed as a possible successor to Theresa May? Not because anybody seriously believed that an imaginary Rees-Mogg government was about to outlaw abortion, but because they wanted to discredit and delegitimise the most eloquent Tory Brexiteer.
In short, the Remainer political elites now view every issue through the prism of Brexit. That is why we also need to keep our eyes on the Brexit ball, and not be distracted by the flashing lights of passing scandals and manufactured waves of outrage.
But what about ministerial protocols or the personal ethics of Westminster MPs? The truth is that none of that will matter much if we lose the battle for Brexit. If the biggest vote for anything in British political history can be undermined or overturned by a conniving elitist political class then we can hardly claim to live in a democracy, no matter how many new codes of conduct MPs impose on themselves.
As far as democracy is concerned, it's now Brexit or bust. Which is why, if it's scandal you're after, the hidden affair that most needs to be exposed is Remainergate.
Mick Hume is spiked's editor-at-large. His new book, Revolting! How the Establishment is Undermining Democracy – and What They're Afraid of, is published by William Collins. Buy it here.
Picture by: Getty
To enquire about republishing spiked's content, a right to reply or to request a correction, please contact the managing editor, Viv Regan.