Calm down, Democrats – your troubles aren't over
Dems did well this week, but they're still in disarray.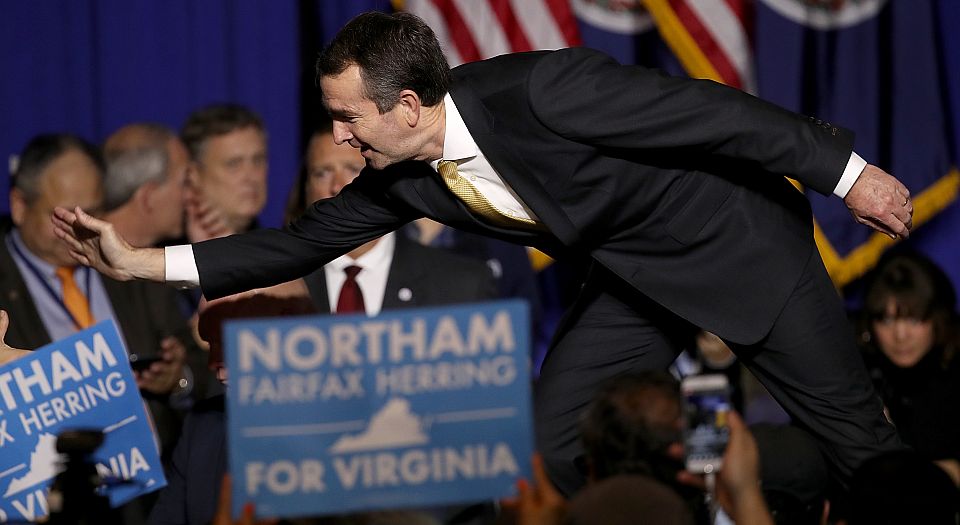 On the one-year anniversary of President Donald Trump's victory, the liberal-left were still resisting that reality in hyperbolic terms. Michelle Goldberg wrote of the Trump 'apocalypse' in the New York Times, while protesters gathered in New York City to 'scream at the sky' to mark Year 1 of Trump.
But following the results of Tuesday's elections, Democrats turned from screams of anger to shouts of jubilation. Talk of having to endure Trump's 'fascist' regime and his 'irredeemable' band of supporters was quickly replaced with a rediscovered faith in the electorate and hopes for a wave towards Democrats in 2018, when they might win back a majority of Congress.
The Democrats' election results were indeed impressive. In Virginia, the party won the governor's race and picked up a swathe of seats in the state legislature (the House of Delegates) to wrest control from the Republicans. They also gained the New Jersey governorship, took control of the Washington state senate (giving Democrats complete control of all West Coast states), and won an initiative in Maine to expand Medicaid.
Democrats in many areas were clearly energised, with turnout up 16 per cent in Virginia. There is little doubt that they were motivated to send a message against Trump. The party's gains were wide enough to suggest there is a real chance they could vie for control of Congress next year.
We shouldn't underestimate how bad the results were for Trump and the Republicans. Trump himself pinned the blame in Virginia on Republican candidate Ed Gillespie, who, Trump tweeted, 'worked hard but did not embrace me or what I stand for'. It's true that Gillespie's Trumpism was half-baked: he sought to distance himself from Trump personally, but tried to capitalise on Trump-like themes such as immigration and Confederate statues. But even so, there's no mistaking that voters in Virginia were making a statement about Trump, who had only a 22 per cent approval rating among voters there (his standing nationally isn't much better, at 38 per cent).
The conventional wisdom has been that Trump is such a unique figure that voters would not necessarily apply their dissatisfaction with Trump to other Republican candidates. Virginia shows this is not going to be the case. The Democrats' candidate for governor, Ralph Northam, easily linked Gillespie with Trump, and it seems that other Republicans' fortunes will also be tied to Trump's success, or lack of success.
And yet, while Republicans took a thorough beating on Tuesday, it would be wrong to draw far-reaching conclusions from this 'off-year' election cycle, where relatively few seats for national or state-level roles were contested. Democrats may no longer be feeling doom and gloom, but Tuesday shouldn't have them celebrating, as the results didn't show the Democrats overcoming their fundamental shortcomings.
For a start, most of the elections on Tuesday were held in areas that traditionally vote Democratic, or have been toss-ups. For example, 15 of the 16 seats that the Democrats won in Virginia came from districts Hillary Clinton carried in the 2016 election. It won't all be favourable territory next year.
A striking result on Tuesday was the continuing shift of well-off people towards the Democrats. The party did better than before in suburban areas with high concentrations of the college-educated, winning over many upper-class Republicans. This was the case in northern Virginia and the suburbs of Washington DC. At the same time, Northam and the Democrats underperformed in the small-town, ex-urban and rural areas, such as western Virginia, where there are a higher proportion of the working class/non-college educated. Thus, the Democrats have not won back more working-class whites; instead, they are picking off upper-class Republicans, and pushing the two parties to separate more on class lines.
Further, the Democrats still lack a coherent message. They are running almost entirely on an anti-Trump line, and don't feel compelled to provide an alternative. The party also continues to be riven by factions, and its internal organisation is in disarray (as evidenced by this week's revelations from Donna Brazile, former chair of the Democratic National Committee). Democrats don't really know what they stand for, other than not liking Trump. As former Democrat representative Steve Israel puts it, 'If you don't know who you are, you really can't agree on what you're going to say'.
And so, lacking a transcendent, unifying message, the Democrats are doubling down on identity politics. The New York Times, for instance, responded to Tuesday's results by claiming they were a rebuke to 'white nationalism'. Its pages celebrated the 'diversity' of the winners around the country, including Danica Roem, the transgender woman who won a seat in the Virginia legislature, as well the first female black mayor of Charlotte, North Carolina, and a Sikh mayor in Hoboken, New Jersey. A Times columnist, Charles Blow, said he hoped the election results would lead the Democrats to stop trying to win over 'angry white men'.
The Times' glee at these victories was no doubt intended as a blow against Trump supporters, who are assumed to be thoroughly racist. But for most of Trump's voters, of course, these diversity winners are no big deal, since many of them voted for a black man for president, twice.
It seems that many Democrats are hoping not only to topple Trump, but also the populist moment that has arisen in the country. They are hoping it will all go away, and things will go back to 'normal'. But the new anti-establishment sentiment is not entirely tied to traditional party politics, or Trump himself, and if Trump and the Republicans fall, that won't mean it will disappear.
As it happens, not all Trump voters are wild about Trump, and many are now disappointed he hasn't delivered. A Wall Street Journal/NBC poll of 'Trump counties', where Trump defeated Clinton decisively, found his disapproval rating at 50 per cent – higher than the national average. Any disenchantment with Trump and the Republicans could take expression in other political (or non-political) ways.
Tuesday's results show that American politics is still in a tribal cycle. Today, the Democratic tribe is motivated, the Republican tribe is dispirited. Neither is able to find a compelling, transcendent message to take the country forward. Instead, both parties are in trouble. The Republicans are now Trumpified, left to his unprincipled, idiosyncratic whims and suffering from his declining popularity. The Democrats remain trapped in identity politics, able to win over the disenchanted wealthy, but alienating the working classes in the process.
That may be enough for the Democrats to defeat Trump and the Republicans some day, but it won't address the working-class concerns that gave rise to last year's unexpected turn against the establishment.
Sean Collins is a writer based in New York. Visit his blog, The American Situation.
Picture by: Getty Images.
To enquire about republishing spiked's content, a right to reply or to request a correction, please contact the managing editor, Viv Regan.