In praise of Luther
Germany seems embarrassed by the Reformation. It shouldn't be.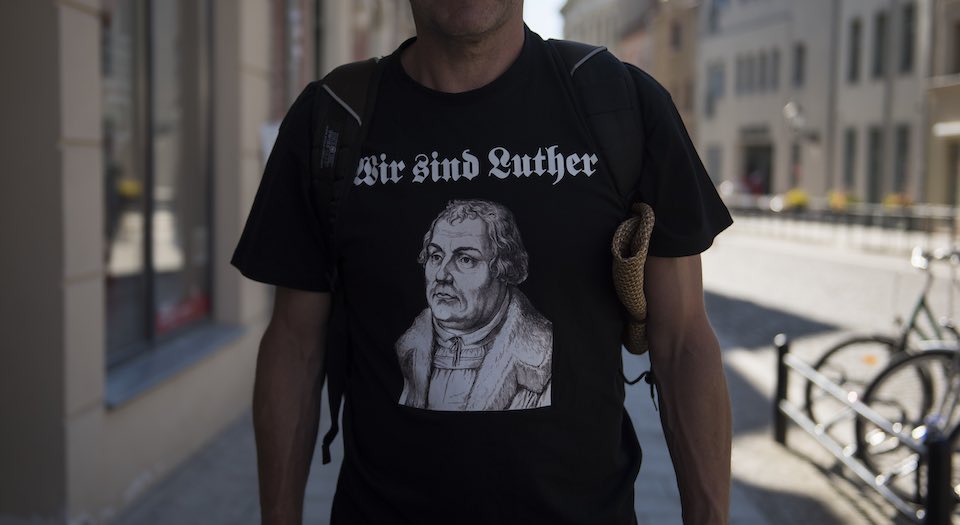 On 31 October, Germany marked the 500th anniversary of the event that sparked the Reformation: Martin Luther's nailing of his 95 theses to the door of All Saints' Church in Wittenberg.
And yet even as the Reformation is celebrated in Germany, there is a discomfort with it too. There was a one-off nationwide public holiday, and a high-profile church service in Wittenberg itself. Yet, as Margot Kässmann, Reformation Ambassador of the Evangelical Church in Germany, said before the 500th anniversary events had even begun, 'There will be no cult for Luther'. Even the church service, which was attended by many prominent establishment figures, including chancellor Angela Merkel, appeared to be more an act of contrition than celebration, with speakers asking forgiveness for the violence of the Reformation and pledging to overcome contemporary religious and social divisions.
Even the cultural heritage of the Reformation – including Luther's translation of the Bible, long seen as a key step towards the creation of a common German language, and a source of national pride – was not praised unconditionally. In May, when cultural minister Monika Grütters opened 'Luther and the Germans', a special exhibition near the Wartburg (where Luther translated the New Testament in 11 weeks), she emphasised the need for a new critical perspective on the Reformation rather than 'national exaltation'. In this, she was echoing Protestant bishop Wolfgang Huber, who had opened the Luther Decade in 2008 by saying: 'As much as we value Luther's contribution to German culture, especially his impact on the formation of the German language, we have all the less reason to repeat the claims to superiority in which Martin Luther is associated with a supposed "German identity".'
This discomfort with Luther's legacy stems from his well-known rants against Jews, Turks and the pope. But why are these so especially troublesome now? His terrible verbal attacks have been acknowledged and criticised for centuries, and yet within and without Germany, he was still largely seen as a positive historic figure.
So when both East and West Germany commemorated Luther's 500th birthday in 1983, the focus was on his achievements rather than his bigotry. There was even a competition between East and West Germany over which side had more right to claim Luther's heritage as its own. As Stephen Brown, the editor of the Ecumenical Review, wrote of that moment: 'An outside observer visiting the German Democratic Republic (GDR) in 1983 could have been forgiven for thinking that it was not Karl Marx, but Martin Luther, who provided the underpinning of the first socialist state on German soil.'
Even in the years immediately after the Second World War, with the Holocaust weighing heavily on the national conscience, there was no apologising for Luther. The Protestant church, though deeply implicated in the Holocaust, took solace in the fact that the courageous men and women of the Confessing Church (Bekennende Kirche), who had defended the Jews, had all been Lutherans. Had they not, like Luther before them, acted according to the dictates of their conscience, rather than bowing to the Nazis' authority and lies? In this terrible situation, Luther's famous statement – 'I cannot and will not recant anything, for to go against conscience is neither right nor safe' – had gained a new and self-sacrificial meaning.
There was, for example, Pastor Paul Schneider, tortured to death in Buchenwald in 1939, who at a funeral in 1934 had refused to give a Hitler salute, saying: 'This is a Christian funeral, and as a Protestant pastor I am responsible for the unadulterated proclamation of the word of God!' Or Dietrich Bonhoeffer, executed in 1943, who had opposed the Nazi regime and its treatment of Jews as early as 1933, saying that it was a Christian's duty to 'fall into the spokes of the system'. Bonhoeffer's famous song, written in prison ('Von guten Mächten treu und still umgeben' – 'By good forces silently surrounded') can be seen as a modern version of Luther's hymn, 'A mighty fortress is our God'. If anything, the truly deplorable aspect of the Protestant church's behaviour was that there had been too few staunch Lutherans willing to stand up to the Nazis.
It isn't really a desire to take a step back from Luther's well-known hatreds that motors the Protestant church's, and others', discomfort with the 500th anniversary of the Reformation – rather, it is a reluctance to embrace the positive sides of Luther, in particular his combative and defiant spirit. Luther has become an embarrassment in an era in which every strong opinion that runs against accepted views is called 'hate speech'. Here was a man who was not willing to hold his tongue or conform to orthodoxies, and many cannot understand that today.
Far from being careful in what he said, Luther used coarse language, insulted his opponents and felt that his faith and conscience were more important than harmony and peace. As he put it in On the Bondage of the Will: 'Not to delight in assertions is not the mark of a Christian heart. Indeed, one must delight in assertions to be a Christian at all! To avoid misunderstandings, let me define assertion. I mean a constant adhering to and affirming of your position, avowing and defending it, and invincibly persevering in it… Far be it from us Christians to be sceptics and academics.'
Someone who understood the importance of Luther's radicalism was the early 19th-century German poet, literary critic and revolutionary, Heinrich Heine. Of Jewish origin, and a close friend of Karl Marx and supporter of the 1848 revolution, Heine wrote in his famous On the History of Religion and Philosophy in Germany that Luther (though able to 'rant like a fishmonger's wife') was not just the greatest but also the 'most German man of our history'. He was a complete man, writes Heine, who loved beer, wine and women but could also write hymns that startled ravens in their hidden nests and made 'old cathedrals tremble'. He continued: 'From the day of the Diet of Worms, where Luther denied the authority of the pope, and declared that his teachings could only either be denied by the verses in the Bible or through reasonable arguments, a new time had begun.' (1)
It is clear that a largely conservative Protestant church, in cahoots with the German political establishment, has no interest in taking up Heine's cry – that 'the delicacy of Erasmus and the mildness of a Melanchthon would never have brought us as far as the divine brutality of Brother Martin'. Worse, in our unhistorical and censorious era, some even campaign for Luther's name to be erased. At the University of Halle-Wittenberg, student campaigners are calling for the university to ignore Luther altogether. Heine, whose books were censored and banned by the Prussian authorities, might have described them as short-sighted, dogmatic dwarfs. We don't need a Luther cult, that's true – but we do need an honest and open approach to history and an appreciation of historic figures who changed the world for the better.
Sabine Beppler-Spahl is spiked's Germany correspondent. She is head of the board of the liberal think-tank Freiblickinstitut e.V., which has published the Freedom Manifesto. She is also the organiser of the Berlin Salon.
To enquire about republishing spiked's content, a right to reply or to request a correction, please contact the managing editor, Viv Regan.