Gender-inclusive language? Just say Non
That's enough PC meddling with French grammar.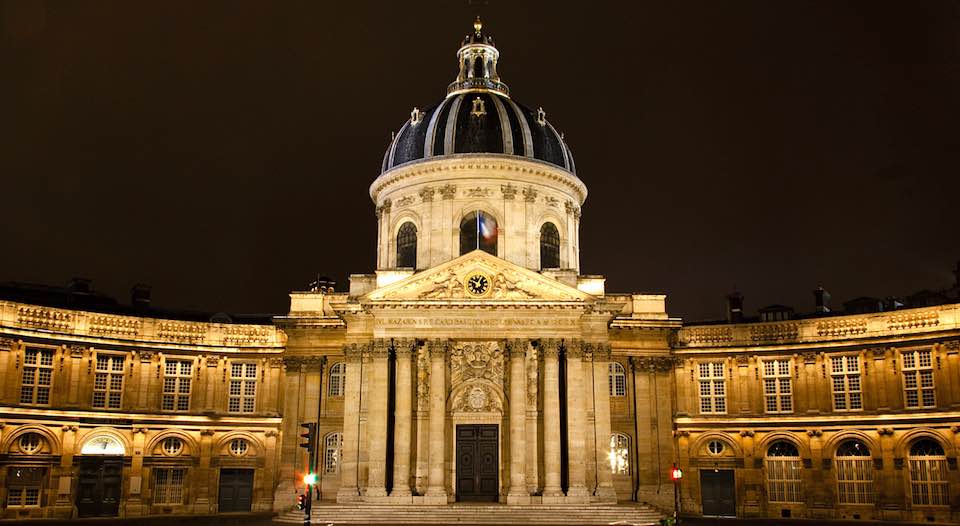 Activists have declared la guerre on the French language. They're taking issue with the grammar rule that gives precedence to the masculine plural form over the feminine plural form when referring to groups of men and women. They say it perpetuates gender stereotypes. Their remedy? Gender-inclusive French. But the Académie Française, which is tasked with protecting French, is not impressed. It says if the activists get their way, French will be put into 'mortal danger'.
Cast your minds back to your French lessons at school: that confusing world where nouns had genders and plural verb forms were conjugated differently depending on whether you were talking about a group of girls or a group of boys. Anyone who has studied French will know gender is integral to French grammar. The gender of nouns and verbs alter the spellings of adjectives that come after them. Sometimes gender completely changes a word's meaning: un barde is a poet, but une barde is a fatty piece of pork.
In French grammar, the masculine plural form takes precedence over the feminine plural form. So a group of female friends is les amies, but if a man joins the group, then the correct plural noun would be the masculine: les amis. Activists claim this is offensive to women and trans people. In 2015, the High Council of Equality between Men and Women (HCE), a French governmental body, published a guidebook encouraging people in the public sphere to use gender-inclusive language. Françoise Vouillot, president of the HCE's Fight Against Stereotypes commission, said: 'We want to use language to make women more visible.' President Emmanuel Macron and his ministers are jumping on the gender-inclusive bandwagon, making a show of always using both gender plural forms when they speak. Macron often says ceux et celles, which means 'those men' and 'those women', when ceux would suffice for both.
Earlier this year, the first children's textbook using the suggested gender-inclusive language was published. And it was of course very confusing. All plural words are printed with both gender endings divided by punctuation, for example: les ami.e.s. And that's one of the less confusing examples. Some masculine and feminine endings are completely different, so the word 'farmers' will now become agriculteur.trice.s.
Feminists are not happy with the Académie Française's response. Caroline De Haas said: 'The Académie Française is supposed to reflect the evolution of language and new developments as its role is to codify them. This time, it is trying to go against progress and it is insulting to women.'
Languages do evolve, and new words are incorporated in time. But De Haas is wrong to suggest that this evolution occurs by crowbarring new words and grammar rules into the dictionary. For a word legitimately to become part of a language, its use must grow naturally. It doesn't work the other way around. Indeed, telling people what language they should use, the top-down interference with language, is another form of censorship and social control.
The whole debate puts me mind of an old French grammar lecturer of mine who was fond of using grammar exercises to let us know about his francophile tendencies and, by comparison, just how much he detested the Germans. Sample sentences often included such gems as, 'They were all shot by the Germans', and 'We bought some very good wine in Bordeaux'. He, too, wanted to send us a message using the tools of the French language – though at least he stuck to the grammar rules.
As French journalist Alba Ventura pointed out in an interview with radio station RTL, the new gender-inclusive children's textbook is an attempt to rectify inequalities by pushing a political agenda on to children. 'There are bad fights and good fights. Parity, equal pay, harassment: these are real subjects of men-women equality. But complicating the lives of our children when our language is not easy to master? When it is stuffed with grammar and syntax rules and exceptions? Frankly, when we know reading and writing cannot be taken for granted, to want to complicate their learning process is astonishing. Do you think that in the eyes of a little boy, a female doctor is less of a doctor if we do not label her a doctoresse? No.' Other critics have rightly argued that the whole idea will be a nightmare for dyslexic children.
The Académie Française does not always pick its fights well. Its battle against widely used anglicisms like le weekend was stubborn and stupid. But it is right to make a stand on gender. We should always be wary of elite political groups seeking to alter our language. Behind the claims of inclusivity, there is always an authoritarian demand to police what we say and ultimately how we think. If the French start down this slippery slope they will really be dans la merde – that's a feminine noun, in case you were wondering.
To enquire about republishing spiked's content, a right to reply or to request a correction, please contact the managing editor, Viv Regan.