Harassment in the House of Commons? Calm down
The sex-pest panic is more damaging to women than it is to men.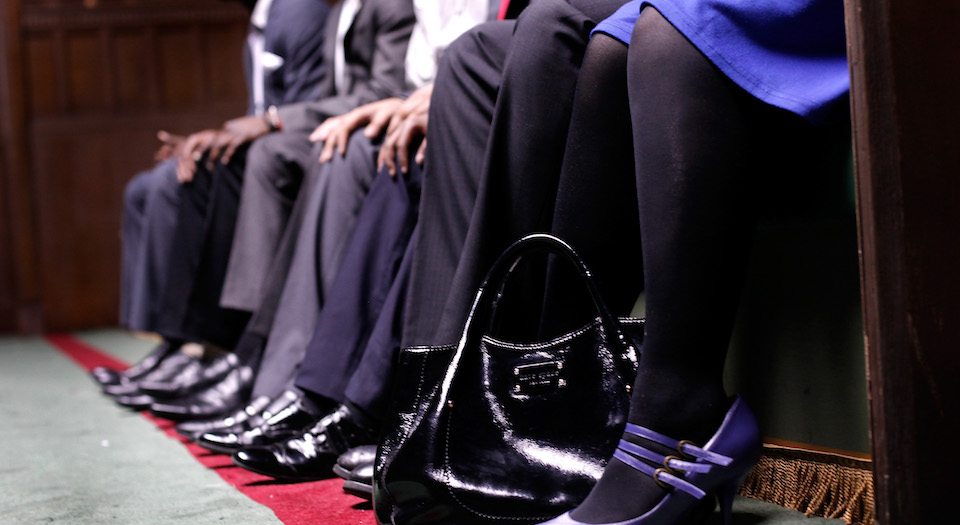 First Weinstein, now Westminster. The hysteria around sexual harassment continues to grow. Rumours swirl that one unnamed male MP is 'very handsy' and that another is 'not safe in the back of a taxi'. A list of 36 lecherous MPs, gathered together in a secret WhatsApp group, is now apparently circulating. Despite the fact that there is, as yet, no evidence, and no names of either victims or accused, panic spreads and drives a demand that something must be done.
The allegations that now hang over parliament, like those levelled at men working in journalism and theatre last week, feed off the Weinstein scandal. Specific accusations of rape become blurred with decades-old, back-of-a-taxi anecdotes. We know that an aide was, apparently, made to buy a sex toy while the MP she worked for waited in a car outside. But presenting such incidents as being on a spectrum — with rape at one end and an inappropriate remark at the other — trivialises serious crimes.
Labour's Diane Abbot has declared that comments made by Sheffield Labour MP Jared O'Mara 'demean and diminish all women'. But what really demeans women is the assumption that we cannot separate words from actions. Jokes and rape are not on a continuum. Rape accusations need to be taken to the police, not WhatsApp. Rather than one man being held to account, all men are found guilty. Any woman who publicly accuses, without details or evidence, is not only believed but celebrated.
This febrile atmosphere has real consequences. O'Mara has been suspended for posting sexist comments online. His idiotic rants don't make for pleasant reading. But the rush to condemn O'Mara shows that, in the moral panic surrounding accusations of sexual harassment, we lose all ability to distinguish words from actions. A climate in which unsubstantiated rumours and bad jokes unleash public vilification has all the trappings of a witch hunt. Only this is a witch hunt disguised as a feminist crusade. And where it is bad for men, it is even worse for women.
A survey commissioned by the BBC, and conducted in the aftermath of publicity surrounding the Weinstein allegations, claims that half of British women have been sexually harassed at work. This sounds alarming. But drill down, and we discover that more than a quarter of respondents said they had suffered harassment in the form of inappropriate jokes or 'banter'. When harassment is defined this broadly, it loses all meaning. Sexual harassment is reduced to a catch-all term that allows every woman to be included in a victim narrative.
Parliament has, traditionally, been a male-dominated place. Long, often alcohol-fuelled hours of power and plotting no doubt contribute to an atmosphere where some women have, over the years, found themselves in situations that made them feel uncomfortable. Many learned to give as good as they got with a smart retort or a well-placed stiletto heel. Sexual harassment at work occurred when women's low status was exploited by unscrupulous bosses safe in the knowledge that those wanting to keep their jobs had little option other than to put up with unwanted advances. In the not-too-distant past, fewer women worked, and those who did were often relegated to poorly paid and insecure jobs.
Today, however, the workplace is very different for women. Last year, close to 70 per cent of British women aged 16 to 64 worked outside the home — the highest figure since records began. Among women graduates with no dependent children, this rises to almost 90 per cent. It's not just that more women are working — they are also taking more of the top jobs. More women are entering once male-dominated professions; a majority of vets, doctors and lawyers are female. As a result, women are also earning more. The gender pay gap, however it is measured, is the smallest it has ever been. Between 1997 and 2016, women's pay grew by 81 per cent compared to 62 per cent for men. In their twenties, women actually earn more than men. And when we compare 'like for like' pay — that is, men and women in the same jobs working for the same number of hours — the pay gap disappears almost entirely.
These changes can be seen in parliament, too. The last election saw a record number of female MPs returned to the House of Commons. As women take on more powerful positions, they are not only able to stand up to any sexual harassment they experience, but, perhaps more significantly, they make the rules about what is and is not acceptable. The progress women have made at work should be celebrated. Instead we have an unedifying display of elite women fainting at jokes and trembling at the merest whiff of a sexist comment.
The fear of sexual harassment, far more than the reality of it, is now holding women back — and it is feminism that is at the forefront of propagating these fears. In the panic, campaigners have called for new measures to protect women at work. I can't think of anything I would like less. The thought of spending the best part of each day in a place where jokes are banned, flirtation needs a special permission slip, and banter is strictly forbidden, makes me yawn.
The protections that victim feminists demand infantilise women, and turn the clock back on hard-won freedoms. The liberty to risk unwanted sexual advances needs fighting for once more. The alternative, a world of chaperones, curfews and single-sex workplaces, of women being kept chaste until handed from father to husband, is not that far behind us. It's not one I have any desire to return to. If we are to avoid confining our daughters to a self-imposed 'safe space' we need to think more critically of the direction feminism is taking us in today.
Feminists need to stop putting the next generation of women off careers in politics. And we need to judge our politicians on the policies they back rather than what they may or may not have got up to in a lift or a taxi 10 years ago.
To enquire about republishing spiked's content, a right to reply or to request a correction, please contact the managing editor, Viv Regan.