In praise of the holiday revolution
Ignore tourism's miserable critics – mass travel is great.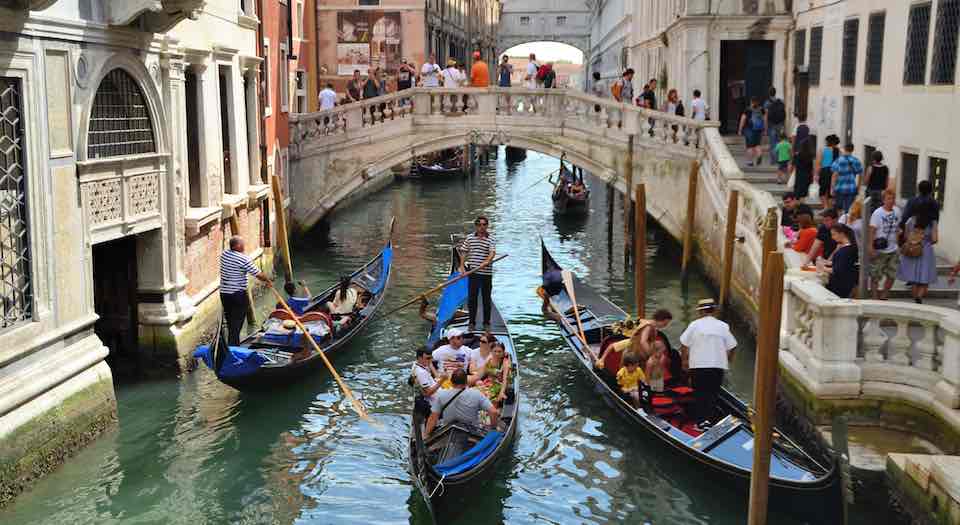 This summer the UK press made much of so-called 'overtourism'. Protests in Barcelona, Majorca and Venice highlighted a range of issues associated with tourism and tourists: pressure on rents, diminishing local traditions, pedestrian bottlenecks and bad behaviour. Destinations as diverse as Dubrovnik, the Isle of Skye, Cambridge and Venice were reported as victims of overtourism.
Yet the coverage on this has, to say the least, accentuated the negatives. Suzanne Moore wrote in the Guardian: 'I don't mean to ruin your holiday, but Europe hates tourists – and with good reason.' Of course this is patently untrue. The vast majority of people see others as individuals, and see no reason to hate tourists, who bring with them money, fashion, development and culture.
Moore continues: 'You are not wanted. You are killing the thing you love. You are ruining everything. You are demanding and noisy and you drink too much. You think the locals are pleased to see you, but they are not. You are, in other words, a tourist.'
Moore does not just condemn mass tourism. She subscribes to what has become a commonplace disparagement of all travellers, even people trying to do good through charity work while having an adventure – she accuses them of trying to show that they 'care more than everybody else'. Fashionable virtue-signalling through ethical holiday choices has been replaced by a general cynicism with all global travel. The idea of overtourism expresses a pessimistic view of humanity.
This pessimism extends beyond social commentators to some in the travel sector itself. Industry insider and World Tourism Organisation schmoozer Valere Tjolle wrote: 'The black side of tourism has finally hit the global headlines. Maybe adverse publicity will reduce business, certainly it will spark more riots in more destinations, possibly it will cause destination politicians to seek sustainable solutions.' In fact, there have been no riots – why would people riot against people on holiday? Residents are capable of putting issues of housing and infrastructure in context, and most can see that tourists are no different from themselves. The misanthropic view of commentators is way, way in front of anti-tourist sentiment in destinations.
Not one given to understatement, Tjolle asserted: 'Just like the pirates of old, they will slash and burn, rape and pillage until these gems of our world heritage fall into disrepair and disrepute as their inhabitants become refugees from tourism and leave for saner lives elsewhere.' He claimed 'Today's massive (maybe existential) problem has been largely caused by organisations like Tripadvisor, Airbnb and Booking.com', whom, he alleges, 'use' Barcelona and other city brands for their own selfish ends.
Outlandish claims such as these are as ridiculous as the supporting intellectual penchant for labelling tourism a form of colonialism, as if beery Brits on the pull were somehow reprising the Amritsar massacre.
The Guardian's Martin Kettle got to the heart of the overtourism worldview when he wrote that 'we may not be an infestation yet but we are a problem', and so 'we have to re-examine the idea that we enjoy an unfettered liberty to travel at will or for pleasure'.
The vast majority of the world's population enjoy no such liberty. The experience of Europe, and now China, is that, given the opportunity, people want greater freedom to travel, and that in exercising that freedom wealth is created (often involving transfers from a richer core to a poorer periphery).
The assumption made in much press coverage of overtourism, mirrored by many campaigners and academics, is that the world's capacity to accommodate our desire to travel operates within clear limits which, if surpassed, will have dire repercussions for holidaymakers and our hosts alike. So for Kettle we are at a 'tipping point', and Moore writes that 'of course local people are willing and happy to have reasonable numbers of tourists in their home place. But thousands and thousands? It's ridiculous to think that there is no limit to their tolerance'.
It is fair to point to tensions, but there is no numerical limit to tolerance. What is to be tolerated is shaped itself by the society – its dynamism, its growth, its embrace, or otherwise, of cultural change. The small Mediterranean island of Malta welcomes over twice as many tourists as there are residents per year, and is (by some ways) the most densely populated country in Europe. While there are certainly important issues and tensions, the Maltese example typifies a more optimistic and tolerant view, one that remains dominant elsewhere, too.
You could say Kettle, Moore and Tjolle are holiday Malthusians. Just as Thomas Malthus's 19th-century prediction that the growing population would outstrip the capacity of the Earth to provide enough to eat was wrong, so the holiday Malthusians are wrong in their view of our ability to travel outstripping the tolerance of locals and capacity of holiday destinations to cope with tourists.
The issues bundled together under the rubric of overtourism are in fact a byproduct of success, not failure. The expansion of leisure travel over the past 60 years has been remarkable, from around 55million international tourists in the mid-1950s to some 900million today. Greater wealth, greater holiday entitlement, the jet engine, improved infrastructure – all enabled by economic growth – have facilitated the holiday revolution. More people travel for fun, leisure, business or enlightenment than ever before. Bottlenecks, capacity issues and the odd disorderly stag-do are surmountable problems that should be seen in the context of great progress.
Moreover, overtourism, in so far as it describes a problem, is very much a first-world problem. Elsewhere, talk of 'undertourism' would be more apposite. The continent of Africa generates and receives far, far fewer tourists per head of the population than Europe. It is development itself that could open up the possibility for tourists to be spread more widely geographically, and to help generate greater wealth so that more enjoy the travel privileges of the minority.
For example, there is no objective, natural reason why Eritrea's beaches shouldn't accommodate thousands of sun seekers – earning the country important foreign exchange and supporting livelihoods in what is currently a poor society lacking the benefits of development. It's not so far-fetched. Sixty years ago Spain was a ruled by a brutal dictator, as Eritrea is now. What we now know and love as the Costa del Sol had levels of wealth, infant mortality and literacy in the 1950s not so different to those in parts of East Africa today.
So called pro-poor and community-based approaches – frequently favoured by development experts and ethical campaigners – often buy into this holiday Malthusianism, and reflect a lack of vision and ambition to transform things for the better.
Capacity issues are real, of course, as is a desire to protect valued aspects of culture. Yet the overtourism hype pessimistically assumes tourists and locals are at loggerheads – the cultural freedom of one enjoyed at the expense of the other. It has rapidly become an argument against development. With tourism set to expand for the foreseeable future, we need a more optimistic, future-oriented, technologically informed, infrastructurally enabled vision of how to generalise the advantages that tourism brings to both tourists and their hosts. Critics of overtourism need a holiday.
To enquire about republishing spiked's content, a right to reply or to request a correction, please contact the managing editor, Viv Regan.