Macron: more bank manager than leader
Five months on, President Macron still hasn't set the world alight.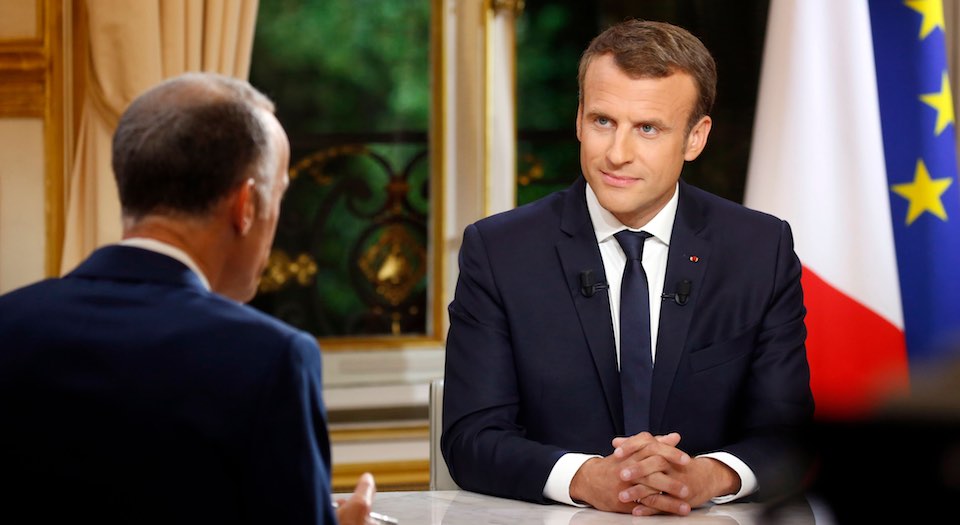 'What we have done today has no precedent and no equivalent. People said it was impossible, but they didn't know France.' So said the newly elected President Emmanuel Macron five months ago. To many, the election of Macron, who seemed an unlikely victor when he made his independent presidential bid seven months earlier, felt almost revolutionary. The reality has been rather different.
In a particularly volatile election, the more France's traditional left and right parties imploded, the more Macron was courted by the French and international press. He was considered the antidote to Brexit, Trump and populism. With his youthful exuberance he would usher in a new politics to save France, and Europe. When he finally won the presidential election, crushing far-right candidate Marine Le Pen with 66 per cent of the vote, liberal elites around the world were ecstatic. 'Victory for Macron, for France, the EU, & the world', tweeted Hillary Clinton. The Economist published an image of Macron walking on water, under the headline 'Europe's saviour?'.
Five months on, the high expectations have fallen flat. Macron marked his first five months in office by finally deigning to give a live TV interview. And not before time. He made clear his feelings about the press when he eschewed the traditional Bastille Day interview on the basis that his thoughts were 'too complex' for lowly journalists. Sunday night's TV interview was less of an interrogation, however, and more a platform for Macron to promote his programme. He defended his budget plans of reducing taxes for the wealthiest and making cuts to the public sector – measures which have led to his being labelled 'president of the rich' by critics. He said his aim was to encourage investment and individual success. He talked in more detail about his plans for reforms in the workplace. So far, so mundane. As Macron himself pointed out, he is merely carrying out what he promised, and reforming the country so that it fits in with his vision of running the Fifth Republic like a 'start-up'. The day after the TV interview, an editorial in Libération aptly described his politics as a 'managerial vision of the state'.
It is Macron the manager that explains why the European Union and international elites were so thrilled by his victory: you know what you're getting with a technocrat. While the Parti Socialiste and Républicains crumbled around him, the pro-EU Macron could be counted on to retain the status quo – keeping France far away from Le Pen's promised Frexit (despite a 2016 survey showing a majority of French people are Eurosceptic) and keeping French politics firmly centrist.
Macron has already begun his reforms to France's labour code, signing executive decrees that will allow businesses more flexibility, in an attempt to reverse France's high unemployment levels. The reforms will pass easily through parliament thanks to the large majority enjoyed by Macron's party La République En Marche (LREM). As expected, there were several days of union protests, but this won't be enough to deter Macron. Managing to change the labour laws is no mean feat in a country famous for its 35-hour working week, but it isn't in any way radical. Previous presidents have sought to do the same, but were always prevented by opposition within their own parties, and on the streets.
It is difficult to marry up the global and media excitement surrounding Macron's rise to power with the lacklustre state of French politics today. Initially, the media hype around Macron felt bizarre, from the adoration in the French media in the election run-up to the subsequent tearing apart of his kingly pretensions. When Macron wasn't winning cool points in the international press for head-bobbing along to Daft Punk while President Donald Trump looked flummoxed, we were reading about the ridiculous amount of money he spends on make-up, the details of his love story with wife and former teacher Brigitte Macron, and even the name of his dog – Nemo!
Today, the atmosphere in French politics is very flat. The Macron episode feels decidedly anti-climatic. His popularity has dropped significantly, according to French polls – though this is not unusual for French presidents once the honeymoon period is over. A poll run by Harris Interactive immediately after Sunday's interview showed 61 per cent of viewers were not convinced by Macron. There have been protests over his new counterterrorism legislation (which expands state power by including a number of state-of-emergency measures) and over the labour reforms, but not on the scale we usually expect from the French, so proud of their civil liberties and workers' rights.
The truth is Macron is a fitting president for today's France. He is the gallic shrug of presidents: a result of voters opting for the 'not Le Pen' candidate. The ease with which he has put into practice his political programme speaks to record high abstention rates in parliamentary elections, not to enthusiastic support for 'Macronism' from French voters. There is an air of resignation in France. Battered and dispirited by frequent terror attacks and high unemployment, French people looked for new ideas and vision in the election, received none, and resigned themselves to it. All of which means Macron the manager can continue running his business model, for the time being.
Naomi Firsht is staff writer at spiked and co-author of The Parisians' Guide to Cafés, Bars and Restaurants. Follow her on Twitter: @Naomi_theFirsht
To enquire about republishing spiked's content, a right to reply or to request a correction, please contact the managing editor, Viv Regan.