Can Saatchi still shock?
A new exhibition suggests iconoclasm is a spent force.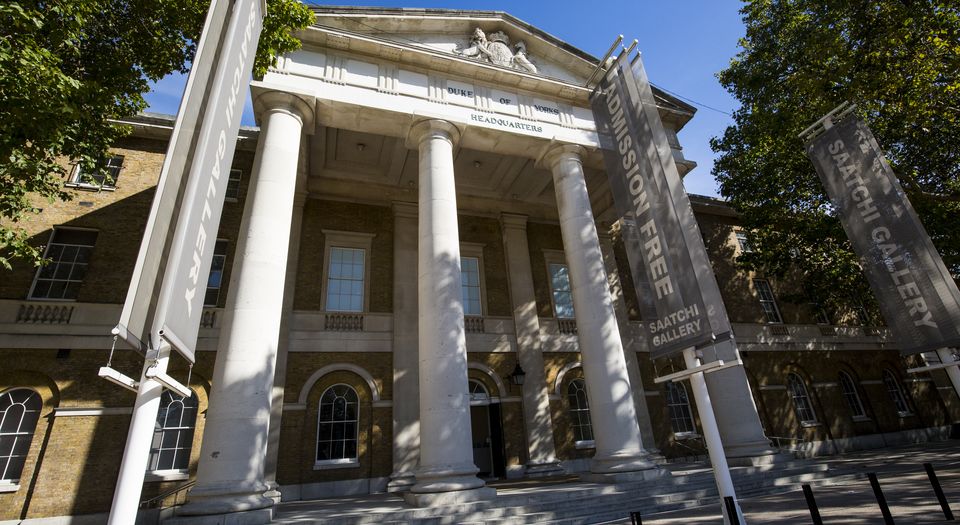 The Saatchi Gallery's new exhibition, Iconoclasts: Art Out of the Mainstream, opened last week. An iconoclast, according to the OED, is any individual who challenges 'cherished beliefs or venerated institutions on the grounds that they are erroneous or pernicious'. But is there anything distinctive about being an iconoclast these days? There seem to be so many of them, and so few cherished beliefs to challenge. Far from being out of the mainstream, would-be iconoclasts seem pretty much at the heart of it.
Its title does the exhibition no favours. As one piece of publicity puts it, 'At a time when the very notion of iconoclasm has seemingly become mainstream, Iconoclasts brings together the work of 13 distinct contemporary figures, seeking to examine what it means to be an iconoclast today'. Another asserts that 'while this group cannot be described as iconoclasts in the traditional sense of the word, they are all driven by an iconoclastic urge, which manifests itself in the intriguingly diverse and often destructive ways they produce art'. So, hardly iconoclastic, then.
Of course, being 'iconoclastic' is part of the Saatchi Gallery's raison d'être. Set up over 25 years ago to champion contemporary art, it is now one of the most visited galleries in London. Housed, appropriately enough, in the Duke of York's HQ building in Chelsea, the Saatchi Gallery is very much a modern mainstream institution, beloved of the fashionable elites of the art world. The invitation-only opening of Iconoclasts was mobbed – people of all ages milled around the large exhibition spaces drinking the free prosecco, socialising with each other and looking (in some cases quite closely) at the art. The idea of iconoclasm is undoubtedly popular. But it's time to recognise that iconoclasm in art has run its course.
Modern artists have been responding to the iconoclastic urge for over 100 years now. Modern art grew out of the idea of iconoclasm. Marcel Duchamp's infamous Fountain – a manufactured porcelain urinal which he submitted to a 1917 art exhibition in New York – has become iconic of the way the arts can fell icons. His submission probed at the very nature of art, asking a question that has generated increasingly unsatisfactory and obscure answers ever since. Duchamp was responding to the way artists at the turn of the century had started to play with and challenge artistic traditions, moving from representation to abstraction. Since then, the visual-arts world has been exciting, innovative and dynamic in many ways, but has also been destructive of the traditions that made art what is is. The art world began to gnaw at itself like a mangy dog unable to calm its itchiness.
It is probably no coincidence that this exhibition opens exactly 20 years after the opening of Sensation, the Royal Academy's infamous exhibition of Charles Saatchi's collections of the Young British Artists. But the shocking, for some distasteful, work of the YBAs in that 1997 show may have been the last gasp of iconoclasm in contemporary British art. The current exhibition seems tame by comparison – the works mess around with materials and styles but not with our minds or our ideas about the world.
If art has become a lens through which many people, particularly those in the middle and elite classes, try to search out meaning, the destructive impetus of iconoclasm seems unlikely to provide satisfaction. Experimenting with materials and images is the work of artists – and it is always exciting to find one who creates something that attracts our attention and makes us take a closer look. But iconoclasm has condemned artists to labouring on a futile treadmill, trying to find new rules to break.
Perhaps it's time for the Saatchi Gallery to realise iconoclasm is a spent force. Most of the artists on show here seem less interested in icons than in experimenting with materials, colours and visual ideas. Daniel Crews-Chubb's mixed-media street-art-inspired canvases are grimly appealing. Dale Lewis's stringy figures of city youths have a raw energy but lack sympathy. Other works were quirky and strange but not wonderful.
One startling exception was a sculpture by Kate MccGwire, 'Corvid' – a massive coiled boa constrictor made of silky black crow feathers. I wish more of her work had been on display. And there was a treat in the basement: a delightful exhibition of Alexander Calder's works on paper.
Wendy Earle is convenor of the Institute of Ideas Arts and Society Forum.
To enquire about republishing spiked's content, a right to reply or to request a correction, please contact the managing editor, Viv Regan.