Ruth Davidson: poster girl of the flimsy new politics
The media love for her sums up how hollow politics has become.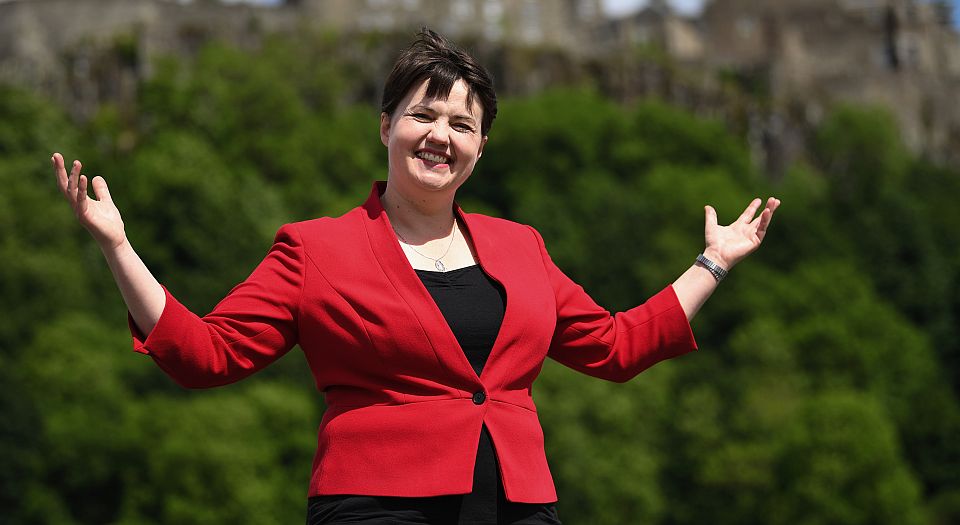 Straight-talking Scottish Conservative leader Ruth Davidson has made the headlines – again. This time for saying the Tory party must 'man up' and get over its 'nervous breakdown' following the General Election. She offered these rather withering words of wisdom while being interviewed by The Times' Redbox editor Matt Chorley at a fringe event at the Conservative Party conference this week.
Her blunt advice may have cheered the audience that turned out to hear her speak. But Davidson's supporters will have been less cheered by her rejection of the idea that she could be the next prime minister: 'I honestly can't see it, I honestly can't. I am really lucky and I am regularly behind the door of No 10 but it honestly looks like the loneliest job in the world, it really does… People ask me and they can't believe I don't want the job. I really don't. I do want the job of being first minister of Scotland.'
On the surface, it isn't hard to see why some Tory members and supporters are drawn to Davidson. In a rather bleak and depressing Tory conference, she, along with Jacob Rees-Mogg and Boris Johnson, has emerged as one of the only bright spots, managing to sound cheerful about the Tory future.
In fact, after Theresa May's less-than-impressive performance in this year's General Election, Davidson has come to symbolise, for some, positivity in the face of adversity. Certainly, leading the party's 13-seat win in Scotland was a triumph (the Tories had just one seat prior to the election); it dealt a big blow to the Scottish Nationalist Party.
Chancellor-turned-Evening Standard-editor George Osborne heralded Davidson the 'heroine' of the party after the election, and many referred to her as the party's 'saviour'. She has become something of a poster girl for certain Tories, mainly for her seemingly liberal credentials. As an out-and-proud lesbian from working-class roots, she is the opposite of the white-male Tory stereotype. She is considered to be open-minded and an advocate for diversity. A 'close ally' of Davidson's was quoted in the New Statesman saying she wants to 'bang the drum for liberal unionism': 'Ruth sees the fight of the future not between left and right but between open and closed – and she's a cheerleader for open.'
However, not everyone agrees on this view of Davidson as a progressive. Yesterday she was called out in Independent Voices for being 'both sexist and ableist' after her 'man-up' and 'nervous breakdown' comments, proving that, according to the writer, 'no matter how "liberal" she pretends to be, she's still a Tory'. Which just goes to show the foolhardiness of entering into the identity politics game – no matter your liberal credentials, someone is still bound to be offended by you.
But beyond the superficialities and the straight talking, is there much political substance to Davidson? It doesn't look like it. She is known for not being big on details. And as we have previously pointed out on spiked, she shows a worrying ambivalence towards the biggest political issue of British politics today: Brexit. Davidson was a staunch Remainer during the referendum campaign, and although she took up the party's 'hard Brexit' line when it came to the snap election, she backtracked afterwards. Just a few days after the election, she hinted that she would use her influence to block a 'hard Brexit'. Last month, she told the BBC she is not 'flying the flag for Brexit' and would vote to Remain again if there were a second referendum.
She doesn't offer much in the way of solid principles or policies. Robert Peston, ITV's political editor, named her the 'star' of the Tory Party conference for being 'funny and plausible', and she certainly got in some good digs against Jeremy Corbyn in her speech. But she didn't come up with anything particularly inspirational politics-wise. She merely made vague and unoriginal noises about developing the 'Northern Powerhouse', about remaining a united United Kingdom, and tackling 'injustice'.
Sadly, this is the kind of politics-lite we have come to expect from our politicians. Davidson clearly knows how to work the media and can crack a mildly amusing joke, but she lacks any depth of political vision. That she is now considered one of the Conservative Party's stars demonstrates how insubstantial politics has become, and how little people expect of their politicians. Voters deserve more than a cheap laugh.
To enquire about republishing spiked's content, a right to reply or to request a correction, please contact the managing editor, Viv Regan.