From Brexit to Catalonia: the silencing of citizens' voices
The Spanish state's violence echoes the Brexitphobia of our own elites.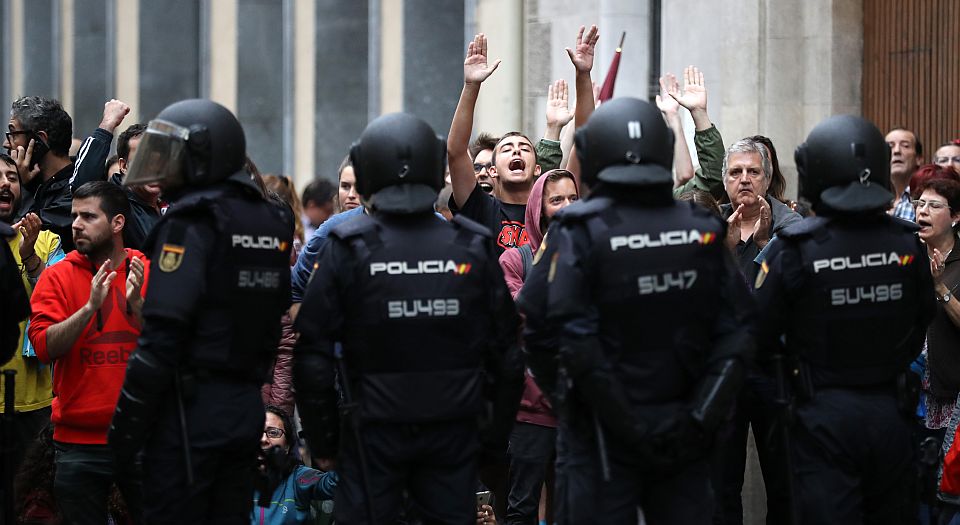 It was seamless, and unremarked upon: the shift on the BBC News At Ten last night from alarming images of the Spanish national police trying to stop an independence referendum from taking place in Catalonia to images of a 'STOP BREXIT' march in Manchester, England ahead of the Tory Party conference this week. They looked different, and of course they were different. In the former, there was brute state force, the visiting of riot-police violence on non-rioters, including pensioners: citizens who were merely exercising their right to vote. And in the latter, the usual army of the angry middle classes traipsed through the streets, faces painted in the colours of the EU flag, doing what every citizen has a right to do: protest against something. But there was a commonality, and the Manchester placards revealed it. 'Stop Brexit', 'Exit Brexit', they said. Or they depicted Brexit as a pile of shit that should be wiped away, erased, forgotten. In both Manchester and Catalonia, in different ways, the same cry went up: crush popular sentiment.
That's the thing about the British cultural elite's performance of disdain for yesterday's police brutality in Catalonia: they have already done over here what the state has now done in Spain. They have already raged against a referendum, and tried to overturn it, though non-violently, of course, preferring to marshal the financial clout of the bitter business elite, the unelected power of lords and the technocratic leverage of Brussels itself to diminish or even destroy the largest democratic cry in British history: the votes of 17.4million people against continued British membership of the EU. And where the Spanish state seeks to curtail popular sentiment before it is expressed, the British elites, who rage against what Labour MP David Lammy called the 'madness' and 'nightmare' of the EU referendum result, seek to curtail it after it is expressed.
Yet though they have different methods, and choose different times to strike, the British warriors against Brexit and the Spanish attackers of Catalan voters share a common disregard for the views of citizens. That shocking image of a Spanish police officer carrying away a ballot box so that Catalan people could not express themselves is but a rougher, more honest version of the British cultural elite's relentless demonisation of the 'low-information' votes that went into referendum boxes here in June last year, and their demand that these votes now be ignored or watered down. Both of these spectacles – one violent, one peaceful; one pre-empting ballot-box upset, the other following it – speak to a deeply worrying trend in the EU today and among its influential supporters: a fear of citizens' views, and a deep fear of any kind of change or uncertainty.
This is not to say that the events in Catalonia are uncomplicated, that they are a simple case of democracy against tyranny, of people against a state. It's more complex than that. It doesn't lend itself to easy side-taking. While the referendum rage of the Spanish state in response to Catalonia and of the British cultural elite in response to Brexit are comparable, this doesn't mean Catalan nationalism is comparable to Brexit. It isn't. It lacks, distinctly, Brexit's positive, progressive, democratic quality. As many have pointed out, the independence referendum in Catalonia was essentially an illegal enterprise, given it had been refused a green light under constitutional law: a constitution that was voted through in 1978 by a huge majority of Spaniards, including 90 per cent of Catalan voters. The constitution grants autonomy to Catalonia but also affirms the 'indissolubility of the Spanish nation'. It's a democratic constitution, and the referendum went against it. The Brexit referendum, in contrast, was legal, free, fair, nationwide and democratic.
What's more, Catalan nationalism has always been more separatist than democratic, a largely (though not always) middle-class cry for the protection of the region's economic privileges against the rest of Spain and what Catalan independence leaders often view as Spain's culturally backward, politically unenlightened inhabitants. Catalan nationalism has an element of agitation with immigrant workers, too. Where Brexit was a clear and historic assertion of the right of popular sovereignty against a technocratic oligarchy, a strike for sovereign state integrity against the elitist trend for corroding the idea of the nation in the name of a hollow cosmopolitanism, Catalan nationalism is an often elitist-sounding cry against democratic nationhood, the democratic nationhood of Spain, in favour of carving out a special, privileged, apparently more worldly new statelet. This is why it appeals to disconnected soft leftists in Britain, including many Corbynistas, who likewise find themselves increasingly distant from the idea of the nation, unaware that this really expresses their distance from what the nation contains: a sovereign people, a mass, whom much of the left now finds inscrutable.
For Catalan leaders to present their referendum as a fait accompli was wrong. Their nationalist sentiment could have a seriously unravelling effect, further damaging national integrity in Spain, and beyond. However – and this is a big however – the violence visited on voters in Barcelona, Girona and elsewhere in Catalonia yesterday was an outrage, and self-destructive too. Once the referendum had been decided upon locally, it would have been far better for Madrid to negotiate a means through which Catalan voters could express themselves and then make an effort to engage with their expression: to challenge it, seek to sway it, take it on board, or whatever. The problem with violently suppressing the expression of a form of popular sentiment is that that sentiment will find other ways to express itself, and some of them won't be good.
The Madrid government should have handled the referendum by taking part in it, and actively appealing to the large numbers of Catalans who do not want independence, or by promising to listen to the outcome in some capacity. The referendum could have been seized as an opportunity to argue for and reassert the 'indissolubility of the Spanish nation'; instead it exposed the fragility of the Spanish nation, its defensiveness, its deep fears, as captured in the extraordinary scenes of Spanish police fighting with Spanish firefighters, the former attacking voters, the latter protecting them. Spain looks 'indissoluble' only on paper now, and Madrid bears much responsibility for that.
What we really saw yesterday in the beating of old ladies, the dragging of women by their hair from voting booths, the kicking of men who simply wanted to vote was a disturbing local expression of a larger political problem in the EU: officialdom's fear and loathing of the demos, of unpredictability; its disinclination to pay heed to citizens' views or even to allow them to be expressed, except within the fairly narrow confines of General Elections. That people in Britain who have sought to overturn Brexit can now denounce the Spanish state suggests a serious dearth of self-awareness and a lack of appreciation for how deeply the problem of anti-democracy runs: from Brexitphobia to the Catalonia violence, from EU pressure on Hungary to rewrite its constitution to the constant pressure on Greece to override its people's wishes and punish them in the name of propping up the European Central Bank, the citizenry has been drastically demoted in 21st-century Europe. It's the great political outrage of our time. Those police removing ballot boxes in Catalonia were only doing what too many of the cultural elites around the EU dream of doing: taking way the voice of the irritating, upsetting, unpredictable little people.
Brendan O'Neill is editor of spiked.
Brendan is speaking at the events 'Is the left eating itself?', in NYC on 2 November, and 'Is political correctness why Trump won?', at Harvard on 6 November, as part of spiked US's Unsafe Space Tour. Get tickets here.
To enquire about republishing spiked's content, a right to reply or to request a correction, please contact the managing editor, Viv Regan.