Why the Kurds must have independence
The Kurds want national freedom and the West has no right to deny it.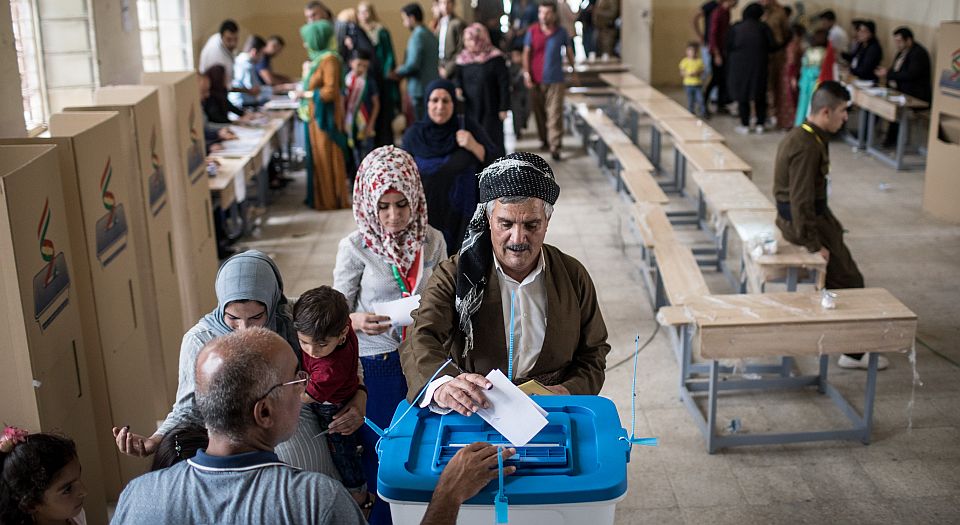 And so, once again, it looks as if regional and international powers are set on betraying the Kurds.
It's a familiar narrative. Think back to the Treaty of Sevres in 1920, for example. Then, in the aftermath of the First World War, the Great Powers, busily dividing up their Middle Eastern spoils, promised the long country-less Kurds a small nation in what was Turkey. But Turkey had other ideas. So, reborn as a nationalist, secular state under Mustafa Kemal Ataturk, Turkey promptly took back what would have been Kurdistan. And what did Britain and France do? They tossed the Kurds to the wind, abandoning them to live statelessly, in contiguous areas in Syria, Turkey, Iran and, of course, Iraq.
Again and again, the Kurds' aspiration for some form of ethno-national autonomy has been thwarted by international friends bearing gifts (or arms, as was the case in 1975 when the US and Iran provided the Iraqi Kurds with weapons to fight Saddam Hussein's Baathist regime, only to withdraw all support when they both suddenly struck a deal with Saddam). And so it is once more. For the past two years, the Kurds in both Syria and Iraq have been the recipients of international, especially US support, because they have effectively been fighting ISIS on the West's behalf. In return it's clear the Kurds, particularly those in Iraq who already enjoy a degree of regional autonomy, believed that their role in the fight against ISIS would strengthen their claims for an independent state. Hence this week the Kurdish government in the autonomous region in northern Iraq staged a referendum on full independence. The international response? Condemnation and threats.
Regional and local antagonism to the referendum is understandable. Iraq's central government in Baghdad is obviously going to be opposed to losing a large part of its territory, so Iraqi prime minister Haider al-Abadi's barely veiled threat of military action – Iraq, he said, would take 'necessary measures' to preserve the nation's 'unity' – was predictable. Besides, the Kurdish autonomous region has not only expanded by over a third in the past two years, as it rolled ISIS out of Iraqi territory; it now also contains the oil-rich city of Kirkuk, as well as other significant oil reserves. The loss of the Kurdish region would therefore be a significant political and economic blow to the already weak state of Iraq.
Likewise, the ominous moves now being made by the Iraqi Kurds' neighbours in Iran and Turkey were also to be expected, given the sizable Kurdish minorities long agitating within their respective territories. So, this week, Turkey has announced that the referendum result is 'null and void', and, during an extraordinary session in the Turkish parliament, it mandated the potential deployment of Turkish military in northern Iraq and Syria to put down 'threats to national security'. Iran, meanwhile, has shut its borders with the Kurdish autonomous region in support, as Tehran put it, of Iraq's territorial integrity.
The actions of the Turkish, Iranian and Iraqi states are not the acts of betrayal here. They never really pretended to be anything but opposed to the aspirations of the Iraqi Kurds. No, the act of betrayal emanates from where it so often has in Kurdish history: the West.
It wasn't Iran promising to support Kurdish independence if the Kurds fought a proxy war against ISIS; it wasn't Turkey arming and funding the Peshmerga if they vowed to push ISIS back to whence they came; and it certainly wasn't Baghdad whispering sweet nationalism into Kurdish ears if they turfed ISIS out of Kirkuk. No, those promises, those political bribes, those scratch-my-back urgings have come from the US and its allies. And now, confronted by the reality of Kurdish political aspirations in the shape of the referendum, they have rounded on the Kurdish regional government and its president, Masoud Barzani, issuing condemnation and threats.
'The referendum may jeopardise Iraqi Kurdistan's regional trade relations, and international assistance of all kinds, even though none of Iraq's partners wish this to be the case', said Heather Nauert, a spokeswoman for the US Department of State, with no little malice. 'If this referendum is conducted', she continued, 'it is highly unlikely that there will be negotiations with Baghdad, and the international offer of support for negotiations will be foreclosed'. In other words, in a masterclass of unreason, if the Iraqi Kurds try to form an independent nation state, then the US and its allies will stop supporting the Iraqi Kurds in their attempts to form an independent nation state – capeesh? The United Nations has even added its two cents, claiming that the Iraqi Kurds' stab for nationhood would be 'potentially destabilising'. Which is a bit rich, given it has been the West's calamitous interventions that have really destablised the region.
This is not to say the Kurdish referendum doesn't pose problems. It is unclear quite how Barzani intends to use the result. He may well use it as a mandate to campaign for an independent Kurdish nation – and given the rumoured $1.5million the Kurdish govenment has spent lobbying US politicians on the issue of independence, it's clear Barzani is serious about securing international recognition for an independent nation in northern Iraq. But it's also quite plausible that it is merely a ploy by Barzani, well aware of the parlous economic state in which the Kurdish autonomous region finds itself, to win more power and economic muscle within Iraq, and shore up his own position.
And if the Iraqi Kurds do pursue full-blown independence? There is little doubt that it will, as the UN says, further destablise an already intensely volatile region. And it could all too plausibly plunge Iraq into yet another iteration of its ongoing, low-level civil war.
So Kurdish independence will be tough and messy and fraught with danger. Yet at the same time, it does look like it has to happen. Not because there was something like a Kurdistan hundreds of years ago. And not because of the power plays and internal machinations of Barzani's Irbil regime. No, because, as the referendum result shows, the Iraqi Kurds clearly desire independence. And for good reason. They have suffered as a minority in Iraq, most notoriously in 1988, when Saddam gassed to death nearly 5,000 Kurds in the Halabja Massacre; they clearly, as an ethnic grouping see their interests best served in an independent state; and, crucially, they have also shown an unprecedented capacity for self-assertion, rolling back ISIS where Iraq's highly paid military turned and ran.
This last point is key: while the US and its allies have talked about bringing democracy to the Middle East, and have actively and stupidly supported various, as it turned out anti-Western groups in their factional quests for power, one people – the Kurds – have demonstrated a genuine capacity and desire for self-determination. And faced by that, it looks, yet again, as if the West is dead set on betraying not just the Kurds, but the very principle of self-determination itself.
Yet while history shows that Western nations never fail to betray the Kurds' cause, it shows something else, too: that the Kurds' cause will not be defeated.
Tim Black is a spiked columnist.
Picture by: Getty
To enquire about republishing spiked's content, a right to reply or to request a correction, please contact the managing editor, Viv Regan.