In praise of Thomas Jefferson
Forget covering up his statues: we should be celebrating his ideals.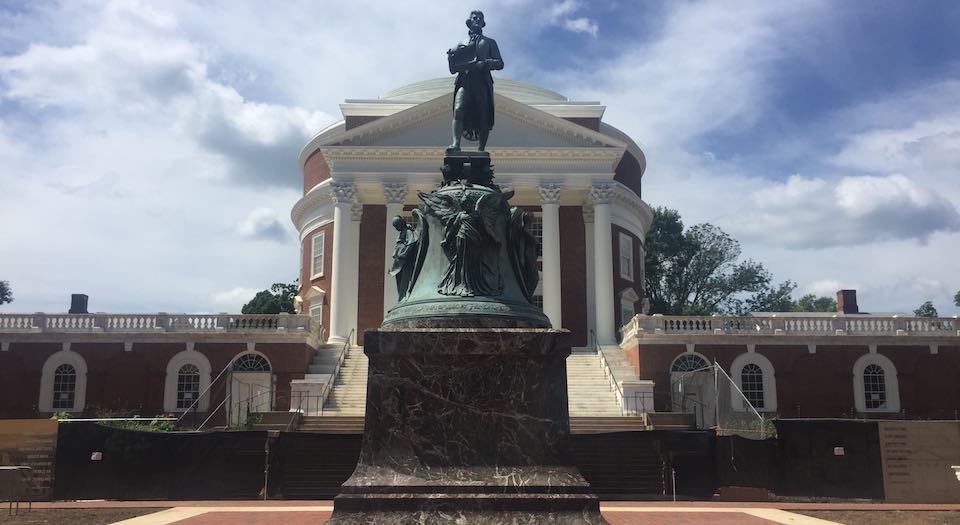 The US is currently suffering from a bout of iconoclasm. Where it started with trying to take down statues of men who are generally beyond reasonable defence – those who took up arms against the US in support of slavery – it has now spread to attempts to destroy, remove or conceal statues dedicated to nearly any historic figure with a moral stain on their character, regardless of what they are actually celebrated for.
The latest episode of iconoclasm involved protesters covering up a Thomas Jefferson statue at the University of Virginia in Charlottesville. According to one report, one protester argued that 'the same moderates who condemn the hate that came to Charlottesville one month ago fetishise the legacy of Jefferson, and imagine him as our collective moral compass'. She continued: 'We can and must condemn the violence of one month ago and simultaneously recognise Jefferson as a rapist, racist and slave owner.'
Of course, Thomas Jefferson was far from saintly – he did own slaves, he was racist and there is considerable speculation about some of his alleged relationships. But that doesn't mean we should discount and dismiss what was truly remarkable about Jefferson and why he is still – or at least still should be – celebrated today: his contribution to the cause of human liberty writ large in words of the Declaration of Independence – 'all men are created equal'.
Jefferson's proposition in the Declaration is both simple and compelling. And it still has relevance today. If all men are created equal, none has the natural right to rule over another, as monarchists contended then, and technocrats contend now. Of course, governments are necessary to secure certain rights. But, as Jefferson saw it, the only way government can justly exercise such power is by securing the consent of those who are to be governed.
At a time when democracy's merits or drawbacks are hotly debated, when the worthiness of democracy seems to hinge on its ability to generate a tally of preferable outcomes, Jefferson's words are a vital reminder that the most meaningful argument for democracy comes from a belief in the inherent equality of all.
Jefferson's belief in human equality and democracy extended beyond penning the Declaration. While other Founding Fathers looked sceptically at the French Revolution, its potential excited Jefferson. According to one British observer in 1792, he was 'a vigorous stickler for revolutions and the downfall of an aristocracy… Like his friend [Thomas] Paine, he cannot live but in a revolution, and all events are only considered by him in the relation they bear to the probability of a revolution to be produced by them.'
What drove Jefferson's belief in republican rule, democracy and revolution was a profound trust in people's capacity for self-government. He may himself have been an aristocrat, but, as Gordon Wood, an historian of the American Revolution, put it: 'No American trusted the people at large or outside of government more than… Jefferson and Paine.'
Jefferson's faith in people's ability to judge and make decisions for themselves is captured in the following remark: 'State a moral case to a ploughman and a professor. The former will decide it as well, and often better than the latter, because he has not been led astray by artificial rules.' This demonstrates Jefferson's belief in people's equal moral worth and capacity for reason, regardless of their class or pedigree. All people, in Jefferson's view, possessed an innate moral sense and ability to decide for themselves how to live their lives.
In the context of the 18th century, this amounted to a revolutionary sentiment, given the dominance of anti-democratic views, and the widespread fear of the so-called 'mob', or the 'vulgar', and what would happen if such people ever had a say in government. Jefferson's optimistic view of people's capacity for self-determination was nothing short of a revolutionary blast. And it is why he has, rightly, been described as the apostle of democracy.
It is a moral failure on Jefferson's part that he didn't apply these principles to enslaved blacks. And his virulent anti-black racism is all too evident in Notes on the State of Virginia (1785). There is no defending Jefferson on race or slavery. But what's important here is that it is possible to criticise Jefferson's actions, from his slave-holding to his racism, on the grounds of Jefferson's own views of equality and liberty.
Indeed, by putting forth those ideals in the Declaration, Jefferson did more for the cause of human liberty than most. The revolutionary implications of the Declaration were clearly recognised by Martin Luther King, who described the Declaration as a bad cheque on which the Civil Rights movement, he hoped, would make good. Jefferson's words, King said, were a 'promissory note to which every American was to fall heir'.
In an age where our cultural elites appear increasingly sceptical towards democracy, we would do well to remember what Jefferson put forth in the Declaration. We would do well to remember that all are created equal and therefore none has a natural right to rule, be he or she a monarch, caliph, or an EU bureaucrat. Legitimate political power can only come from the consent of the governed. If upholding and celebrating these principles is 'fetishising' Jefferson's legacy, then it is a legacy worth fetishising.
Tom Bailey is a spiked columnist. Follow him on Twitter: @tBaileyBailey
To enquire about republishing spiked's content, a right to reply or to request a correction, please contact the managing editor, Viv Regan.