Jemele Hill and the politicisation of everything
US culture is being consumed by a battle of the snowflakes.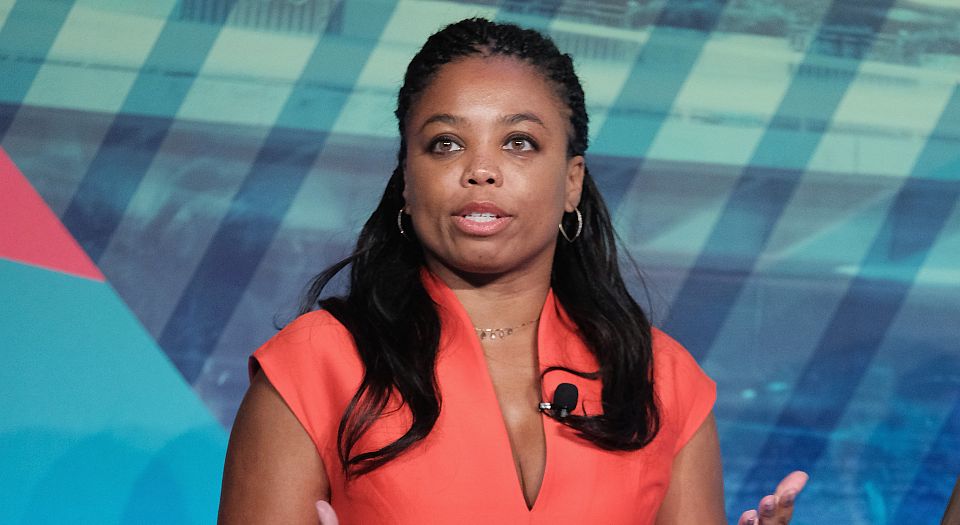 If you needed any more proof that Trump is as thin-skinned as any so-called SJW, the Jemele Hill saga should set you straight.
The ESPN Sports Center co-host fired off a Twitter tirade against Trump last Monday night, labelling him a 'white supremacist who has largely surrounded himself with other white supremacists'. 'Trump is the most ignorant, offensive president of my lifetime. His rise is the direct result of white supremacy', she said.
Cue thousands of retweets and a typically unhinged response from the tangerine-in-chief.
Trump insisted on an apology and mocked ESPN's plunging viewer figures. Later, White House press secretary Sarah Huckabee Sanders called Hill's tweets a 'fireable offence'.
ESPN released a statement saying the tweets were inappropriate and didn't reflect the views of the network. But no further action has been taken. Hill later clarified that these were her personal beliefs, and apologised only for not making that clear.
Hill's comments were asinine. The idea that the Trump phenomenon is all about racism is as lazy as it is insulting. And the phrase white supremacy, thrown so often at Trump and his supporters, has basically lost all meaning. But she's entitled to say it. The White House can't go around calling for the firing of its critics. There's a word for regimes like that.
What's striking, though, is that this ever exploded in the first place. How did we get to the position where one of the major political battles of the week is between a PC sports commentator and the commander-in-chief? All of American culture seems to be being drawn into this battle of the snowflakes – where 'white supremacists' and 'libtards' spend their days trading epithets until someone gets sacked.
ESPN has been coming in for a lot of criticism of late for becoming overtly politicised. And it's not just right-wing blog paranoia. On Hill's show she frequently holds forth on sports-related political topics. She staunchly defended Colin Kaepernick, the former 49ers quarterback shuffled out of the NFL for kneeling during the national anthem – in a supposed protest against white supremacy.
Despite claiming to remain politically neutral, ESPN's double standards are striking. Pitcher-turned-pundit Curt Schilling was sacked in April for sharing a 'transphobic' meme. In 2015, ESPN awarded the Arthur Ashe Courage Award at its ESPYs award show to Caitlyn Jenner, and moved its celebrity golf tournament from Trump's National Golf Club, citing its commitment to 'inclusion'.
This strange, semi-conscious political drift isn't lost on ESPN, either. Longtime anchor Bob Ley has said, 'We've done a great job of diversity, but the one place we have miles to go is diversity of thought'.
All of this meets a ravenous appetite among the crankier end of the Conservative blogosphere for 'leftist' subversion. But while ESPN should be free to be as political as it likes, it's not entirely clear why it is doing this. It has lost 12million subscribers in the last six years – for ESPN now to turn itself into the sports network of choice for the Resistance probably isn't going to help matters.
Hill herself has rejected the idea that commentators should 'stick to the sports', saying she can't not comment on the actions of Kaepernick and others. She blithely implied in a recent interview with the Ringer that the online backlash against her forays into political punditry is driven by… you guessed, bigotry: 'That term is funny, "social justice warriors"… Whenever I hear that, I'm like, I know what you really want to call me.'
There's this idea abroad that, in the age of Trump, it would be a dereliction of duty not to use whatever platform you have to 'speak out'. This is what has given us the bizarre valourisation of Kaepernick and the demands that Taylor Swift finally tell us what side she's on. But it's not as if previous political eras – in which sports commentators left their politics at the door and no one cared what pop stars thought – were any less explosive.
If anything, this epidemic of liberal-left virtue-signalling and right-wing blowback tells us how petty and stupid mainstream discourse has become. While the election of Trump, and the accompanying dark night of the elites, has brought US politics to an unpredictable, potentially creative space, nothing has yet come of it. Trump, as his recent flip-flopping reminds us, doesn't really stand for anything, and his critics have manifestly lost the plot.
The fact that flinging the word 'white supremacist' around can win you the praise of the liberal set, and that calling out 'leftist' propagandists at sports stations so preoccupies sections of the right, tells you how degraded, how mired in pantomime, how desperate for a bit of substance, US politics is at the moment.
All the while, those hoping for something more from politics, beyond elite technocracy and Trumpist bluster, are left wanting. And even those hoping to watch the game, crack open a beer and forget all this nonsense are no longer afforded such a luxury.
Tom Slater is deputy editor at spiked and convenor of the Unsafe Space Tour, our all-star free-speech tour of US college campuses.
To enquire about republishing spiked's content, a right to reply or to request a correction, please contact the managing editor, Viv Regan.