Two cheers for Reed College
The liberal-arts school is standing up to entitled identitarians.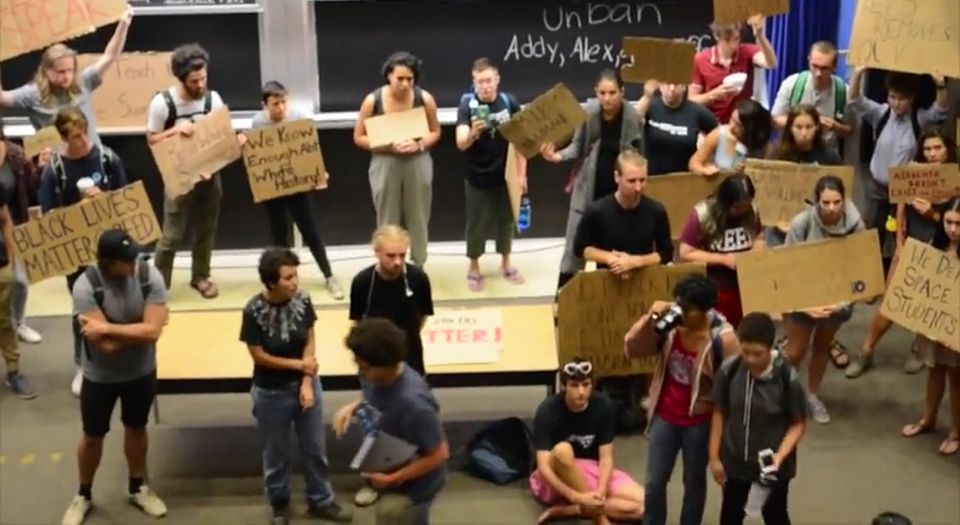 Reed College, a tiny liberal-arts school in Oregon, is famous for three things: academic rigour, progressivism and an easygoing approach to drugs. But now, like Evergreen State College before it, it's become the stage on which the campus left seems to be consuming itself.
As part of its unique curriculum, all freshmen are required to take a course called 'Introduction to Humanities: Greece and the Ancient Mediterranean' (aka Hum 110). They read Aeschylus, Plato and Herodotus, and study Ancient Greece, Rome and Egypt.
And with tragic, almost Sophoclean inevitability, some students have decided the course is racist. A group calling itself Reedies Against Racism has been protesting against the course since last fall, either sitting in the front row with their mouths taped up or demanding lectern-time for their 'alternative curriculum'.
Their demands are identitarian boilerplate, rich in both victimology and entitlement. According to The Economist, the protesters want the 'Eurocentric' course to be revised, a bigger role for students in appraising faculty, and mandatory racial sensitivity training. They also want a paid staff holiday honouring their original protest.
Reason reports that, on 25 August, things came to a head. Professor Elizabeth Drumm promptly cancelled a Hum 110 lecture as the protesters moved to the front to address students. Later the college publicised its (pretty accommodating) dissent guidelines, which allows for silent protest but not active disruption.
The protesters' response was remarkably bratty. They labelled the college 'racist and white supremacist', stating that, at Reed, 'Dissent will NOT be tolerated when crusty old white professors get upset about the prospect of having to attend […] diversity training'. Apparently, Reed's gentle approach hasn't paid off.
Reed doesn't have a code of conduct and runs campus on a collaborative process, preferring to settle conflict through dialogue. If I was being uncharitable, I'd suggest the college was asking for it – that if you live by touchy-feely non-judgementalism, you die by it, too, especially in this age of militant entitlement.
But that would do Reed, its faculty and the majority of its student body a disservice. Lucía Martínez Valdivia, an assistant professor, was due to a deliver a lecture about Sappho during the cancelled session, and her opening remarks, later published, are pretty bang on:
'I'm female, mixed-race, American and Peruvian, gay, atheist, and relatively young. I study poetry that is basically the opposite of me… And I love it… If we get distracted by Plato's misogyny or Lucretius's imperfect mastery of physics, we miss the point, the bigger pictures of these works.'
For her trouble, she was called a 'race traitor'. And she wasn't the only minority professor put through the ringer. Kambiz GhaneaBassiri, an Iranian-born professor of religion specialising in Islam, clashed with the students when he refused to be equated with white supremacists. He ended up holding his class outside, under a tree.
Similarly, it's clear from the videos of the stand-off last month that a lot of the students aren't standing for this nonsense, either. In one clip, three minority students stand athwart, shouting their demands, flanked by (predominantly) white students holding 'Black Lives Matter' placards. Meanwhile, the audience give them hell.
At one point, a black student gets up and gives the ringleader a righteous dressing down. 'This is a classroom. This is not the place. Right now we are trying to learn. We are freshmen students', he shouts. The protester leaves, and the young man is met with applause.
Now, there's no doubt that trends in liberal academia have fed the climate on campus we're confronted with today. The idea that words are violence, that canonical texts are an affront to people of colour, began in humanities departments, and have spread from there.
The railing against 'Eurocentric' ideas at Reed and elsewhere, the umbrage taken at the fact that it's mainly Dead White European Males (DWEMs) who gave birth to Western thought, is only the extension of a very mainstream loathing that continues to dog Western institutions.
What these protesters fail to recognise is that it's far more racist to suggest that students can only relate to thinkers who look like them, and that pretending Angela Davis (one of Reedies Against Racism's suggested authors) had as significant an impact on the world of ideas as Plato is an insult to everyone's intelligence.
If they insist on only reading 'authors of colour', they should pick up the Trinidadian Trotskyist CLR James' 1969 essay 'Discovering Literature in Trinidad'. 'It is in the study of Western literature, Western philosophy and Western history', he wrote, 'that I have found out the things that I have found out, even about the underdeveloped countries'.
Feasting on the inheritance of Western civilisation has for centuries been a means through which truly oppressed people fought back. Toussaint Louverture, the leader of the Haitian slave revolt and the centre of James' seminal history The Black Jacobins, was inspired by French revolutionary thought.
But Reed, whatever its faults, appears a rare holdout against this tide of relativism and DWEM-hating. Though professors have been at times defensive – quick to point out that the course was about the Mediterranean, not Europe – their insistence that all students take this course is strangely brave in this day and age.
And though Reed's conciliatory approach to these entitled whingers does grate, the fact that similar demonstrations of bratty, weaponised victimhood have cropped up, in other forms, at traditional Ivy League schools from Yale to Harvard, suggests this isn't as simple as a hippy college reaping what it sows.
Academics who believe in free inquiry, who believe in reading great books rather than just assessing their 'power relations', do need to grow a backbone. And if the Reedies Against Racism crew keep going on as they are, they should be kicked out (free speech isn't the freedom to impose your 'alternative syllabus' on everyone else, guys).
But credit where credit's due. In a world where too few in the supposedly liberal academy are willing to stick up for knowledge, free from identitarian division, the Reed Hum 110 professors stand out. Here's hoping the students and faculty continue to stand with them.
Tom Slater is deputy editor at spiked and convenor of the Unsafe Space Tour, our all-star free-speech tour of US college campuses.
To enquire about republishing spiked's content, a right to reply or to request a correction, please contact the managing editor, Viv Regan.