Why Merkel and Co want to keep politics 'boring'
Germany's political class prefers stasis to serious debate.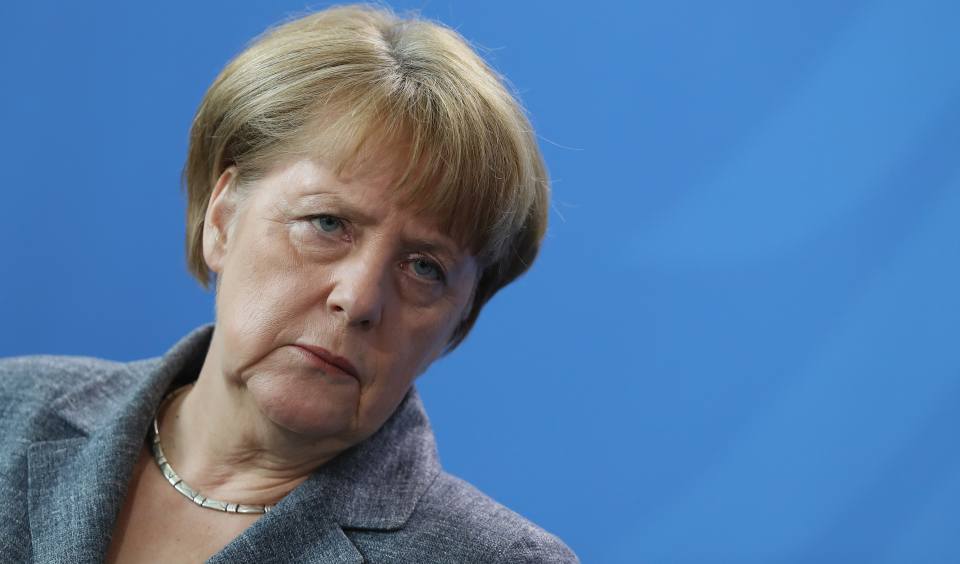 Something is clearly wrong when an election campaign is praised for being boring. Ahead of Germany's federal elections later this month, we've had media comments along the lines of 'Germany's boring election is a welcome reprieve' and 'After the excitement around the national elections in the Netherlands and France earlier this year, the German election seems to usher a welcome change in terms of dullness'. In an op-ed for Der Spiegel — titled 'Thank you for the boredom' — a professor of communication said people who want a sharper, louder, more controversial election are wrong. Hate and fear, he said, would follow such a public debate, likely boosting the fortunes of right-wing parties like Alternative fur Deutschland.
This praise of boredom signals a strong discomfort with change these days. This is why the prospect of another four years of Angela Merkel is greeted by many with a sigh of relief. Merkel, who has said nothing of note in the election campaign, stands for the status quo, and that is seen as good. This is the level of stasis politics has reached in Germany, and much of the West.
However, the claim that the election process is boring is only half the truth. Yes, Merkel has a comfortable lead over the Martin Schulz of the Social Democratic Party (SPD). He is her main rival, though his party has been in coalition with Merkel over the past four years. But the elephant in the room is the anti-establishment AfD. This party, which is running on a largely authoritarian, anti-Islamic ticket, and which has opened itself up to many right-wing fringe groups, is back on the political stage after having done badly in some recent local elections. Many are now asking how strong AfD will become — or how strong Merkel really is, which amounts to the same question.
AfD is currently polling at 11 per cent; if it were to do that well in the actual election, it would be the third largest party in the Bundestag. Some fear it might do even better. Less than two weeks before the elections, an unprecedented 37 per cent of Germans say they are still undecided as to how to vote. Could it be that many of these 'don't knows' will support AfD?
This fear was captured well in a cartoon in the Berliner Zeitung last week. It showed a ship called Poll sailing the ocean, and behind it a massive shark with the words 'Rechter Anti-Merkel-Hass' ('right-wing anti-Merkel hatred') written on its back. The ship's clueless captain says: 'Of course there is discontent with Angela Merkel, but it will pass.' Will the words of Marine Le Pen at an AfD gathering in Germany in January — that 2017 would be the year of change — prove prescient?
Merkel has been the focus of some ugly protesting for a few weeks now. There are regular 'Merkel muss weg' demonstrations ('Merkel must go'), involving all sorts of fringe groups. She has been pelted with tomatoes. Many of the protesters are AfD voters. Though relatively small in number, the viciousness of the gatherings has shocked many. One journalist said the chants of 'Merkel muss weg' are reminiscent of the American right's cries of 'Lock her up' against Hillary Clinton.
But why is Merkel still seen as a strong, almost unchallengeable chancellor? A Guardian writer says one of her key strengths is her ability to disarm her opponents and demobilise their supporters by integrating their more left-wing policies into her own party's narrative. There is some truth to this, as shown in her moves on the gay-marriage bill, the renewable energy bill, the minimum wage and the refugee question. Through incorporating other party positions or views, she has played an important role in changing Germany's political landscape, which is why she has attracted the wrath of so many conservatives.
And yet the established opposition and others on the left have not been able to gain any benefit from these criticisms of Merkel because they are finding themselves on her side. The more Merkel has come under attack from the right, the more these people have felt the need to rally behind her, sensing that the right-wing pressure is also on them. Unable to connect with disgruntled voters, they have come to fear the demos more than another term under Merkel. The Greens, which were once the main enemies of Merkel's party, the CDU, have announced that they are fighting for a third place in the election in the hope of becoming a future coalition partner of Merkel's. Last week, their members organised an anti-'Merkel muss weg' demonstration in Berlin. So it was an anti-anti-Merkel demonstration — or a pro-Merkel demonstration.
The SPD has called for similar protests against the protesters. The recent TV duel between Schulz and Merkel was characterised as 'harmonic', and that's exactly what it was. Merkel looks strong primarily because she has managed to garner the support of the former opposition parties. However, their willingness to play along and succumb to their own fear of voters and the right has allowed AfD to pose as the only opposition in town. The more the political class welcomes 'boredom', the more AfD makes gains.
The oppositionists who are implicitly or explicitly siding with Merkel aren't only granting political territory to AfD — they are also letting Merkel off the hook. There is much to challenge her over. Low capital investments, a crumbling infrastructure (particularly in western Germany), an east still dependent on high subsidies, a very expensive energy sector (a result of the mishandling of the turn to renewables), an unresolved refugee problem, with more refugees bound to come… these are just some areas where we need less boredom and far more criticism and debate.
Sabine Beppler-Spahl is spiked's Germany correspondent. She is head of the board of the liberal think-tank Freiblickinstitut e.V., which has published the Freedom Manifesto. She is also the organiser of the Berlin Salon.
To enquire about republishing spiked's content, a right to reply or to request a correction, please contact the managing editor, Viv Regan.