'I'm never going to have an audience who looks like me'
Shazia Mirza on butt plugs, Brexit and breaking the rules.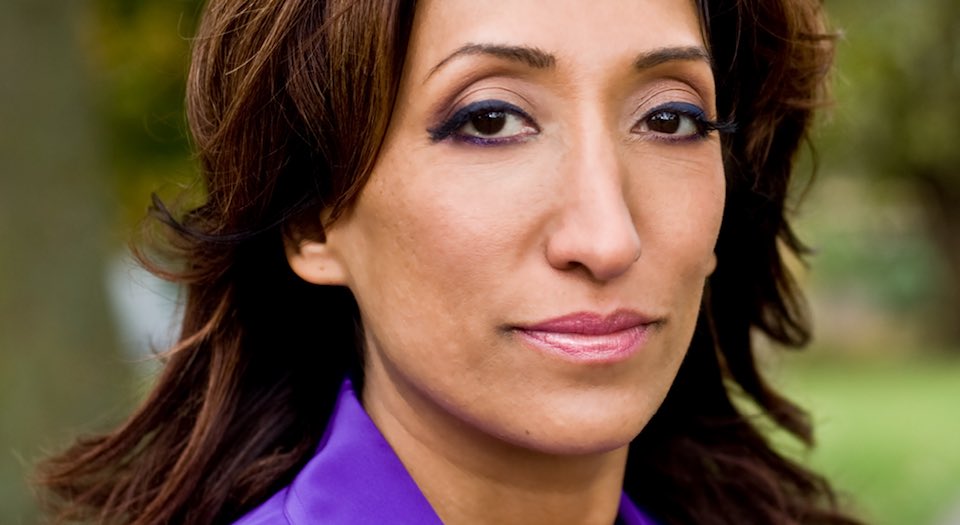 'The people who watch Stewart Lee, his audience look like him. I'm never going to have an audience who looks like me.'
Following the widespread acclaim of her last show, The Kardashians Made Me Do It, Shazia Mirza has returned to the Fringe with her new show, With Love from St Tropez. The title refers to the deadpan comedian seeing a woman at a French beach wearing a butt plug, just a few days after the burka is banned in France. Mixing her blunt, no-nonsense comedy style with acerbic reflections on Brexit and Trump, the former science teacher also presents an extended metaphor comparing different political factions to elements in the periodic table. I met with her in the Loft Bar at the Gilded Balloon, the Edinburgh venue for her new show.
She tells me the Fringe draws out a more contemplative crowd compared to when she tours round the country. 'When I'm in Edinburgh, it's Guardian readers, intellectuals. You don't see those people in comedy clubs. They're sitting there and they're listening; they want to come and listen to what somebody has to say in Edinburgh, rather than laugh.'
While she jokes about the age of her audience ('some of them were so old they can hardly breathe, never mind laugh!'), she was especially pleased to receive fanmail from a 'Telegraph reader in the front row'. He said he hadn't laughed so much in years. While her show is from a Remainer's point of view, there was a surprising number of Leave voters in the audience on the evening I attended. 'I'm very relaxed about that', she says. 'I can't really have a go at them because how do I know if they're right and we're wrong, or the people who voted [Remain] are right and they're wrong? I know they get a lot of bashing, and I thought it was quite brave when they [those in the audience] said they voted out.'
Mirza is no stranger to controversy, but she was able to set me straight on some of the apocryphal stories of her career. It was reported that she had been forced to change the 'original' title of her last show, The Road to al-Baghdadi, so as not to offend ISIS – this isn't true. 'I did that show in Edinburgh, it was called A Work in Progress. I said I wanted to call it The Road to al-Baghdadi, [but] it was never actually called that.' She also corrected me on a story about her last appearance on Loose Women, which apparently drew complaints from the public after she called terrorists 'hot'. There were no formal complaints, just three negative tweets which were rehashed by newspapers. When I suggest such Twitter-led stories are the laziest form of journalism, she immediately retorts: 'They're not journalists!'
While With Love from St Tropez has a strong left-wing perspective, Mirza is not afraid to attack elements of that political culture she disagrees with – like the current state of feminism. 'You can only measure something, and how well it's working, by what it does for you. If you're struggling, yet every other woman is benefiting from this new wave of feminism, you can't help but feel it isn't for me. It's a fashion. It doesn't include me, it doesn't say anything to me about my life. A lot of black and Asian women that I speak to don't know what the hell is going on.'
She is very critical of Trump in her set, but she is also able to de-emphasise the 'pussy grabbing' incident. 'I don't like it, I don't encourage it, but I don't think it's that bad. Trump said he grabbed pussy and there were riots and demonstrations all over the world, but when there's an actual pussy being killed, there's no demonstrations. There are girls that get acid thrown in their face, or they can't marry who they want because they might get murdered by their father or their brother or their sister. There's no worldwide march for them. That's why I say at the end [of the show], "All pussies are equal but some are more equal than others".'
Mirza defends the right of Muslims (who she refers to as 'my lot') to wear the burka, just like that French woman should have the right to wear a butt plug. But she admits that, in the end, it isn't Muslims who enjoy her comedy. 'A lot of them don't watch comedy, they never come to watch things because it's not part of our culture. So I'm never going to have an audience that are a reflection of me.' She continues: 'I have to work harder in a way to try and make people who are not like me understand me, and allow them to laugh at me, and allow them to feel comfortable about things I'm talking about.' This is clearly something that informs her work: a desire to break down the idea that there should be no-go zones in comedy. 'When I have old white men write to me and say "I've never laughed so much in my life", is that because he hadn't been given permission to be able to laugh at someone like me?'
Christian Butler is a spiked columnist. Follow him on Twitter: @CPAButler
Shazia Mirza's With Love from St Tropez is on at the Gilded Balloon Teviot until 28 August.
To enquire about republishing spiked's content, a right to reply or to request a correction, please contact the managing editor, Viv Regan.