Charlie Gard's case should never have gone to court
No one – not Charlie, not his parents, not society – benefited from this.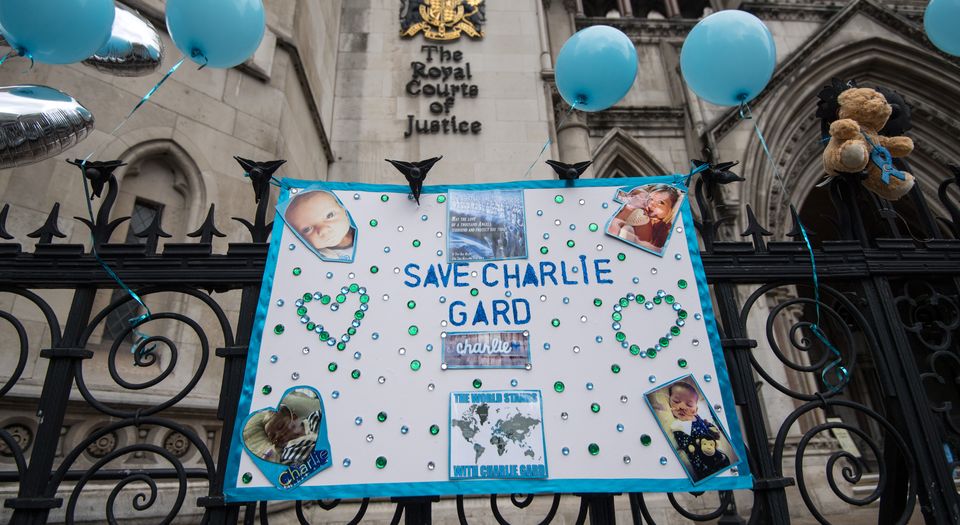 Charlie Gard, a British baby born with a debilitating genetic disorder, died on Friday, following five months of litigation between his parents and his doctors over whether it was appropriate to continue treatment. Though the case has stirred much discussion, what hasn't been questioned is whether it was right that the courts were involved in the first place. The law, so the argument goes, provides a framework for dispute resolution within which judges can independently evaluate the evidence. This absence of criticism is unfortunate, because the introduction of law into the doctor-patient relationship in this case has been unhelpful for the patient, his doctors and his parents.
In January, Charlie's doctors at Great Ormond Street Hospital realised that further treatment was futile. They had considered nucleoside treatment but abandoned the idea in January after Charlie suffered epileptic fits and severe brain disease. The first High Court hearing concluded in April with the judge stating that there 'is a consensus from all of the consultants and doctors who have examined Charlie that nucleoside treatment is futile'. Hence, the judge concluded that 'the entire highly experienced UK team, all those who provided second opinions, and the consultant instructed by the parents in these proceedings, share a common view that further treatment would be futile'.
There was one doctor who suggested otherwise – the American-based Professor Hirano – but he did not examine Charlie until 17 July. And even he had told the judge in April that 'he thought that Charlie was in the terminal stage of his illness'. Professor Hirano subsequently estimated that Charlie had a 10 per cent chance of improvement in muscle strength and of a 'small but significant' improvement in brain function if he were to undergo further treatment. This opinion, tendered in the absence of examining Charlie, prompted the second round of courtroom argument in July. But after Professor Hirano examined Charlie on 17 July, he, too, concluded that further treatment would be futile.
Despite the absence of reliable evidence to justify an alternative course of treatment for Charlie, the court proceedings that commenced on 24 February did not conclude until 27 July, more than five months later. During this time, the subject of the proceedings was, lest we forget, a patient: a terminally ill baby who was subjected to regular invasive treatments as he was unable to move, breathe or swallow without machines and clinical care. The photographs disclosed to the public of Charlie at peace in his hospital bed failed to show the whole picture. In a similar case, the US Supreme Court once described how 'highly invasive treatment may perpetuate human existence through a merger of body and machine that some might reasonably regard as an insult to life rather than as its continuation'. This merger of body and machine was mediated in Charlie's case by morphine administered to ease his suffering.
By July, scans revealed that Charlie's progressive disease was such that some parts of his body no longer had any muscle, and in other places there was significant replacement of muscle by fat. A month earlier, the Supreme Court had noted that by requiring the continuation of Charlie's life, 'even of short duration', the court 'would in some sense be complicit in directing a course of action which is contrary to Charlie's best interests'. The intervention of law into Charlie's case had this effect for over five months.
Court proceedings are adversarial. They pit claimant against defendant. Judgements are given on the basis of evidence: the party that leaves a stone unturned may lose not because it deserves to, but because it failed to satisfy a judge. A party like Great Ormond Street, with a worldwide reputation to defend, will have little choice but to draw together all the evidence and expertise at its disposal, hence the fact that no less than six consultants and professors attended court in April to seek to persuade the judge that further treatment was futile.
Great Ormond Street evidently had to devote a lot of time and effort to the preparation of witness statements and the giving of oral evidence by these witnesses. In other words, for over five months considerable quantities of medical resources were diverted away from patient care into dealing with legal proceedings. Throughout this adversarial and public process, some of the hospital's staff faced death threats; some campaigners and social-media users used hashtags like '#DontKillCharlie'.
Charlie's parents, Chris Gard and Connie Yates, can hardly be said to have benefitted from the litigation. The strain was etched on their increasingly gaunt and ashen faces, shown each time they walked to and from the Royal Courts of Justice. In court, the father shouted 'evil' at the hospital's barrister, the mother regularly left court in tears, and at the end said, 'I cannot be in the same room as him', a comment apparently aimed at the judge. After leaving court for the final time, she complained that the family had had no control over their baby's life or death. 'We just want some peace', was her most telling statement of all.
So, this legal process, which few have thought to criticise, took over five months to conclude, even though the evidence from all the doctors who had examined Charlie could not challenge what Charlie's treating doctors had realised in January – namely, that further treatment was futile. During five months of litigation, the patient suffered and his muscles turned to fat. It was a process that diverted medical resources from patient care to legal proceedings. These legal proceedings were of no benefit to Charlie, his doctors or his parents.
In 1990, in the US Supreme Court, Justice Scalia observed in a case similar to Charlie's that 'this court need not, and has no authority to, inject itself into every field of human activity where irrationality and oppression may theoretically occur, and if it tries to do so it will destroy itself'. He spoke to the view that is rarely heard in Britain today – that there are many spheres of human activity that should not be regulated by law.
Of course, if the doctors had proposed to act irrationally, oppressively or negligently, then the court would need to get involved. But absent such extremes, which clearly did not exist in Charlie's case, the doctors should have been left to exercise their professional judgement in discussion with Charlie's parents. And without the escape route of lawyers (who are now known to have raised the prospect of criminal proceedings against the hospital and its staff), and the unrealistic hope that came with their involvement, Charlie's parents would surely have been won round to the position they eventually came to at the end of July.
The doctor-patient relationship is characterised by two factors: it is private and personal; and it is based on the trust that comes from the doctor's medical knowledge, training and experience. The injection of too much law into this relationship kills it. The private and personal becomes public and impersonal when the bedside is replaced with a courtroom. In court, a relationship based on trust becomes one based on doubt and mistrust. And in court, medical expertise plays a secondary role to legal expertise, where lawyers, rather than doctors, ask the questions and a judge ultimately answers them.
Legal authority is sometimes parasitic in the sense that law does not create authority but takes it from others. If law did not exist, then individuals would always find their own solutions. Clearly, in many situations, that would be undesirable. But the fact that society needs law does not mean that the expansion of law is always desirable. In a free society, professionals have a key role to play in exercising power by virtue of their status. They are regulated primarily by their knowledge, training, experience and conscience. As a general rule, they should be restrained by law only if they act negligently, perversely or criminally. Doctors should not be subjected to legal proceedings merely because somebody somewhere thinks that a child's best interests require a different course of action.
The undesirability of too much law used to be appreciated by policymakers and judges. As the House of Lords once put it in a case similar to Charlie's, doctors are required to act 'with due skill and care', and providing they do so, 'they should be immune from liability in trespass, just as they are immune from liability in negligence' (1). But since about 1990, when that case was decided, professional authority has leached into legal authority, with the result that professional autonomy has contracted and the law has expanded.
The law prolonged Charlie's suffering; it diverted resources away from patient care; and it put Charlie's parents through five months of oppressive public scrutiny. It is often said that nobody wins from litigation except the lawyers. But in this case, there were no winners at all. Rest in peace, Charlie Gard. If the law hadn't intervened, you would have secured your peace six months earlier.
Jon Holbrook is a barrister. Follow him on Twitter: @JonHolb
(1) In re F. (Mental Patient: Sterilisation) [1990] 2 AC 1.
To enquire about republishing spiked's content, a right to reply or to request a correction, please contact the managing editor, Viv Regan.