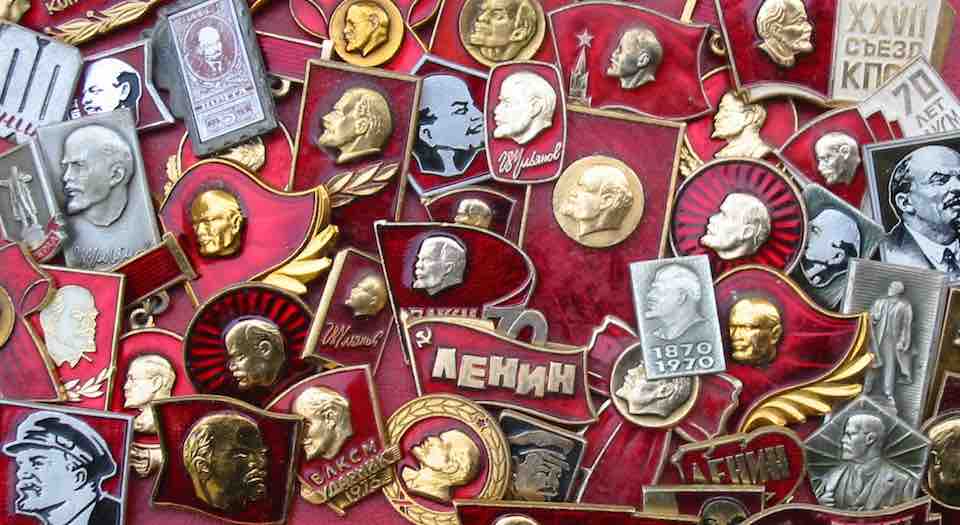 Long-read
The revolution in history
Historian Sheila Fitzpatrick on Putin, the Cold War and the changing history of the Russian Revolution.
Sheila Fitzpatrick, now an honorary professor in the University of Sydney's history department, has seen, interpreted and experienced a great deal of Soviet and Russian life over the past 50 years. In the early 1960s, she was a talented, eager undergraduate at the University of Melbourne, with an emerging fascination with the 'great unknown' hidden behind the Iron Curtain. By 1970, while a post-graduate at Oxford and a research fellow at the LSE, she had spent a year and a half in total living in the Soviet Union, researching the role and work of Anatoly Lunacharsky, the Russian revolutionary and the first Soviet People's Commissar of Education. And, as she was later to detail in her autobiographical The Spy in the Archives (2014), she was suspected of espionage. From then on, her interest and passion only deepened, leading to the publication of several books on Soviet history, from Everyday Stalinism (2000) and On Stalin's Team: The Years of Living Dangerously in Soviet Politics (2015; winner of the Prime Minister's Award for non-fiction, 2016) to the The Russian Revolution (fourth edition, 2017), and academic stints at the University of Chicago and latterly the University of Sydney.
So, what does she make of historians' approach to the Russian Revolution now? Indeed, how does she assess its significance in this, its centenary year, when some seem keen to consign it to the dustbin of history? And why is the Russian state itself so uncomfortable with this signal moment in modern history? The spiked review spoke to Fitzpatrick to find out…
spiked review: What initially drew you to the study of the Russian Revolution?
Sheila Fitzpatrick: I was drawn to the history of the Soviet Union, because, as an undergraduate finishing my studies in Melbourne in the 1960s, it seemed to be an empty space. Very few historians seemed to be working on it and a lot was being said about the Soviet Union, but much of that was infused with such obvious bias on both sides that you felt it was untrustworthy.
So the Soviet Union was the biggest unknown at the time, as I saw it. I was also drawn to 20th-century European history, and obviously I liked places where big and perhaps nasty things had been going on. I was equally drawn to Germany. But my German-language skills were never good enough, whereas my Russian, although not perfect, had benefited from two years of study, so I could cope with it.
review: At that point, given the Cold War background against which you were working, was it difficult to avoid taking sides? Did you feel you were taking sides?
Fitzpatrick: It was extremely difficult to avoid taking sides. This difficulty was intensified by, as I saw it, my own approach to being an historian: that is, a historian is meant to try to be objective. That was my aspiration. And, although I found that prompted dissatisfaction on both sides, I tried to stick to it.
In the Soviet Union, the Russians' attitude was that any Western historian was, ipso facto, an enemy trying to find out the weak points of the USSR, to find out its dirty secrets. At that moment, in the 1960s, the only way you could go to the Soviet Union was to go on one of the official exchanges. I was with the British group and, in theory, the Communists welcomed us, but in practice they thought we were quite dangerous, especially if we were working on anything of sensitivity.
Most of our group was working on Russian literature or language, areas with which the Soviet authorities were mostly okay, as they were with 19th-century history or earlier. But if you were studying Soviet-period history, that was very dicey, especially when you went beyond 1917, as I did. The Soviet side even had their categories for Western academics. If they didn't mind you, they would classify you as a 'so-called objective capitalist historian'. But if they really, really disliked you, they would call you a 'bourgeois falsifier'.
And then, in the early Seventies, I went to the US to work. And there I found that, in Cold War terms, the same political imperatives applied as they did in the USSR. It was felt that if I was studying the Soviet Union it was a good thing, because, as the Americans saw it, you needed to know your enemy. But the problem was that your work had to make clear that the Soviets were the enemy – the enemy of democracy, as represented by the United States, and so on. And if you didn't want to frame your work in such an antagonistic way, that could cause problems. And I had a lot of problems, especially during my early years in the US.
On the plus side, many on both sides were really interested in what you did. And that's not necessarily the case for a young historian writing a book. But, if you were working on Soviet history, then there was a strong chance that people would take notice, even if it was just to be critical.
review: So, to your own book, The Russian Revolution, which was first published in 1982…
Fitzpatrick: I wrote it because Oxford University Press asked me to, and I thought it did look interesting. From my perspective, it was the first time I had written something for a broader public – to tell a story that would be entertaining as well as instructive for people to read.
review: Did you think then, in the early 1980s, that the Communist system initiated by the Russian Revolution was coming to an end? That things couldn't go on?
Fitzpatrick: No, it didn't feel like that. Rather, Soviet Russia felt that it was undergoing a radical transformation, but that that transformation would happen gradually, without altering the superficial appearance of the institutions of Soviet society. This radical transformation was a long time coming, too. It had seemed that since the 1950s, the Communists, although with less success than perhaps they hoped or expected, were trying to change their relationship to the West, to become more open, and to become more open within Soviet society, too. So my assumption was that ultimately, over the long term, it would produce something very different form Stalin's Soviet Union. But I didn't anticipate the collapse of Soviet institutions, and nor did anyone else as far as I know.
review: So you felt in 1982 that the Russian Revolution still had a continuing, live significance?
Fitzpatrick: Yes, at that point in the 1980s, it was assumed that the Russian Revolution effectively gave birth to a nation, like the American Revolution or the French Revolution. It was a founding event of an entity that one presumed would have a long-term existence. So, in that sense, I did think of it as having a live significance. But, with the collapse of the Soviet Union, it turned out that the revolution was no longer a nation-founding revolution, and that was very interesting. It changes things – it changes the meaning of the revolution.
review: In your recent London Review of Books piece on several new books on the Russian Revolution, you write of the difficulty historians today face when assessing a revolution, which founded a state that has now gone. Their books have an 'apologetic air', as if the revolution is no longer as significant as it once was. In one of the books you review, the former British diplomat Tony Brenton calls the Russian Revolution one of 'history's great dead ends, like the Inca Empire'. So, first of all, do you think Brenton's assessment is being fair? And, the bigger question, which you've already touched on, is how are historians starting to reassess the significance of the Russian Revolution today?
Fitzpatrick: Yes, reading these books, which had largely been commissioned to mark the centenary of the Russian Revolution, I was very struck by the apologetic air, and by the fact that no one was really making any strong claims as to the significance of the revolution. It seemed as if people were wary of making any strong claims to its significance, because that would be dangerous or something. It was almost as if they felt they must say it was a failure because that was the acceptable thing to say. And I thought to myself, why was this?
Now, partly, this involved books written by both historians who were hostile and historians who were sympathetic to the revolution – that is, those who, during the 1970s and 1980s, had tried to understand the revolution on its own terms. And it was the attitude of those in that last category which really struck me – why were these people so apologetic? And I was thrown back on the thought that it's still the impact of the collapse of the Soviet Union. Because it was a big shock to people in the field. It was quite traumatic. Not for me, especially, as it happens – I was just interested. But people more politically minded than I, with far more invested in the Soviet Union, were very taken aback, and disconcerted and disappointed. So I think a lot of that is still hanging around now, even though it's quite a long time since the Soviet Union collapsed.
I looked at it from the perspective of Western historians. But even if you look at the attitude to the Russian Revolution from the perspective of the international left, which I know a lot less about, it is also striking how few are claiming that much for the revolution. So Slavoj Zizek has a book out, in which he basically says that there's no point in trying to separate Lenin from Stalin – they're both part of the same big mess. Still, he says, it was worth making a revolution because you want to throw the dice up in the air from time to time. That's not a strong claim for the significance of the Russian Revolution. Likewise, China Miéville, in his October book, didn't make a big claim for the significance of the revolution.
I later found a bit of an exception to the left's reticence regarding the revolution, at an academic conference in Hungary. And there there were people who, somewhat defiantly, were making the case for the achievements of the revolution. Not everybody, but it was present.
As for Brenton's claim, I thought that was over the top, quite frankly. Who knows, for a start, what the Inca Empire was supposed to stand for, or where it thought it was going. It has little more than a geographical location and, if you're lucky, a date. And that was definitely not true of the Russian Revolution, which did stand for something. I think the easy dismissal of the Russian Revolution reflects a very presentist attitude. That may be how it feels at the moment – that the Russian Revolution was a dead end, a failure, so let's not bother exploring whether anything good came out of it. But I don't think that's an attitude that is likely to last. The revolution was a huge event in the 20th century, and had a tremendous impact, so I think that after a while the perspectives will change, as they tend to do among historians.
review: What do you make of contemporary Russia's response to the centenary of the Russian Revolution?
Fitzpatrick: This is very interesting to me. The first thing that surprised me is why is nothing going on. There are conferences going on all over the world at the moment. I'm getting emails all the time inviting me here and there, but it wasn't until the end of January that I actually received an invitation or notice from a conference in Russia. I thought I'd dropped off the email list or something. But I don't think it was that. I think Russians were terribly slow to organise even the academic conferences. And I think it's because of attitudes from the top of society.
From Putin's point of view, the revolution is a very difficult event to interpret, which is very interesting to me. I'd observed Putin's fondness for the Stalin period – by that I mean Stalin the nation-builder, the winner of the Second World War, the head of a superpower and so on. Yes, Putin has huge reservations about Stalinist repression and so on, but basically Stalin the nation-builder wins out in Putin's affections. And I assumed, without thinking about it, that Putin would have the same fondness for Lenin. But actually Putin doesn't really like Lenin. He doesn't see him as a nation-builder, which is accurate. (Lenin certainly didn't see himself as a nation-builder – he was a revolutionary and an internationalist.) But what Putin particularly has against Lenin is that he holds him responsible for the Soviet Union's constitution, which allowed the constituent republics to leave. Which is the way it ultimately collapsed. So, as he sees it, Lenin laid this timebomb underneath Russia and the Soviet Union, which eventually exploded. And this was quite a new thought to me. It never occurred to me to evaluate Lenin in those terms. But once I read it, I realised that, for Putin, it does make sense.
Putin is obviously concerned, too, that there are people in Russia who strongly dislike the revolution and some who still strongly approve of it. So the last thing he wants is for those disagreements to come out on the streets. So insofar as he put out a message at all, it was one of trying to use the centenary for the purposes of reconciliation. But, as far as I can see, this hasn't really gone anywhere. He put out the message, but the authorities have kind of dropped it over the past couple of months.
review: Authors of much of the literature published over the past couple of decades about the revolution and its aftermath are drawn to the human tragedy, to the misery of the gulag and so on. I say 'literature', because it's not just historians turning out books with titles like The People's Tragedy, but authors like Martin Amis, too, turning to the horrors of Stalin for literary source material. Is there a danger that history, and the Russian revolution in particular, is being treated as a morality play?
Fitzpatrick: I'm temperamentally not keen on the morality-play approach to history. When I was young, I used to be very strongly against it among professional historians. Let the Martin Amises do what they I like. I get more worried when that emotive, morality-play approach is used by historians. But maybe I've just become more tolerant over the years. I mean, let historians do it, but I don't have to read it, or engage with it seriously, as I don't with work in which there's too much of an in-built bias.
But the reason why everyone started to write about the gulag was not just the moralistic, anti-communist bias. Just think about what happened in terms of sources. Suddenly the archives opened, all the formally classified material – we'd already been using quite a lot of unclassified material – complete with details of the gulag and the extent of the repression suddenly became available. So how would you not go and look at that stuff?
review: Is there not a problem with the overwhelming focus on the human misery of Stalinism, in that it obscures other ways of understanding the emergence of Stalinism and the subsequent development of the Soviet Union?
Fitzpatrick: Oh yes, it certainly does. In the one academic conference the Russians were having, they had a heading for potential papers entitled 'revolution as violence'. That's straight out of the US system of academic grant applications, where you write that you're interested in violence and you're going to look at the Russian Revolution as an example of violence. There was no consideration of other aspects of the revolution, or the things Soviet historians used to discuss, such as the claims for economic development or raising the educational levels.
Now, I was going to be giving a paper in Paris on my first book, The Commissariat of Enlightenment, about AV Lunacharsky, just before this Russian conference, which was about the revolution and popular education. So, I wrote to the Russian conference organisers and said yes, I'll give a paper at your conference, if it fits in, because it doesn't seem to fit under any of your headings. So I said I'll give a paper on Revolution and Enlightenment, which I thought would pose a problem for them – because it sounds like an old Soviet title. I wanted to see if they would accept it. They did, so having made my experiment, I changed my topic. It's now 'Ending the revolution: a problem for revolutionaries and historians'. Which is where we're at.
Sheila Fitzpatrick is an honorary professor at the University of Sydney, and distinguished service professor emerita at at the University of Chicago. She is the author of many books, including The Russian Revolution, (1982); and On Stalin's Team: The Years of Living Dangerously in Soviet Politics, (2015).
To enquire about republishing spiked's content, a right to reply or to request a correction, please contact the managing editor, Viv Regan.