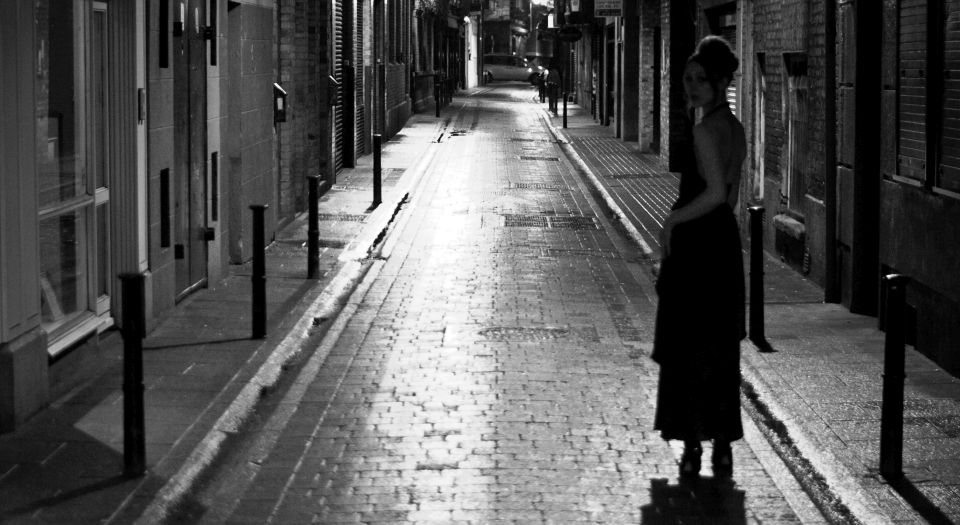 Long-read
Darker than the swoon of sin
June Caldwell's is the most important Irish short-story collection since Joyce's Dubliners.
I deeply detest short story collections – grotty binbags stuffed with the aborted novels of writers too lazy to bring their progeny to full-term. There are of course exceptions. Room Little Darker by June Caldwell is one of them.
I'd been waiting to get my hands on this book for a while. Having heard Caldwell read live before, I never had any doubt it would deliver. But nothing prepares you for her inimitable presence on the page. Although the subject matter is often darker than a black hole, in this age of anxiety about throngs of keyboard critics waiting to pounce on a hint of transgression, this makes for a truly refreshing and much needed aesthetic of real honesty. What should feel like a shower of warm shit instead feels like an invigorating skinny-dip in crystal clear Icelandic springs, such is the stultifying atmosphere of false piety this book smashes. We need more brave writers like this to blow open the prison of polite conformity stifling Irish literature since Brendan Behan died over 50 years ago.
The collection opens with 'Upcyle', a tale of an imposing patriarch's descent into dementia. The story is rescued from its depressive subject matter by Caldwell's startlingly vivid – or shockingly lurid – prose. This unflinching description of the experience of watching a relative descend irreversibly into the psychological abyss revels in the degradation of inevitable but horrific entropy. Despite the extremity of Caldwell's writing, the clever device of the family home's parallel decline, for example, is so disturbing precisely because it is so true. Indeed, the aesthetic of suburban gothic is achieved with breathtaking confidence and brevity:
'There were so many rumours about the clump of houses not far from the old walls of the Botanic Gardens in Glasnevin. In Irish: Glas Naíon, meaning "stream of the infants". A stream infected with famine time cholera from the stinking bodies in the nearby crater of a graveyard. That was one theory for residents going a bit plinky-plonky. Ley lines, lead pipes, electrical brain teasers from mobile phone masts. Nothing was ever proven.'
Macabre, menacing, misanthropic and sometimes misandrist, these are truly horrifying stories that somehow also manage suddenly to switch into hilarity. There is a relentless richness and rectitude to her metaphors – snow turns streets 'to collapsible soft meringue', a woman clumsily spreading her legs is 'a faulty mussel shell' – and a fella's cock is functionally wanked off like 'a boat part I'd no interest in but had to rough house to get on with the holiday'.
Who manages to actually shock these days? Caldwell does so with a proud and wanton abandon. Cheap and sordid, Capel St is the perfect setting for the penultimate story, 'BoyBot™'. A paedophile intimates the details of his budding relationship with a child-robot replacement therapy, assigned to him by the state, and designed to keep him away from human victims. Caldwell typographically hints at a dystopia of privatisation, as Conor the android has functionalities like SlowCuddle™, 4Play™, and ThroatPound™. That this is a lifeless animatron makes the scenes no less shocking. In fact, this paradoxically makes the mind turn more sharply to the real misery caused by such sexual proclivities. The reader is made to dwell on the idea of how, in reality, such crimes are sentiently experienced by victims.
Joyce's stated rubric when composing his realist masterpiece, Dubliners, was 'scrupulous meanness'. The hyper-realist collection in Room Little Darker often veers more towards unscrupulous cruelty. Yet in these extremes some of humanity still resides, perhaps better demonstrating its indefatigability and grace for surviving in such a desert of goodness. There is a kernel of charitable kindness in the collection that manages to express a subtle poignancy that is all the more powerful for never being sentimental.
While this book really does disturb more than the most terrifying of horror stories, it is somehow a necessary shock that is delivered. Caldwell brings the reader from stifling terror to cathartic release – like a necrophiliac's orgasm. This is perhaps the most important Irish short-story collection since Dubliners. Buy it or you're a bleedin dope.
Frankie Gaffney is a writer. His debut novel Dublin Seven is published by Liberties Press. (Buy this book from Amazon(UK)).
Room little darker, by June Caldwell, is published by New Island Books. (Buy this book from Amazon(UK)).
No paywall. No subscriptions.
spiked is free for all.
Donate today to keep us fighting.
Donate online
To enquire about republishing spiked's content, a right to reply or to request a correction, please contact the managing editor, Viv Regan.