In defence of the Green Brigade
Celtic's most passionate supporters are being punished for being offensive.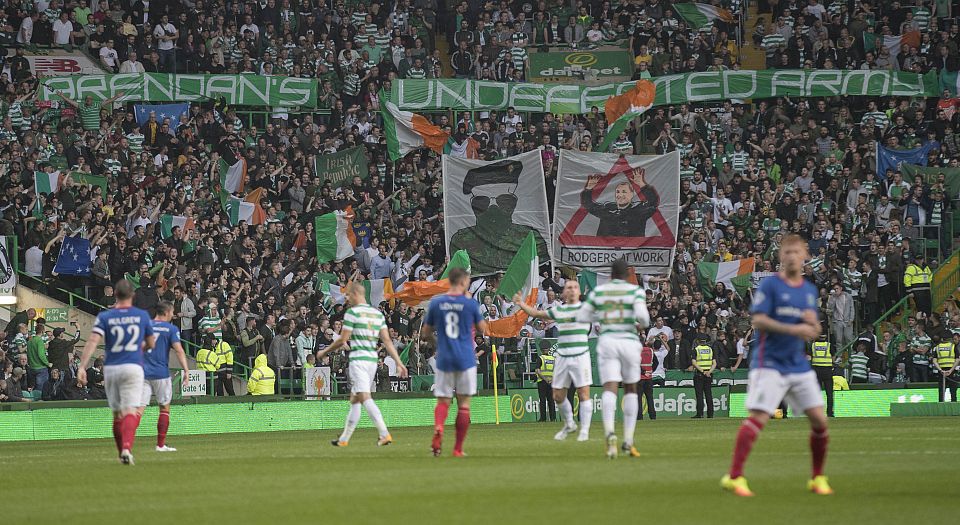 If you don't live in Scotland, you may have missed the unholy row that has broken out after a section of Celtic fans displayed pro-IRA banners at a recent Celtic-Linfield game. In a nod to our new manager Brendan Rodgers' undefeated season in the Scottish league, the words 'Brendan's Undefeated Army' sat above two iconic images from the IRA's war for independence. One played with an image made famous in republican South Armagh, an area of the north of Ireland so treacherous for British soldiers that it was known as Bandit Country. In the original poster, road-safety signs warned of 'Snipers at Work'. In the Celtic Park version, the snipers were not IRA gunmen, but the much-loved new manager, who has led the team to many great victories in the past season.
I can't help thinking that if these banners were hung in a trendy art gallery in West Belfast or Derry they would be hailed by art critics. After all, the IRA ceasefire was declared 23 years ago and 'paramilitary' murals and images from both sides of the divide are now cultural artefacts that feature in exhibitions demanding 'parity of esteem'. But this respect for cultural identity does not seem to have reached the terraces of Celtic Park. Instead, the media in Scotland has been ablaze with condemnation of the banners and the supporters who displayed them.
The group of fans in question is called the Green Brigade – a boisterous, independent, self-organising group of about 800 mostly young Celtic fans who are well known for their innovative and audacious displays of support for the team. It was hard to find any commentators in Scotland prepared to defend these supporters, though some conceded that they have at times embodied the passion and devotion that have made Celtic supporters famous around the world. Faced with widespread vitriol and a punitive two-game ban, the Green Brigade has remained defiant, pointing to the hypocrisy of the management and the types of fans now denouncing it. 'As a group we are defined by our style of support and our politics, both of which the club are happy to benefit from when it suits their agenda', it said in a statement.
Clearly, the Green Brigade's behaviour no longer suits Celtic's corporate agenda, which is now focused on getting the team into the Champions League and shedding any associations with politics, which could fall foul of UEFA's strictures. The club's statement was clear: 'Any support for a paramilitary or proscribed terrorist organisation has no place at Celtic Park.' Commentators then piled in. Writing in the Sunday Mail, Gordon Waddell described the Green Brigade's statement as '750 words of pompous guff', adding that this 'self-aggrandising pocket of fans think they're bigger than the club and their rights are inalienable, no matter how offensive'. Writing in the Scottish Sun, former player Frank McAvennie labelled them a 'group of self-important boneheads'. 'Celtic Football Club survived for more than 100 years before you came along and it will continue to flourish once you're all pushing up the daisies', he wrote.
But the Green Brigade's sympathy for Irish republicanism is not some aberration. Celtic was founded in 1888 by Brother Walfrid, a Catholic priest. The club was originally set up to fund soup kitchens for the impoverished Irish who had fled post-Famine Ireland. From day one, there has been a section of Celtic fans whose support for the club was an expression of their support for the goal of a united Ireland, a support that strengthened through the years of war in Northern Ireland (1969-1994). In fact, back then, the club invited well-known Irish republican Michael Davitt to plant the sod of grass in the centre circle of the pitch – a historical fact conveniently ignored by those now attempting to destroy the Green Brigade.
Since the peace process, the republican element of Celtic fans has waned, and young fans with little knowledge of Irish politics have mingled with ever more middle-class fans who have gravitated towards football in recent decades. But the pretence that politics has never had any place at Celtic is ludicrous. In many ways, the Green Brigade is more true to the club's history than those fans who can no longer tolerate any reminders of Celtic's roots and connection with Irish nationalism.
The demonisation of the Green Brigade is more than an attack on its heretical politics. Everything about these fans is out of step with the club's desire to become ever-more respectable. I have written extensively about the demonisation and criminalisation of Scottish football fans, which culminated with laws in Scotland banning songs and slogans deemed 'offensive' to rival fans and right-minded people. 'The club has a legal duty to the shareholders to protect the brand, and by allowing association with damaging imagery they will not be doing that', wrote someone on a Celtic fansite this week. It seems the club now prefers the prawn-sandwich brigade to the Green Brigade.
Sadly for the Green Brigade, and those of us who admire it, the kind of football supporter that fills its ranks is looking like an endangered species. Many of those supporting the sanctions taken against the group say they were necessary to avoid a harsh punishment from UEFA, which has threatened the club with punitive action over 'illicit banners' and blocked stairways. But things have taken a very strange turn if boisterous football fans, who unfurl 'offensive' banners and refuse to stay still in their allocated space, are cause for international punishment from European football's ultimate governing body.
In a radio phone-in, one fan said 'the Green Brigade aren't Celtic supporters. They are a total embarrassment.' But why should commentators and respectable fans get to decide who qualifies as a Celtic supporter? The Green Brigade may not be to everyone's taste, but it is made up of devoted Celtic fans who have as much a right to be part of the Celtic fanbase as those with a different politics and class background. The draconian policing of football fans has often been carried in the name of tolerance, of protecting rival or fellow fans from offence. But who is being intolerant now? The Green Brigade does not fit with the 'brand' being projected to shareholders, and so its days are numbered.
Those lining up against the Green Brigade should be careful what they wish for. Indeed, even McAvennie, writing in the Scottish Sun in support of the ban, conceded that during the Brigade's two-game ban Celtic will have lost a certain special something. 'On Wednesday, the very guys who have almost single-handedly created one of the most remarkable atmospheres in European football will be posted missing when they are required the most'.
We Celtic fans are faced with a choice. Either we can choose to give in to the sanitisation of our football club, the policing of behaviour, and the clampdown on expressions of sympathy with the men and women who fought against the British in Ireland. Or we can choose to allow a section of Celtic fans to carry the baton for the club's political history. I say we do the latter. And let's do it in the name of tolerance. UEFA and the Celtic board are demanding compliant, conformist, obedient, passive and 'respectable' fans – the type that does exactly what they are told to, who accept ever-greater regulation, surveillance, restrictions and policing of their behaviour.
The Green Brigade will not accept such restrictions on its members' civil liberties. These fans will not be not be told where to stand, when to sit, what not to wear, what they and can and cannot wave or sing. That is why I love them. And that is why anyone who cares about civil liberties should defend them to the hilt, as the football and political establishment line up to try to destroy them. Make no mistake: this is an important civil liberties battle. It is time to defend the Green Brigade.
Kevin Rooney is a teacher, writer and a member of the Institute of Ideas Education Forum.
To enquire about republishing spiked's content, a right to reply or to request a correction, please contact the managing editor, Viv Regan.