Punk rock vs the PC police
A genre that once thrived on offensiveness is being sanitised.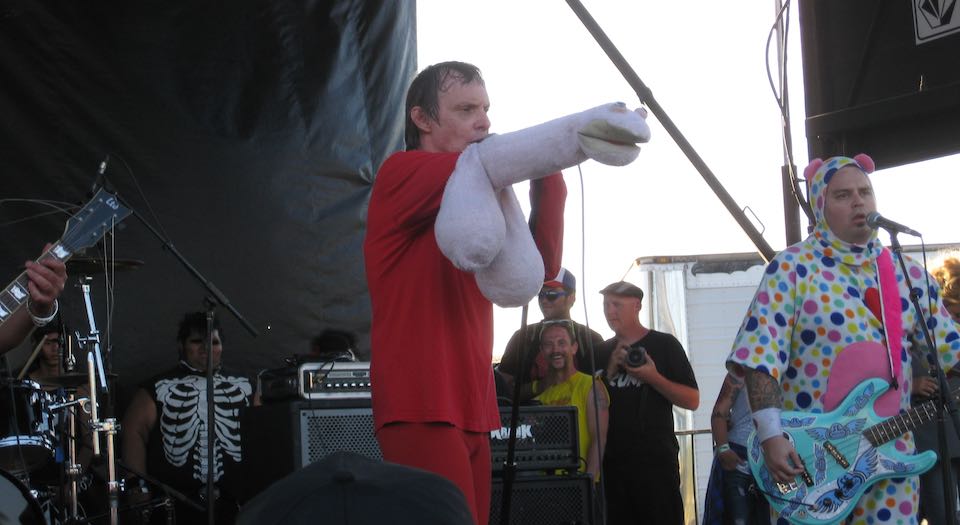 Punk music and its performers have historically dissented from orthodoxies, often causing offence in the process. Basing itself on anti-authoritarianism, punk sought to react against hegemonic structures and to strike out for freedom and autonomy. It wasn't just a sound, it was an attitude. But today its progressive, dangerous essence has all but vanished. It has become the latest target of the PC crackdown on artistic freedom.
At this year's Warped Tour, veteran LA punk band the Dickies got themselves into hot water for being offensive. They were dropped from the tour after frontman Leonard Phillips reacted strongly to a heckle from the audience. A member in the crowd held up a sign declaring: 'Teen girls deserve respect, not gross jokes from disgusting old men!' Phillips retorted with a nasty tirade, saying 'kiss it, ya bitch… I have fucked farm animals that were prettier than you, you fucking hog'. Phillips has since apologised, in a post on the band's Facebook page, saying he feels 'terrible' about the incident and that his language was 'unconscionable and reactionary'.
It turns out that the person who held up the sign is a member of Safer Scenes, an organisation which, according to its fundraising page, is sharing 'resources to help concertgoers use bystander intervention to prevent sexual violence, respond to racist incidents, and generally improve the music festival experience for everyone'. The Dickies were targeted because of their stage antics, which include wearing penis puppets on their arms, and riding blow-up dolls.
Shawna Potter, co-creator of Safer Scenes and lead singer of the band War on Women, wrote a think-piece for Vice criticising the Dickies and comparing them to Trump supporters. 'I hope they are not booked for any future Warped dates', she wrote. The fact that Phillips regretted his actions was apparently irrelevant. According to Safer Scenes and its sympathisers, if a band of old men commits one crime of shock, then they should be banned for life.
Since then others have piled in. Warped Tour founder Kevin Lyman joined the condemnation, saying he does not 'condone verbal or physical violence, whatsoever'. The band have also had a show in Leicester, in the UK, cancelled because, according to the promoter, their 'misogynistic bullying' was 'unacceptable'. While there is no question that Phillips' reaction to the sign was nasty and offensive, it is dangerous to suggest that unsavoury speech is equal to physical violence. Sadly, this is a common claim among those who seek to police language.
Indeed, the Dickies scandal is only part of a wider PC assault on punk. Chicago band the Dwarves had their upcoming album dropped from their label due to 'objectionable content'. (You would think that for a band who over 25 years ago released an album called Blood, Guts & Pussy, this objection would have arrived sooner.) Another Canadian band renamed themselves Preoccupations, after receiving a battering on social media for originally choosing the more risqué name Viet Cong.
If performers take their art seriously, they need to fight back. It was encouraging to see that Jesse Hughes, Eagles of Death Metal frontman, defended the Dickies in an Instagram post, stating: 'Long live freedom of speech and long live the notion that rock'n'roll is about saying whatever the fuck you want!!!!!! Especially if it's offensive to people who are weak, cowardly and can't stand for anyone else to be free.' Hughes knows better than most about having his freedom of expression attacked: 90 people died and 200 were injured when his band's Bataclan performance was attacked by Islamist terrorists in 2015.
Audiences and promoters censoring their artists is a relatively recent and tyrannical trend. And it needs to be condemned if punk music is to have any future. It is about time the punk scene became dangerous again, rather than a language-policed Safe Space. Today's censorious music scene is breeding a litany of average musicians who are too scared to rock the boat. In true punk spirit, we should give PC the middle finger.
Ben King is a writer.
Picture by: Wikimedia Commons
To enquire about republishing spiked's content, a right to reply or to request a correction, please contact the managing editor, Viv Regan.