Paris: the culture war over women's safety
It isn't racist to raise concerns about migrants who harass women.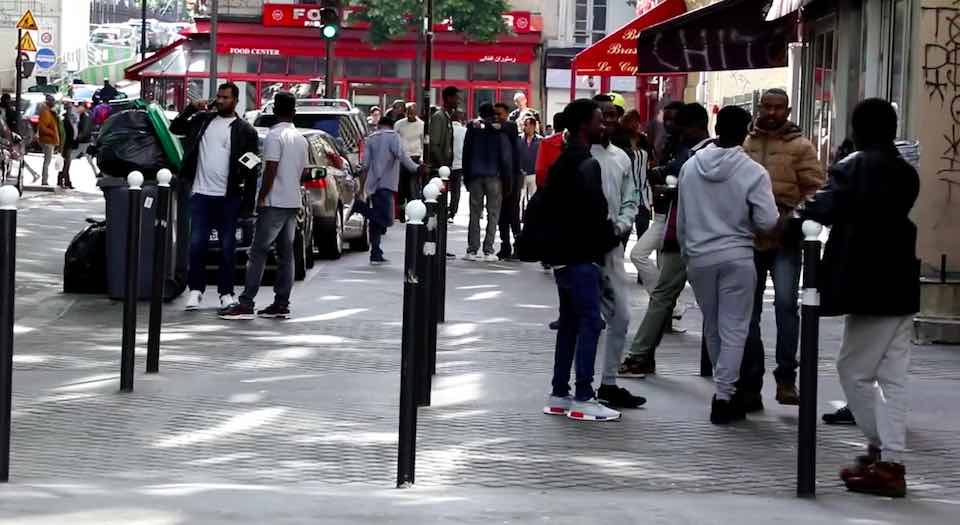 The petition, 'La Chapelle & Pajol: women, a disappearing species in the heart of Paris', says that large groups of men congregate on the streets and in certain cafes in this area, and women are constantly harassed with sexual comments. Some places have become no-go areas for women, it says.

Aurélie, 38, told Le Parisien that she no longer recognises the neighbourhood she has lived in for 15 years. 'Just getting around has become problematic. The cafe, at the bottom of my building, which used to be nice, has transformed into an exclusively male space and is always crowded. I get lots of remarks when I walk past, even more if they have been drinking a lot. A few days ago, just standing at my window sparked a load of insults, and I had to shut myself inside my apartment.'

Another woman said: 'When you're carrying your shopping, the streets are so crowded it's hard to move, you often get pushed around. There is a sense of insecurity. We are really alone in a world of men. And you get insulted and gestured at.' Mothers have reported that their daughters are scared, and they in turn are scared to let their daughters go out on their own.

The groups of men who congregate in the streets in this part of Paris are mainly of African or Arabic origin. Some may have been settled in France for a while, but there has also been an influx of new migrants. La Chapelle is just behind Gare du Nord, which makes it easily accessible to migrants coming from Calais. A new official refugee camp was also set up nearby, on the outskirts of Paris, at the end of last year. The transformation of the area began in 2015 when an influx of migrants – mainly single men – set up makeshift camps in parks and under metro bridges. The authorities have since cleared these 'camps', but many migrants have remained in the area, sleeping rough on the streets in tents. They are vulnerable to criminal gangs, and there has been an increase in crime in the area, including drug dealing, street peddling and pickpocketing.

Since speaking out, the women, and the neighbourhood associations who support them, have found themselves at the heart of a cultural battle. A few days after the petition was launched, then candidates for the right-wing Les Républicains party joined a demonstration at Place La Chapelle to denounce the 'illegal occupation of public space and street harassment'. A press release on Front National's website blamed 'mass immigration, which has reinforced communitarianism and let Islamism take root'.

Anti-racism organisations have accused the petitioners of stigmatising immigrants. They even set up a counter-demonstration under the slogan 'Feminism is not racism'. As a result, the woman who began the petition, who asked to be called Laurence in a report for the The Times, has been called 'fascist, racist and bourgeois'. She has also faced physical threats and online abuse.

In response to the problem, the mayor of Paris, Anne Hidalgo, tweeted rather noncommittally: 'Street harassment in Pajol: Paris and police have identified this problem for several weeks and are determined to act.' So far the police presence has increased in the area, but not much else has changed.

What has been sorely missing throughout this affair is an honest discussion. Women are no longer feeling safe in a neighbourhood where they previously felt safe, and this is a huge problem for civic life in a free society. The biggest change in the neighbourhood has been the influx of migrants, which means this too must be talked about. It is not the petitioners' fault that the far-right and some on the liberal left have jumped on the issue for their own political ends. To dismiss the complainants as racist is to deny that the problem exists. But simply blaming the problem on mass immigration also misses the point. 

What is really at stake here are values: the values of the society that Parisians want to live in. Women, quite rightly, want to be able to go about their business free from harassment and without fear for their safety. These values of living a free life need to be talked about and insisted upon, so that when people from other countries are welcomed into a nation like France, they understand that those values are key to living happily in their adopted home. If French politicians and observers won't stand up for French values, including equality and the everyday freedom of civic life, how can they expect newcomers to respect those values? The moral evasion around this issue, around the problems that arise when different cultural outlooks clash, intensifies the problem.

Sadly, France is not alone in its fear to stand up for its own values. Time and again we see European countries brush over huge cultural problems. This has happened in parts of Sweden, where, in places like Malmo, Jews have been leaving in droves, because rising anti-Semitism, mainly coming from Muslim migrants, has not been addressed. And, more recently, in Cologne, when a thousand women complained of being sexually assaulted, allegedly by migrants. There, once again, open discussion was shushed by politicians who didn't want to cause a stir, leaving the way open for anti-immigrant fascists to make political mileage from this incident.
If we want migration to be viewed as something positive, as spiked does, then we must be prepared to stand up for the values of our free, progressive societies. Both political leaders and ordinary citizens need to defend our free way of life and not be shy about saying: our way is better. Yes, there will be challenges and clashes, and people will disagree. Fine. But as we have repeatedly seen, being able to live freely is not something that can be taken for granted. We cannot let our freedoms be eroded through fear of honest and robust debate. The stakes are too high. And not just for citizens born in Western Europe: events in north-east Paris also show that too many migrants are living in unacceptable conditions, on the streets, jobless, with little to do. A society that cannot find good things for migrants to do and also refuses to stand up for its own values is storing up worrying tensions.

To enquire about republishing spiked's content, a right to reply or to request a correction, please contact the managing editor, Viv Regan.