Afghanistan: war without end
Now Trump is ramping up the mayhem in Afghanistan.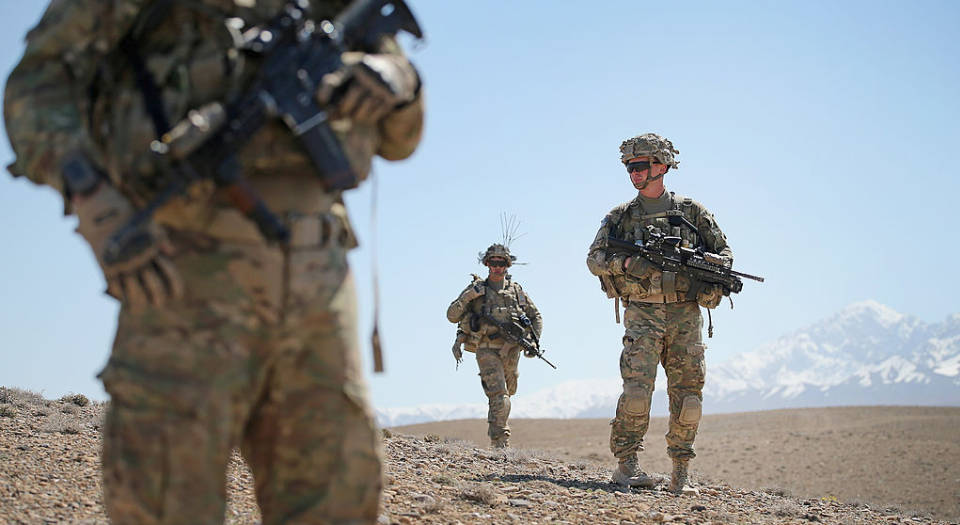 The news came ungarlanded. No under-the-duvet tweets, no White House fanfare, no self-aggrandising from The Donald. But there it was. Confirmed in a standard news release. Just months after the date when the former US president, Barack Obama, had pledged to pull the last American soldier out of Afghanistan after 16 years of fighting, the US is to send between 3,000 and 5,000 extra troops to Afghanistan to join the 13,000 NATO troops (over 8,400 from the US) already stationed there. A war that was meant to be over is still being waged with, if anything, increasing intensity.
It's a predictably thoughtless, seemingly unprincipled move from the Trump administration. During his presidential campaign, Trump frequently declared his aversion to 'nation-building', which was consistent with his prior assertion, made in 2012, that 'it's time to get out of Afghanistan'. Now, he's almost performed a volte face. I say 'almost', because Trump has not only remained silent on the decision – he has also virtually abdicated responsibility for it. As the Washington Post reported in May, this was one of the most salient features of this new Afghanistan strategy, urged on him by US defence secretary Jim Mattis and US national security adviser Lieutenant General HR McMaster: 'It would authorise the Pentagon, not the White House, to set troop numbers in Afghanistan and give the military far broader authority to use airstrikes to target Taliban militants.'
Perhaps Trump did it because America's involvement in Afghanistan doesn't engage him. Perhaps he doesn't know where, or indeed what, Afghanistan is. Either way, he has effectively depoliticised what ought to be a political decision – to continue waging a war – by transforming it into a decision for security and military experts. And in doing so, in empowering a military to make decisions for itself, by authorising the means by which a conflict is fought to decide the ends of a conflict, he is tacitly allowing the escalation of precisely the sort of brutal overseas military imbroglio of which he was once so critical.
Not that critics have been slow in coming forward to ask what exactly is going on. Maybe, wondered military historian Richard Kohn, with no little sarcasm, Trump doesn't 'have time or interest to make these decisions'. Daniel Feldman, Obama's special representative for Afghanistan and Pakistan, went further, saying: 'This appears to be tactics waiting for strategy.' And, even considered as a response to the deteriorating security situation in Afghanistan, after yet another truck bomb killed 150 in Kabul last week, 'it is not going to be decisive in turning the tide of this war', said former Pentagon official Michèle Flournoy.
Time-buying at best, and pointless at worst, Trump's latest decision, albeit one made in absentia, deserves the brickbats now coming its way. But, at the same time, this latest entry into the interminable annals of the West's war in Afghanistan testifies to a deeper problem than Trump's brazen shallowness. It also points to the barbarous unreason long at work in America's and its allies' foreign policymaking, an unreason writ large in the infernal, interminable Afghanistan intervention. That is why it generates the questions it does: what is the reason for the US and NATO military presence in Afghanistan? What is the reason for the continuation of this conflict? Indeed, what is the reason for its escalation?
That lack of reason has always haunted the West's war in Afghanistan, right from its beginning way back in 2001. Not that no reasons were ever given for the war. Quite the opposite. Too many reasons were given: it was to destroy al-Qaeda after 9/11 (despite its perpetrators being Saudis and Egyptians trained in the West); it was to destroy the Taliban (for reasons undefined); and it was to liberate women. Later still, it was to stop the drug trade; it was to promote democracy; and intermittently it was to prevent terrorism. Reasons for the war proliferated as its conclusion receded.
But the sheer number of reasons was an indication of the absence of a real, material, let alone strategic reason for the war – a void where a political, moral purpose should have been. And without a strong reason, or worse still, with too many after-the-fact reasons, for the conflict, there was never any way to say when it could end, no moment when the mission (moral or otherwise) could be declared accomplished. As a result, the war in Afghanistan has acquired an endless quality, a war now fought almost for its own sake, propping up a barely ruling government – in control of little more than half of Afghanistan and tellingly hidden away in fearful, fortified compounds – that was itself created by the West and imposed on the still tribal, semi-feudal reality of one of the least developed nations on Earth.
It was during the first term of Obama's administration that the moral and political lack, the sheer unreason, at the heart of the West's war in Afghanistan became absurdly palpable. Because, in the absence of a reason to be in Afghanistan, in the absence of a mission to be accomplished there, Obama imposed a timetable to be adhered to in Afghanistan. The end of the conflict was no longer strategic or political; it was chronological. Obama's plan was to 'surge' against the Taliban insurgency in 2011, which the US did by sending in over 100,000 US troops, overwhelm the enemy and then pull out from 2012 onwards. By 2014, the timetable seemed to be on schedule, and Obama felt confident enough to declare an end to combat operations. Yet, as Obama was soon to find out, you can't project-manage a war, not least because you're telling your opponents when you're going to ease off. And so, over the past three years, the Taliban has surged back, and now controls more territory than at any point since 2001. What is more, ISIS has also taken advantage of the West's purposeless occupation, and has gained a foothold in eastern Afghanistan along its border with Pakistan.
So the Trump administration's decision to make the war in Afghanistan an almost technical matter for military advisers and consultants at the Pentagon is not just a way of dodging the difficult decisions – it is also the logical culmination of a war without ends or purpose. It's a recognition that this is now a war being fought for its own sake, a matter not for politicians, but for army technocrats, crunching troop numbers and air-to-surface missile outcomes. The means of fighting have become their own end.
Tim Black is a spiked columnist.
To enquire about republishing spiked's content, a right to reply or to request a correction, please contact the managing editor, Viv Regan.