Where's the outrage over the killing of Christians?
Christians around the world are being slaughtered by Islamists. They need our solidarity.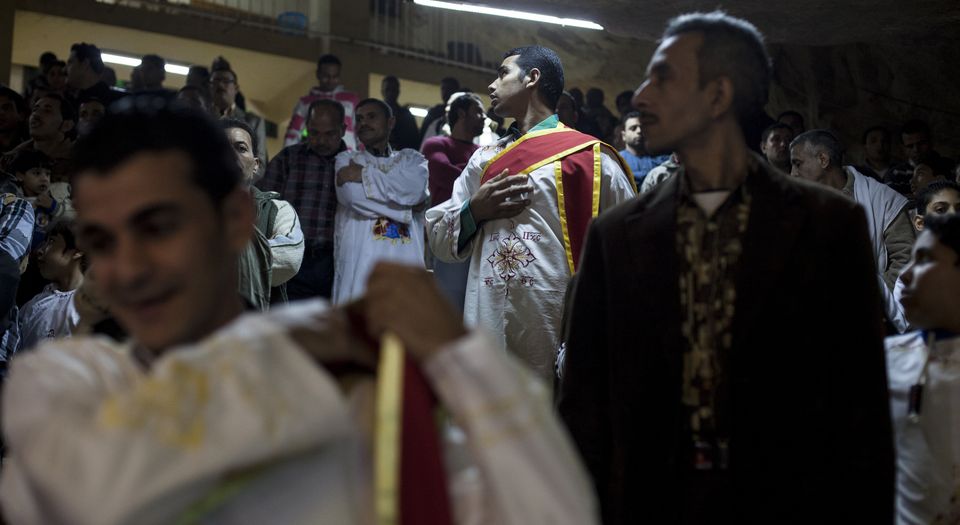 In the wake of the bombing of teenage girls in Manchester, now joined by the equally cowardly attacks on Saturday-night revellers in London Bridge and Borough Market, there are other stories of Islamist violence, but they have failed to gain great traction in the public consciousness.
At the end of May, outside Minya, a settlement just over 100 miles south of Cairo, around 10 gunmen dressed in uniform opened fire on a bus, truck and car, killing 28 people and wounding dozens more. They boarded the bus, shooting the occupants in the head, neck and body. Among the victims were two young children, aged two and four. This attack on a convoy of unarmed civilians was, unlike the attack on Saturday night in London, not generalised or random, but specifically targeted: the convoy contained worshippers travelling to the St Samuel Monastery near Maghagha. The attackers were not intending mere broad mayhem, but to murder a particular kind of person: Coptic Christians.
That same week, Maute (ISIS-affiliated) militants in the southern Philippines besieging the city of Marawi kidnapped 14 Christians in order to use them as human shields; threatened to execute them unless government forces withdrew. A few days later, at a checkpoint, they pulled nine Christian civilians from a truck, bound their hands, and then riddled them with bullets, leaving their corpses in a field. Only this week, they released a video of Islamists vandalising and finally burning a Catholic Church, an act of desecration they had already perpetrated on Marawi's Catholic Cathedral and other churches.
All of this is simply the manifestation of a reality about Islamist militants that we have long known from their actions in Syria and Iraq: their special hatred for Christians, whom ISIS recently declared its 'favourite prey'. Wanton rape, torture and murder have all played a part in the concerted effort of religious cleansing in the Middle East and anywhere else Islamists have been able to gain a foothold. However much such ideologues violently loathe and attempt to attack the West, it pales in comparison, both in terms of scale and intensity, with the bloody persecution of Christians across the world, and most especially in the Middle East.
Yet insofar as there has been any awareness of this in the West, it has been vague and unexplored. These stories do not make major headlines; they are small, incidental stories. Neither the horror of what Christians go through at the hands of Islamists and others, nor the scale of the crisis of Christian populations in the Middle East especially, appears to be widely known, let alone the subject of public concern.
The reasons for this huge media blindspot can only be speculated. There is an extent to which it can be explained away as 'fatigue' with the same sort of story. On the other hand, it's hard not to suspect that the reason why the persecution of Christians is not being reported widely across the globe is not merely due to over-familiarity, but because of active disinterest.
In the UK, as in much of the Western world, there is now a clear latent prejudice against Christianity, informed entirely by ignorance, whether in complacency or ideological hostility. Christianity is still the largest faith in the world, and the traditional religious context of Europe and North America. It is easy for Westerners to see it as comfortable, safe and largely unmolested. Yet Christian faith is also cast in the narrative of popular culture and social commentary as at best a weird and discomfiting eccentricity, and at worst a malign and sexually suffocating form of obscurantism.
This mainly expresses itself in matters of small-minded and tedious triviality, such as some people's insistence in spelling 'God' with a small 'g'. It can also be manifested in larger matters, such as the recent bizarre media preoccupation with whether the practising Protestant Tim Farron believed homosexual acts to be a 'sin', a matter about which the vast majority of people outside central London could scarcely give a damn, but which was apparently a grave matter of potential moral heresy to the secular inquisition of Channel 4 News.
Relatedly, it certainly seems from the output of many journalists or drama writers and other opinion-formers that they hold a fairly Manichean worldview, in which Christian clerics are either 'baddies' (judgemental hypocrites or sanctimonious fanatics, when they're not sexual abusers) or only occasionally acceptable 'goodies' (Reverend Richard Coles / Grantchester-style jolly modernists, or social-workers-in-a-dog-collar).
The idea that Christians can be victims ill-fits the general story. Compare the extent to which the attacks in Egypt or Marawi were covered to the reported (also sickening, but much more small-scale) persecution of gay men in Chechnya, or the outrage over an arena in Australia still being named after a tennis player, Margaret Court, who happens to oppose same-sex marriage. Or note the online fury about the puerile Westboro Baptist Church, and how much more of it there is than concern about horrifically abused Egyptian Christians. You can see what is considered a more worthy subject for internet virtue-signalling these days.
I am not saying the media should concentrate on Copts or Filipino Catholics to the expense of gay people or other issues. It shouldn't be a competition. We should expect it to be proportional, however, and the sad, or more properly speaking scandalous, truth is that the plight of Christians internationally is not a problem that excites the minds or hearts of those with the most power to explore it, analyse its effects, and bring it to the attention of the general population.
We can currently do little about the persecution of Christians other than pray and donate to charities like Aid To The Church In Need. Perhaps, however, more could and would be done if the Western media gave Christians subjected to the cruellest and filthiest forms of torturous hate the attention and concern that their situation truly deserves.
Peter D Williams is a Catholic writer, social and political commentator, and a speaker for Catholic Voices.
To enquire about republishing spiked's content, a right to reply or to request a correction, please contact the managing editor, Viv Regan.