Let's celebrate the heroes of London Bridge
With beer bottles and skateboards, they stood up to theocratic terror.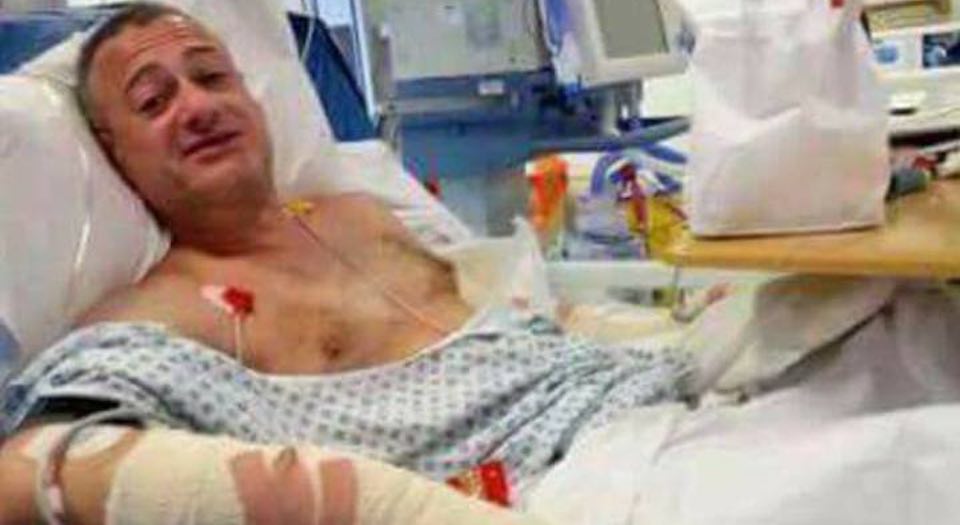 I've never felt prouder of London, my hometown, than I did on Saturday. When three wicked Islamists rammed a van into pedestrians and then used knives to cut down people whose only crime was to be free and happy and in the throes of nightlife, they caused chaos, yes, but they also brought out people's heroism. People fought back, confronted the killers, hit them with skateboards, pelted them with bottles, yelled abuse at them. This was the spirit of London in action, defying theocratic violence with the hurl of a beer bottle.
There were many heroes. There was Roy Larner from Peckham who said possibly the best thing that's ever been said to terrorists. They burst into the pub he was drinking in, shouting: 'This is for Allah!' 'Fuck you, I'm Millwall!', he fired back. He has since told the press he wanted to 'take the piss out of these bastards', which is about as London a response to terrorism as you will ever get. But he did more than rip the piss and give us all the brilliant image of Millwall fans having an apocalyptic showdown with soldiers of Allah: he also punched the killers to try to stop them from stabbing people, leading to his being stabbed eight times. What incredible bravery.
Others turned the paraphernalia of a Saturday night out into weapons against terror. Eye-witness Gerard told the BBC that people threw beer bottles, glasses, chairs and stools — 'anything they could get' — at the terrorists. Or the 'three Muslim geezers', as he called them, with a brilliant lack of PC that rather rattled the Beeb. There was also Romanian baker Florin Morariu, who ran out of the bakery he works in, Bread Ahead, and into the mayhem to smash one of the terrorists over the head with a crate. He threw a crate at a second terrorist. It wasn't until the police threw a grenade that Morariu ran back into his bakery. And he took around 20 people inside with him and put down the shutters to protect them from harm. 'I didn't want to be a hero', he told ProFM Radio, but that's what he was.
A 28-year-old pub bouncer called Ozzy, who said the events outside his pub were like a 'war zone', describes how he and his colleagues 'launched bar stools, bottles and glasses at them to try and disrupt them'. A cab driver called Chris swerved his car around to try to run over one of the terrorists who was stabbing a young woman. A Spanish man, Ignacio Echeverría, was returning from skateboarding in a park with friends when he saw one of the terrorists stabbing a woman. He rushed over and used his skateboard to hit the terrorist away. Tragically, Echeverría is now missing and feared dead. He ran towards danger armed with nothing but a skateboard — that takes real guts.
There were many other heroes, who shoved revellers into shops and bars to protect them from the knifemen, or made tourniquets for the stab victims, or stayed with the victims of the van attack on London Bridge despite knowing the terrorists were still around, doing awful things to people. People who were out for drink and fun and food made themselves into defenders of citizens, fashioning weapons to fight off three men whose assault was on London itself, and on nightlife, as well as on the individuals they crashed into and stabbed. In the space of minutes, seconds in fact, Londoners and visitors to London became impromptu fighters against Islamist terror. Amid the horror the three men managed to unleash, there is a beautiful element to the fightback: people doing things Islamists hate — boozing, flirting, indulging in earthly passions — kicked back against the Islamists. These were drinkers and diners instinctively defending each other, but it was also the free, civilised demos against the darkness of religious extremism.
We should find a way to recognise the bravery of these civilians. We should celebrate what they did, first because it was thoroughly good and human, and secondly as a way of encouraging others to take similar action when terror strikes. This could be the main lesson to take from the London Bridge attack: that if us civilians are going to be in the frontline of misanthropic Islamist terrorism, then we should be ready to fight. In the name of liberty and the open society and the right to have fun on a Saturday night, we should all commit ourselves to being as alert and fearless as the heroes of London Bridge were.
Brendan O'Neill is editor of spiked.
Picture by: Facebook
To enquire about republishing spiked's content, a right to reply or to request a correction, please contact the managing editor, Viv Regan.