The 10 candidates you must not vote for
Meet the 10 most anti-Brexit, anti-democratic candidates.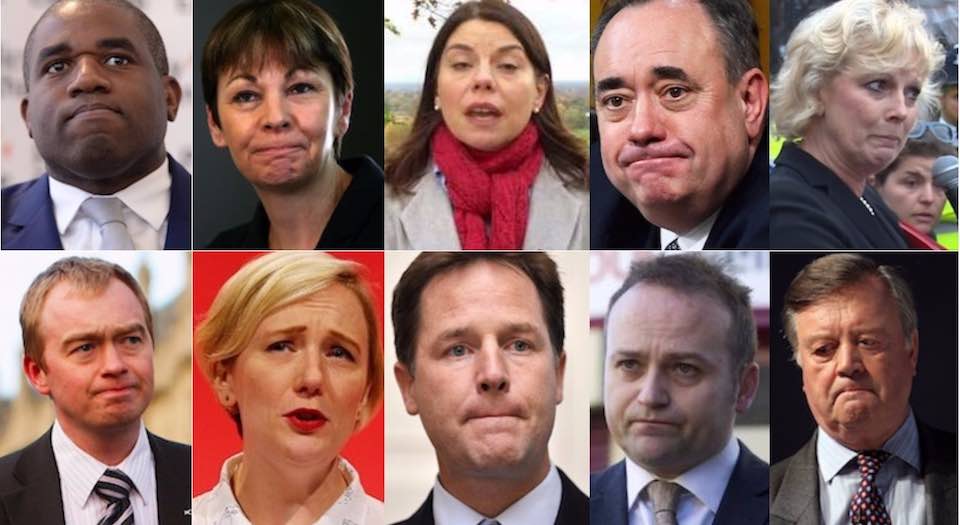 Racist, low-information, misled and misunderstood – Brexit voters have been called a lot of nasty things. And in this General Election, it's important to remember that many of our politicians, who are now vying for our votes, indulged in this bashing of the electorate.
The issue at hand in this election is democracy, and whether or not MPs will implement the people's will. Their attitude towards Brexiteers reveals their attitude towards democracy itself, and to the voting public. If your MP won't listen to the will of the people on the European Union, how can you expect them to listen to your concerns about the NHS, housing or education?
As the country prepares to go to the polls, here is spiked's list of the Top 10 anti-democrats. If you believe in democracy, and you're in one of the constituencies in which these people are candidates, don't give them your vote on 8 June.
---
Neil Coyle – Labour, Bermondsey and Old Southwark
In January, Labour's Neil Coyle told the BBC's Andrew Neil that he would defy the result of last June's referendum. More than that, when Neil asked Coyle if he'd do the same if his constituents voted Leave, he proudly stated that he would. 'There is simply too much harm to come from backing Brexit', he later told Southwark News. Coyle also waxed lyrical during the referendum about the Leave campaign 'inspiring extremist elements of the hard right', such is his contempt for Leave voters.
---
Stella Creasy – Labour, Walthamstow
Creasy, Labour MP and professional Corbyn-hater, recently described Brexit as 'a hammer blow to equality'. And yet, during the referendum campaign, she described Brexit-supporting women as the 'surrendered wives of Europe'. A fine depiction of Creasy's egalitarian credentials. When she's not smearing Leave voters, she's denying their existence entirely. 'No one voted for this wretched mess…', she tweeted following the result.
---
David Lammy – Labour, Tottenham
Since 23 June, Lammy has been the poster boy for anti-democracy. 'Wake up', he wrote in a statement two days after the result. 'We do not have to do this. We can stop this madness', he added, calling for an anti-Brexit vote in parliament. He's also been at pains to point out that the referendum 'was advice to hear what the people say' but was not binding. Presumably he takes the views of his own constituents as seriously. Will Tottenham voters take the gamble on whether Lammy will take their 'advice' on anything else?
---
Nick Clegg – Liberal Democrats, Sheffield Hallam
Since the referendum, Clegg and his party have labelled the EU referendum 'the biggest con trick in politics'. This wasn't his position in 2008, when he put out a leaflet arguing that 'only a real referendum on Britain's membership of the EU will let the people decide our country's future'. So what changed? Perhaps his view of his own constituents. In a recent interview with Owen Jones, he guffawed about one of his supporters in Sheffield Hallam telling him he was voting Leave for 'a bit of fun'.
---
Sarah Olney – Liberal Democrats, Richmond Park
Olney's victory in the Richmond Park by-election was hailed as a victory for the 48 per cent. 'If you elect me, you'll give me a personal mandate to oppose Brexit', Olney said during her campaign. A committed anti-democrat, then, but not one willing to back up her position, it seems. In an infamous radio interview after her election, she was asked if, given her support for a second EU referendum, she'd support a second Richmond Park by-election, to make sure the voters knew what they were voting for. She stumbled, then went silent. A member of her team then picked up the phone and said, 'she's got another interview now'.
---
Tim Farron – Liberal Democrats, Westmorland and Lonsdale
As leader of the Illiberal Anti-Democrats, Farron has been a leading Brexit-basher since the referendum. But he's also slippery about it. When confronted by a Leave voter called Malcolm, in a video that went viral earlier this year, Farron rejected claims that he had said Brexit voters were racist. But only last year, in a speech in Manchester, he said: 'There's a new battle emerging. Between the forces of tolerant liberalism and intolerant, closed-minded nationalism.' What part of 'close-minded nationalism' doesn't scream 'Brexiteers are racist' to you?
---
Anna Soubry – Conservatives, Broxtowe
Though the only person in this list who didn't vote against Article 50, Soubry has been anything but democratic about the Brexit vote. 'Politicians for #Brexit are deliberately misleading people with their phoney promises', she tweeted during the campaign, and she's maintained that we didn't know what we were voting for ever since. She thinks we're racist, and thick, too. In a tirade against voters in a recent interview, she implied Leavers were 'the ones who say: "I don't like all that foreign muck, what are we having for tea tonight? Chicken tikka masala?".'
---
Ken Clarke – Conservatives, Rushcliffe
No Tory is as opposed to Brexit as party grandee and longstanding Europhile Ken Clarke. Clarke was the only Conservative MP to vote against triggering Article 50, stating, 'I just think it's silly to have such a complex issue put to one day's Yes-No vote'. He finished his speech in parliament paraphrasing Edmund Burke, arguing that politicians who blindly follow the instruction of their constituents, rather than use their own judgement, are not 'serving you… [but] betraying you'. Politicians who think they know better than those who vote for them have no place in the House of Commons.
---
Alex Salmond – SNP, Gordon
As an SNP bigwig, Salmond has been trotting out the party line since the Brexit vote that 'Scotland is being dragged out of Europe against its will'. Such is his contempt for majoritarian democracy, he's seemingly committed to keeping not only Scotland in the EU, but the entire UK. 'The SNP will fight tooth and nail at both Holyrood and at Westminster to hold this Tory government to account – Article 50 must not be triggered before we have answers', he wrote in an official statement.
---
Caroline Lucas – Greens, Brighton Pavillion
Though the Greens are small fry in this election, their commitment to Brexit-hating remains strong. Green co-leader, and the party's only MP, Caroline Lucas, told parliament during the Article 50 debates, 'We were elected to be lawmakers not lemmings'. She later penned an article for the Guardian, stating that she was 'looking to build a more united, fairer and more democratic Britain'. Apparently, the first stage in Lucas's plan to democratise Britain is to try to undermine the biggest democratic mandate in our history.
Ella Whelan is assistant editor at spiked. Follow her on Twitter: @Ella_M_Whelan
To enquire about republishing spiked's content, a right to reply or to request a correction, please contact the managing editor, Viv Regan.