Three cheers for Banksy's Dover mural
This latest piece proves the artist's politics have matured.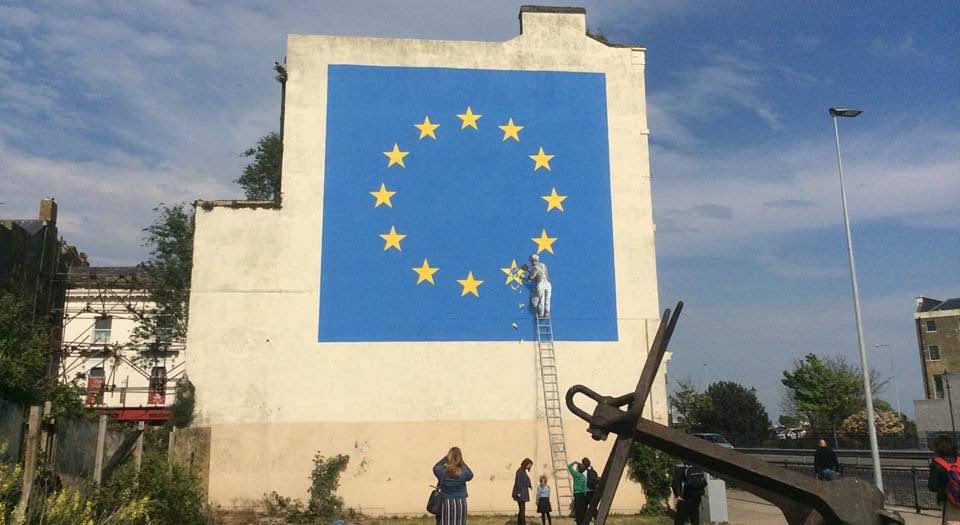 Ever since he rose to prominence in the late 1990s, the street artist Banksy has been the darling of the liberal intelligentsia. He has attained global renown for his right-on murals critiquing capitalism, raising awareness on global warming, depicting male policemen kissing, representing Steve Jobs as a refugee, and portraying fast-food consumers as Neanderthals. He embodies everything a politically aware 17-year-old thinks is radical, daring and anarchic. Banksy is the metropolitan liberal incarnate.
It was therefore surprising to see his latest piece of street-art appear in Dover earlier this month, depicting the European Union flag with a workman chipping away at one of its stars. Dover, in east Kent, is deep Brexit country. Among the permanent residents who don't commute to London, there's little affection for metropolitan liberals who are regarded as out of touch on matters such as immigration, and resented for pushing up house prices with their second homes. When a Banksy artwork was put up in Folkestone in September 2014, it was defaced within a month. This was not unexpected or mourned – Banksy, for many, personifies metropolitan, condescending smugness.
Dover is more down-at-heel than Folkestone, so most people thought Banksy's latest would also be vandalised. Except that it hasn't (apart from a serial, local graffitist scrawling 'The Clash' at its base). In fact, the reaction has been quite the reverse. The Dover Banksy has been welcomed by locals. As a reporter for the Dover Express put it: 'The people of Dover seem to agree it already has been, and will continue to be, of great benefit to the town.' The mural has already become a tourist attraction, with visitors now posing to climb up the ladder – much as they pretend to lean against Big Ben to have their picture taken in London.
The Dover Banksy has gone down well for three reasons. Firstly, it has drawn attention to a town that has felt ignored for some decades. Dover has suffered both from the decline in the ferry industry since the Channel Tunnel and the dawn of cheap flights – it was also hit hard by the 2008 financial crash. Banksy is globally famous, and his latest work in Dover made the headlines around the world. Secondly, as I saw when I was in the town last Thursday, it's a magnificent, dominating and beautiful image, one that will surely come to define Dover much as the Liver Building is iconic of Liverpool or the Tyne Bridge signifies Newcastle.
Most of all, the success of the Dover Banksy lies in the fact that it's genuinely thought-provoking (as opposed to thought-provoking normally being euphemistic for crap). Like all great art, it makes its viewers think and discuss its meaning. It's a work loaded with ambiguity. As one local resident (who lives a few metres from the artwork) told the Dover Express: 'I think it's brilliant. I think it's saying we should stay with a hammer-and-sickle mentality. But it could also say we should get out and we're chipping at the EU bit by bit.'
Let's hope this represents a coming of age. Sure, if you're a sixth-former, undergraduate or Rik from The Young Ones, you're allowed to think that Banksy's previous work (which says that consumerism is bad and common people are stupid) constitutes revolutionary anarchism. But many of us grown-ups have long thought that Banksy is a condescending bore: a second-rate artist with a third-rate political mind.
The Dover mural, however, signifies a shift. It shows that he has embraced the virtue of doubt and the concept of ambiguity – key signs of adulthood. Banksy has asked us all to reconsider, as fellow countrymen, the most divisive political subject in Britain in living memory. His newfound maturity has humanised an often savage debate. 'I think Banksy is just reflecting the significance of Brexit, without taking an overt Remain or Leave stance', another resident told the Dover Express. 'I'm a Brexiteer, but for me there's nothing to disagree with in this Banksy piece. You sense some sadness in his depiction, but you don't sense anger.'
---
What's the problem with sex-for-rent?
The great moral panic of the moment (that phrase so beloved by liberal newspapers to describe plebeian rowdyism) is that of 'sex-for-rent'. It seems the housing market is in such dire straits, and men are such inveterate sleazebags, that female tenants are now selling their bodies to their landlords. '"Sex-for-rent" in Ireland: massages, modelling, no money', ran a headline in the Irish Times on Saturday. 'This week, 10 online ads offered rooms in Dublin in exchange for sexual favours.' Earlier this year, the Guardian also reported that 'sex-for-rent is the hidden danger faced by more and more female tenants'.
What's the moral difference between providing sexual favours in return for shelter, and offering sex for money? The only difference seems to be currency: housing or cash. Sure, there is a lack of housing, and it seems that it is pushing some to sell sexual services. But this is a social issue, not a moral one. No one is holding a gun to the heads of these tenants – they can always say no. It's their body, and their choice. Many prostitutes may have similar feelings – that they have no choice – because of acute poverty or the need to feed an addiction. But aside from sex slaves, neither case involves someone being forced to sell sex for whatever currency.
Morally, there is no difference. If you think there's nothing wrong with prostitution then sex-for-rent is not a problem. Moral panic over.
---
A gender-neutral education
Highgate School in north London, one of the capital's leading private schools, is considering introducing gender-neutral uniforms because, according to its headmaster, it will make pupils 'feel happier and more secure in who they are'.
Education is not about 'making children happy'. It's about imparting knowledge. Education should never make you feel settled or secure – it should challenge you. The best schools are the ones that form good characters, not leave them to fester and stagnate. Indulging pupils in this matter will only breed narcissistic neurotics.
Patrick West is a spiked columnist. His new book, Get Over Yourself: Nietzsche For Our Times, will be published on 1 August by Imprint Academic. Preorder it here. Follow him on Twitter: @patrickxwest
Picture by: Patrick West.
To enquire about republishing spiked's content, a right to reply or to request a correction, please contact the managing editor, Viv Regan.