Comey, hero of the #Resistance? Please
Trump's sacking of Comey looks more stupid than sinister.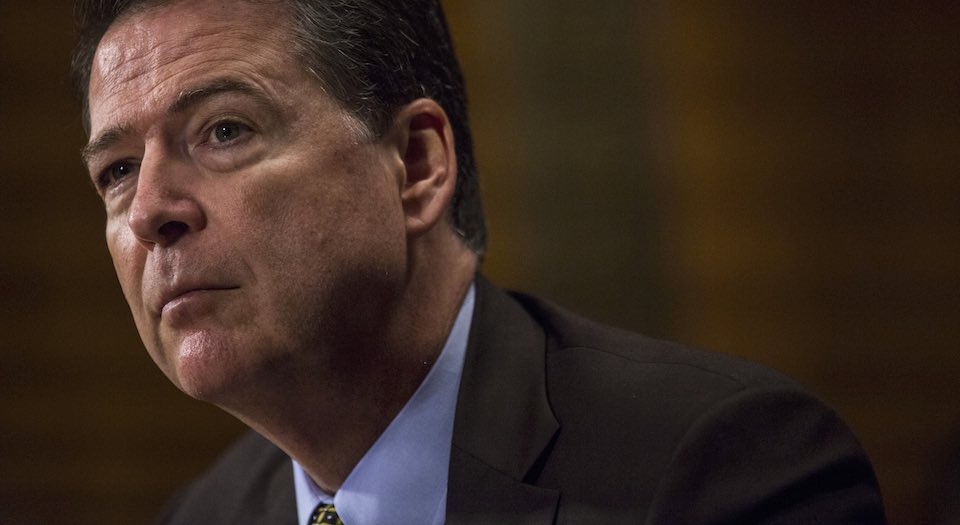 President Trump's dismissal of James Comey from the FBI provoked outrage among Democrats, and some Republicans. Comey recently confirmed that he was looking into allegations of links between the Trump campaign and Russia. And just days ago he asked for more resources to pursue this investigation. So, naturally, people are suspicious of Trump's motives in sacking him.
In the eyes of many, the firing of Comey was a cynical ploy by Trump, an attempted cover-up of his relations with Russia. 'President Trump fired the man investigating him and his cohorts', as Democratic caucus chairman Joe Crowley put it. 'Were these investigations getting too close to home for the president?', asked Democrat Chuck Schumer. 'One cannot help but be reminded of President Nixon's Saturday Night Massacre. This action only raises further questions regarding the administration's ties to Russia', said Democrat congressman Raja Krishnamoorthi.
Before the firing, however, Democrats were condemning Comey, and even calling for his head. A few days before the presidential election, Comey wrote a letter to Congress saying the FBI would reopen its investigation into Hillary Clinton's emails. Back then, Schumer said he'd lost confidence in Comey. Democratic lawmakers were outraged by his actions. Democrat representative Steve Cohen even called for him to resign.
Comey's decision to reopen the Clinton investigation gave him top billing on the Democrat establishment's list of extenuating circumstances that cost it the election. He was the man who cost Clinton her crown. Clinton herself partly blamed him for her loss.
He was a Trumpist in a federal windbreaker jacket, people suggested. Some even said the FBI itself was politically compromised and out to get the Clintons. As a writer for the liberal magazine Mother Jones argued, 'The FBI is full of middle-aged white guys' with an anti-Clinton bent, due to their listening to 'lots of Rush Limbaugh'.
Now, post-firing, as if he were entering the federal witness protection programme, Comey is viewed entirely differently; he's becoming an almost legendary figure. He's no longer a Trump stooge – he's a fallen member of the #Resistance. He's been reimagined as the man who was about to bring down Trump.
This is nonsense. If Trump sacked Comey to scupper the investigation, then it was a very shortsighted move. Federal law requires that Comey's replacement be okayed through confirmation hearings. So it is highly unlikely Trump will be able to replace him with some Breitbart lackey or a member of the Trump dynasty looking to transition from property to politics. The president can't just install someone who will kill worrying investigations.
In fact, if Trump is trying to bury embarrassing links between his team and Russia, then firing Comey was a grave error. Because in the eyes of the anti-Trump side, this is a confirmation of guilt. If there are alleged Russian-sponsored operatives in the White House, they aren't very clever.
Trump's actions have amplified the Russia talk, as he and his team should have known they would. Frontpage splashes are revisiting the claims that Trump is something of a Putin stooge or that Russia manipulated the election. Even worse for Trump, the confirmation hearings for Comey's replacement are certain to be a circus of Russia-based conspiracy theorising.
This is not to say that Democratic lawmakers are wrong now to be concerned about Comey's dismissal. It is perfectly natural that a president firing a man who is investigating his team would raise eyebrows. But it seems more likely that Trump ordered Comey's dismissal out of some sort of personal grudge or vendetta, and in a thoughtless way. That is troubling, of course, but it looks less like a Machiavellian move or a Richard Nixon-style piece of political chicanery than a blunder, a kneejerk act, now so characteristic of the Trump administration.
Running through the whole Comey saga, from the claims he was an anti-Clinton saboteur to the hailing of him as an anti-Trump crusader, is the Democrats' incredible talent for blaming anyone but themselves for their loss of the election. If it's not FBI meddling or fake news and Facebook algorithms, it's Russian intrigue: there's always some external force that screwed it up for them.
It is entirely possible that there may – with the emphasis on may – have been some Russia-related wrongdoing by Trump or his team. And an FBI investigation may be needed to establish the facts. Yet that doesn't mean accepting, as the Democrats and some in the media want us to, that the election was therefore faulty and the American people were somehow misled.
Many Democrats cannot accept that they lost votes in states that were once their heartlands. They would sooner believe that the steelworkers of Pennsylvania failed to vote for them because they had been got at by Russian dark arts rather than because they had lost faith in the Democrats.
Tom Bailey is a spiked columnist. Follow him on Twitter: @tBaileyBailey
Picture by: Getty Images.
To enquire about republishing spiked's content, a right to reply or to request a correction, please contact the managing editor, Viv Regan.