Where is the 48 per cent?
The vast majority of Remain voters are democrats.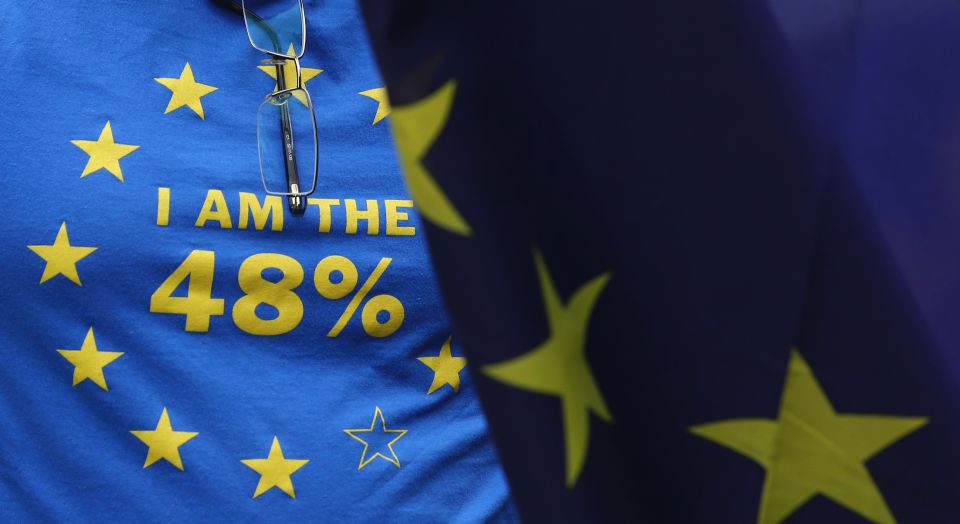 Following the Brexit vote on 23 June, embittered elite Remainers attempted to find solace in the only thing they could trust: themselves. Announcing the birth of 'the 48 per cent', those supposedly dismayed by Brexit and committed to overturning it, they soon spawned a subculture all of their own.
Eleven months down the line, being a member of the 48 per cent has become as much a lifestyle choice as a shriek of indignation. Disgruntled Remainers can now read the New European – the self-dubbed newspaper of the 48 per cent. When they aren't ironing one of their many eBay-sourced 'We are the 48 per cent' t-shirts, ardent 48 per cent-ers can now spend hours on a variety of online forums and Facebook groups dedicated to their tribe. Rumour has it that 48%: The Movie is even being made. Although any potential plot is as yet unknown, a 90-minute video of Paul Mason weeping would probably suffice.
With the snap election approaching, some Brexit-bashing politicians maintain that galvanising the support of the 48 per cent is a surefire means to electoral victory. Lib Dem leader Tim Farron has announced that the 'Lib Dems are the only choice for the 48 per cent'. Gina Miller, the self-appointed leader of spurned Remainers, has launched a new campaign to ensure anti-Brexit MPs don't lose their seats. The businesswoman hopes that tactical voting will ensure the 48 per cent will have their voice heard.
But do a bit of digging and it becomes clear that the 48 per cent is nothing more than a myth. Yes, 16.1million people voted to Remain in the EU last June. And yes, that did represent 48 per cent of people who turned out to vote. After referendum day, however, the 48 per cent ceased to exist. Rather than respond to the result with a unified squeal, as Gina and her band would have you think, the vast majority of those who voted Remain accepted the result and moved on.
This was made clear in a recent YouGov poll, which suggested that 69 per cent of the public now thinks Brexit should go ahead. Only 21 per cent said it should be overturned. Another recent poll suggests that only 27 per cent of the public thinks there should be a second referendum, on the Brexit deal. A significant proportion of the original 48 per cent appreciate that getting on with Brexit is the right thing to do.
The local elections seemed to confirm that unabashed anti-democrats are indeed in the minority. The Lib Dems, now running as the anti-Brexit party, lost seats. Clearly, the myth of the 48 per cent is just a convenient fiction used by high-profile anti-democrats to lend a sheen of mass support to their attempts to thwart Brexit.
This is particularly unconvincing given these people's barely veiled contempt for the demos. The New European recently ran a front page that depicted an overweight, inebriated and apparently racist Leave voter under the headline 'Skegness is So Brexit'. Not only did this caricature display all the wit of a five-year-old – it also showed that those looking to overthrow Brexit are motivated more by revulsion at the deplorable 52 per cent than by any genuine demand for action from the 48 per cent.
These embittered elitists should be challenged by Leavers and Remainers alike.
Jacob Furedi is a spiked columnist. Follow him on Twitter: @jacobfuredi
To enquire about republishing spiked's content, a right to reply or to request a correction, please contact the managing editor, Viv Regan.