Stephen Fry and the new blasphemy laws
The UK and Irish authorities are now required to indulge people's hurt feelings.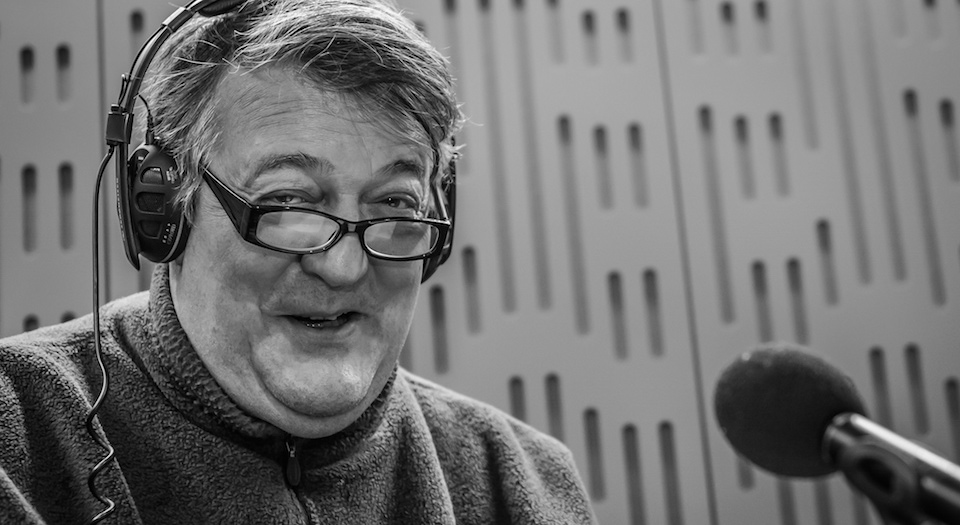 I love a good blasphemy trial. Unfortunately they're about as common these days as red squirrels or UKIP councillors. Imagine my delight, therefore, when police in Ireland decided to launch an investigation into Stephen Fry for remarks he made about the almighty deity during an televised interview for RTÉ in early 2015. During the course of the programme Fry expressed the view that if God exists he must be 'utterly, utterly evil', 'totally selfish', and 'quite clearly a maniac'. 'Why', Fry asked, 'should I respect a capricious, mean-minded, stupid God who creates a world which is so full of injustice and pain?'.
That the Christian God is 'capricious' and 'mean-minded' has some Biblical justification. In the Second Book of Samuel, we are told that God killed the Israelite Uzzah for accidentally touching the Ark of the Covenant after a pesky ox stumbled and knocked him aside. In the Second Book of Kings, we see God unleashing two wild bears to mutilate fatally 42 children for the crime of mocking a bald man. Given this track record, I'm surprised that Fry wasn't struck down then and there on national television. If nothing else, this does at least prove that God has developed a greater degree of restraint.
Many prominent humanists and atheists have been quick to vent their indignation on social media, but the likelihood of a case like this making it to court is infinitesimal. The Irish authorities have now made clear they won't be pursuing Fry, and it's easy to see why. The case would be over in five minutes. All Fry's defence would have to establish is that we no longer live in a society which should be subject to medieval canon law. A copy of this year's calendar ought to do the trick.
Even so, a trial would be a wonderful thing. Not solely because of its inherent entertainment value – imagine the Gardaí having to prove in court that a) God exists, and b) that he's mightily pissed off – but also because it would be a means by which Section 36 of the 2009 Defamation Act could be contested and, with any luck, repealed. The act was introduced by justice minister Dermot Ahern, and includes an amendment concerning 'publication or utterance of blasphemous matter', which stipulates that anyone found guilty will be 'liable upon conviction on indictment to a fine not exceeding €25,000'.
As Roy Greenslade has pointed out, Ireland is the only developed Western nation to have created new blasphemy laws since the beginning of the 21st century. In the UK, blasphemy was technically illegal until 2008, although prosecutions were scarce in the preceding decades. With a few notable exceptions – such as Mary Whitehouse's private prosecution against Denis Lemon, editor of Gay News, for publishing a poem which eroticised the body of the crucified Jesus – accusations of blasphemy have rarely led to convictions.
Yet there are many who would be in favour of the reintroduction of such laws in this country. When the Olympic gymnast Louis Smith was filmed making jokes about Islam, he was subjected to a barrage of criticism in the media and was banned for two months by British Gymnastics. Mohammed Shafiq, chief executive of the Ramadan Foundation, called for Smith to apologise unreservedly. 'Our faith is not to be mocked', said Shafiq, momentarily forgetting that he lives in a secular society which values freedom of expression. Perhaps worst of all, Smith was interrogated about his behaviour by Janet Street-Porter on ITV's Loose Women, an ordeal that no sentient being should ever be compelled to endure.
Had Smith made his anti-Islamic jokes in Ireland, he could now be facing the prospect of a criminal probe. That said, few believe that the Irish authorities would ever be foolish enough to enact this bizarrely archaic law. I have a suspicion that the anonymous individual who reported Fry to the police only did so in order to demonstrate the preposterousness of having such a law on the statute books in the first place. The complainant made assurances that he was not personally offended, that he 'believed that the comments made by Fry on RTÉ were criminal blasphemy' and that he was merely doing his 'civic duty'. The man is clearly either bored, mad, or trying to make a point.
The complaint itself should not worry us. Of far greater significance is the fact that the police feel compelled to take complaints like this seriously. One would expect them to point out that a citizen's private sensibilities are no concern for the state, and that even unpleasant people may exercise their right to say unpleasant things. In any case, the police surely have more pressing matters to attend to. They're called crimes.
It is telling that the police specifically asked the complainant whether or not he felt 'offended' by Fry's views. This has been a sinister development in recent years, with police in both Ireland and the UK deeming personal offence to be the chief criterion when it comes to determining what constitutes criminal speech. A fortnight ago, Katie Hopkins was yet again reported for committing a 'hate crime' for one of her obnoxious comments. The police are obliged to take action because of their own official guidelines, in which it is made explicit that subjective feeling is the determining factor. Hate crime is defined by 'the perception of the victim', and this perception should under no circumstances be challenged. According to the guidelines, 'evidence of hostility is not required for an incident or crime to be recorded as a hate crime or hate incident'. After all, why should an impartial investigative body be concerning itself with empirical facts?
These guidelines illustrate the inherent danger of concept creep, through which a rash tweet by a provocateur like Hopkins can be casually conflated with instances of violent physical assault. It is precisely this culture of offence that informed the call to investigate Stephen Fry's remarks. The Irish Defamation Act makes it clear that a blasphemous offence is defined by whether or not it has caused 'outrage'. When legal standards become so nebulous and subjective, it is hardly surprising that some will regard Fry's opinions as criminal.
It is a staggering form of entitlement to suppose that one can prance through life without ever having one's most deeply held beliefs challenged or mocked. Yet it is now official protocol for police services in both the UK and Ireland to indulge anyone who claims to be offended. That this has become the accepted norm should trouble us far more than anything Stephen Fry has ever said. When the state seeks to curtail its citizens' freedom to speak their minds we should all be vigilant. God can look after himself.
Andrew Doyle is a stand-up comedian and spiked columnist. Follow him on Twitter: @andrewdoyle_com
To enquire about republishing spiked's content, a right to reply or to request a correction, please contact the managing editor, Viv Regan.