French election: 'It's time for a big political shake-up'
Jean-Yves Camus on the end of left and right and what comes next.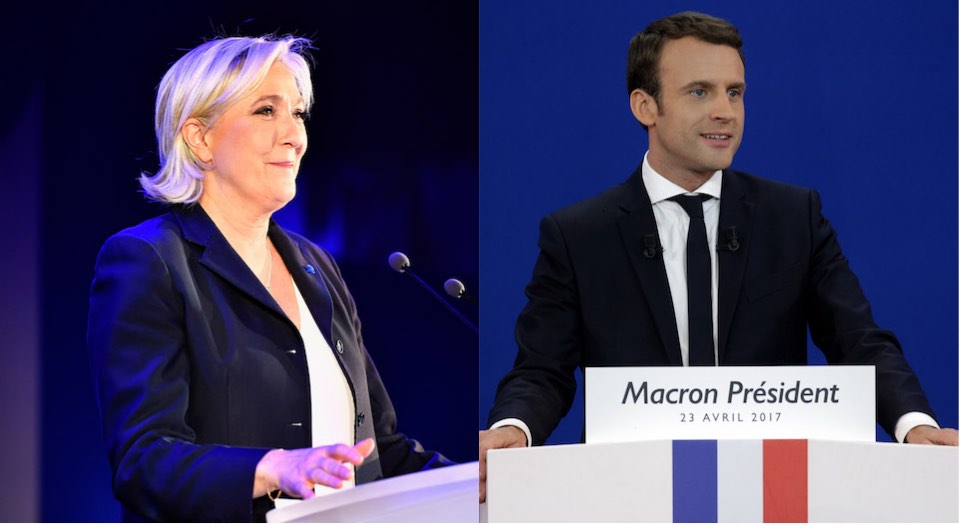 'Maybe the time has come for a big shake-up of the political system', says Jean-Yves Camus, the French think-tanker, Charlie Hebdo columnist, and expert on the far right.
It's a couple of days before the presidential election, and I meet Camus, head of the Observatory for Political Radicalism (part of the think tank, Fondation Jean Jaurès), in a café in the trendy Marais district of Paris.
Camus says he considers himself a social democrat, but he isn't a member of the Parti Socialiste. He says this election is the 'end of a political cycle for the Socialist Party'. I ask if he thinks the 'shake-up' he is talking about will happen after this election. 'If the Parti Socialiste does badly in June [in the parliamentary elections], I think this will happen', he says.

On Sunday, French voters will decide who will be the next president, choosing between centrist independent candidate Emmanuel Macron and far-right Front National candidate Marine Le Pen. This is only the second time in the history of FN that it has made it through to the second round of a presidential election. The last time was in 2002, when Marine's father, Jean-Marie, faced Jacques Chirac. People in France were shocked and voters united to block Le Pen, resulting in a landslide victory for Chirac. This time, the climate feels different. 

Camus explains: 'The way people are into politics has changed. Back in 2002, being a militant in any kind of political party included attending marches, demos and going to meetings. In 2017, many people, especially within the younger generation, are only on social media. They do not attend marches any more, they do not go to meetings.'

This election is historic for being the first time since the establishment of the Fifth Republic in 1958 that neither of the mainstream left and right parties has got through to the second round. In the 2002 election, the left were able to present themselves as a party fighting fascism, justifying a vote for Les Republicains candidate Chirac as a necessary stand against the threat of FN. 'That was sufficient in 2002, but it isn't now', says Camus. 

There was much celebration when incumbent president and leader of the PS François Hollande won the 2012 election, ousting Conservative president Nicholas Sarkozy. But between Hollande's victory and this election, the PS appears to have crumbled. Hollande now polls as the least popular French president of modern times. Fractures within the party have become so deep they seem irreparable. Political nobody Benoît Hamon won the PS primary, but the party refused to unite behind him and he ended up winning a paltry six per cent of the vote in the first round. What has happened to PS's traditional voters? 

'The Socialist Party has been in power several times since 1981. And each time they were in power they had to solve some of the very big economic problems that the conservative right did not take care of', Camus explains. 'So they had to adjust to the free-market economy, to acting within the frames of the institutions and that is quite difficult for a party with a socialist agenda. For a party which has been in opposition for so many decades, when you come to power and you have to run the country on a day-to-day basis, some of your voters can become disenchanted by the fact that you do not offer this agenda for transforming society… Some of the promises you have made you cannot deliver. The PS up to the 1970s was still pretty much into "we will make the revolution". And when you are in government and you do not make the revolution, you just have to take care of the country, then of course some of the people on the fringe of the party say that is a betrayal of socialist ideals.'

The multiculturalism agenda also had a role to play in the left's downfall, argues Camus, especially following the growth of Islamist terrorism. 'When you are a social democrat and you were told that multiculturalism brings something positive to society and you have those terror attacks carried out by young people, who are Muslim, but who were born here in France… They do not come from any foreign country. They were born here, raised here, went to a public school and they seem to have a kind of hatred for the West, for democracy… I mean that's a huge challenge to this idea of multiculturalism being something positive, that you have to sell to your voters.'
'Part of the left is trying to move away from it, like Emmanuel Valls', he says. 'But part of the left is still clinging to this idea that we should be open to cultural differences.'
Camus says the right-wing Les Republicains has failed in this election because François Fillon, who won the right primary, was also unable to read the changes in France's political landscape. 

'He spoiled his victory… This guy was going to win, sure. And he did everything in order to lose the fight, simply because he did not understand that we have come to such a level of distrust in political parties that you cannot behave like he did, you cannot simply say: "Oh yes, probably I did something wrong, but anyway this is not so important." Nowadays people think it is important and if you do these kinds of things you cannot, and you should not, become president. He didn't take this seriously and he was terribly wrong.' Fillon is still being investigated over allegations that he paid his family members for doing fake jobs.
Jean-Yves Camus
Amid the collapse of the left and right and in the context of a political landscape undergoing seismic change, the FN seems to be undergoing a transformation, too. When Marine Le Pen became leader of the party five years ago, she began a 'de-demonisation' strategy, to distance herself and the party from her father's Holocaust denial and the party's old reputation as fascistic and anti-Semitic. Clearly she has convinced some voters, as she won 21.53 per cent of the vote in the first round, amounting to 7.6million votes.
Camus remains unconvinced, though, that Marine Le Pen's changes are anything other than superficial. 'One of the successes of Marine Le Pen is that she makes believe that the party has changed, only because the most unacceptable words have been dropped, especially with regards to anti-Semitism and the Holocaust. But if you take a close look at the political agenda you will see that most of the features of the 1980s and 90s remain. For example, this idea of giving rights to the native people which would be superior to those of immigrants; the stance on immigration; the stance on Islam; this hatred and contempt that she shows towards everything that is multilateral. She wants to leave NATO. If given the choice, she would say pulling out of the United Nations is nothing bad. This kind of rejection of everything that is not strictly national, these have been constant features of Front National since its inception in 1972.'
Camus doesn't consider FN a fascist party – 'If you stick to the academic definition, no'. However, he is worried about what an FN with real power could do: 'So the most extremist stance has been dropped, this is especially true of anything related to anti-Semitism, but that is not enough. It doesn't change the fact that this party, if in power, would really change not only the situation of those with a foreign background, but would certainly change the institutions. It wouldn't become a dictatorship in a fascist way. But it would be more similar to Poland or Hungary or Slovakia. It's what some of my colleagues in the US call "illiberal democracy". This means that you keep the institutions, the constitution, the political parties, and there are elections which are still pretty fair, but the executive is totally omnipotent… You have a kind of democracy that is not what it used to be.'

Even so, Le Pen has managed to increase support for FN significantly. In the first round, FN improved its score in every département in France compared with the 2012 election. Camus identifies Le Pen's key groups of support: 'She has made very big inroads within the category of those aged between 18 and 24. But it is not [all] the youth – it is this part of the French youth with a lower educational level. There is a divide between those who have a university degree and those who do not. Those who vote for Le Pen mostly dropped out of school at 16 or 18, they had a technical eduction, so came on to the job market quite early with all the difficulties you can go through when looking for a job at 16, 17. And on the other end, when we look at people at universities, there are very few who consider voting for FN.'

Another group among whom Le Pen enjoys a lot of support is the working class. However, Camus is quick to point out, 'The majority of working-class and young people do not vote. So Le Pen gets a huge number of votes in those categories, but only among those who vote; the others simply do not bother to go to the polls. They feel like politics will not change their lives.'

Perhaps one of the starkest examples of the growing acceptability of voting FN was a 2014 IFOP study revealing an increase in Jewish voters backing Le Pen. The poll estimated that Jewish votes for FN in the 2012 election – Marine Le Pen's first presidential election – were more than three times that of the 2007 election, when Jean-Marie was candidate. The Jewish community of France stands at around 400,000 and, as Camus points out, many of those cannot vote (they are minors) or will not vote. So while IFOP estimated that 13.5 per cent of Jewish voters voted for Le Pen in 2012, the actual number of votes will be small. This is not insignificant, says Camus, 'but it doesn't mean a significant part of the Jewish community now supports the National Front'. This year, French Jewish organisations are using social media to urge the community to vote against Le Pen and for Macron. 'They say it's not possible for a Jew to vote for Le Pen. This is understandable because how can you vote for a the party that wants to forbid you from wearing a kippa [skullcap] in the street and ban kosher slaughter?', he asks.

The increase in Jewish support is also partly down to the community's growing disillusionment with the left, says Camus, in particular since the Second Intifada in Israel. 'They really felt betrayed by the left.' However, 'it is not black and white', he says, adding that the PS is divided over Israel, and you find pro and anti-Israel advocates among conservatives, too.
Camus believes there is something else at play. 'Another explanation I think, is the Jewish community in France is primarily made up of people who come from North Africa… Those who have lived in Morocco and especially Algeria who were forced to leave in the 1950s and 60s [when those countries became independent from France] – they really feel like the bad times are coming back. People tell me, "I come from Algeria and my family was kicked out in 1962 and now the same people, the same Muslims who kicked us out, come to France and try to invade us and try to change the culture of this country." They feel that they are experiencing the same ordeal.'

So is Le Pen in with a chance of winning? Camus doesn't hesitate: 'No.' He thinks she can gain some votes in the second round, but 'what we have to see is if she can climb to 40 per cent or stay at around 30 to 35 per cent – in which case that would be a huge defeat.' Camus says Le Pen's un-presidential performance in the televised debate with Macron on Wednesday – where she resorted mainly to name-calling – will not have helped. 'Another reason why the French do not want Marine in office: they might agree with what she says on immigration, on French ethnicity and identity, but they feel this party does not have the capacity to be in government.' Camus adds that no one was fooled by Le Pen's recent announcement that she would step aside from being FN leader for the presidential election: 'How can you believe that Marine Le Pen has broken with the National Front? No way.'
And what of Marine's contender, the youthful newcomer Macron? 'I think he has the ability to be a statesman. He brings something new to this country'. He adds that, with the end of the 'monopoly' on French politics of the two mainstream parties, it works in Macron's favour that he is not a member of a party. However, he says the real challenge for Macron will be gaining a majority in the parliamentary elections in June. He makes an excellent point. Whoever wins on Sunday, the presidential election is only the first hurdle.

Naomi Firsht is staff writer at spiked and co-author of The Parisians' Guide to Cafés, Bars and Restaurants. Follow her on Twitter: @Naomi_theFirsht
To enquire about republishing spiked's content, a right to reply or to request a correction, please contact the managing editor, Viv Regan.