The time and place for passion
Ivo van Hove's Ossessione treats human emotion too abstractly.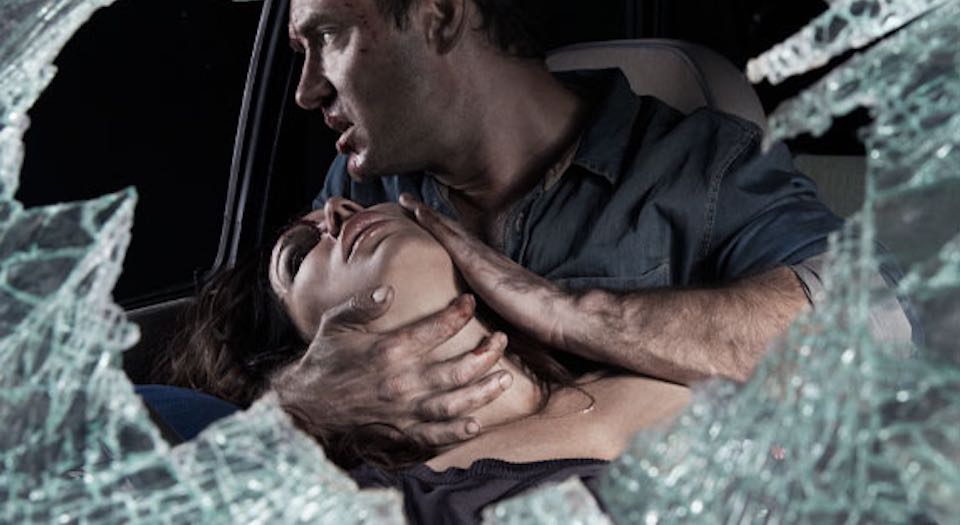 This is how good secular liberals go to church. First they take a classic text or story and strip it to its core. What remains is its universal, transcendental essence which can then be worshipped or revered without fear of theism.
Any classic will do, although in this country it's usually Shakespeare. Otherwise it can be Sophocles, Schiller, Chekhov, Ibsen, Miller. You name it. In this instance it's Ivo van Hove's stage adaptation starring Jude Law of Luchino Visconti's 1943 film Ossessione – which was derived from James M Cain's 1934 novel The Postman Always Rings Twice and became the 1946 film noir.
Van Hove is a high priest of the European avant garde. Previous theatre work includes Shakespeare's Roman tragedies, other Visconti adaptations, and an extremely solemn rendition of Arthur Miller's A View From The Bridge, starring Mark Strong. With his partner, the designer Jan Versweyveld, van Hove favours an extremely low church minimalism that dispenses with the trappings of everyday life and sequesters the characters' psychological drive.
That drive here is passion – the thing which van Hove suggests in the programme we all crave but which ultimately devours us, too. The story is of a drifter who turns up in a small town café and falls for the owner's horny wife. Conveniently the owner is a boorish domestic violent who we are happy to see bumped off. The only trouble is that our lovers discover that once passion has destroyed its obstacle, it turns on its hosts.
This is undoubtedly a potent notion and the smouldering journey to despair is handled with steely intensity by van Hove. Law is no less focused as he hungrily explores the body of Halina Reijn who plays the sexy but manipulative wife. But for all van Hove's attempts to turn this into an abstract ceremony, to make it a story about now and forever, without the markers of time, it misses Visconti's setting of provincial Italy.
Visconti's neo-realist style is embedded in a country struggling to throw off the shackles of fascism. Moreover, wife's social and financial dependence on her husband is an historical artefact. It may apply to some women today, but few or none of them go to the Barbican. It's pointless trying to escape the sexual and cultural confinement that lash this story inescapably to its time and place.
Historical context is, however, inconvenient to van Hove's project of fetishising passion and turning it into a transcendental sacrament. His historical denial demands Versweyweld's vast, could-be-anywhere, mausoleum design with plywood floors and grey elevations. These elevations are used for intimate projections of the characters in ecstatic acts and when they try to flee. Meanwhile a lone accordion mounted on a plinth plays itself. The only colour is when the wife hurls rubbish bins across the stage in a primordial hissy fit. Although red plastic cups suggest our world today, all these elements only deepen the characters historical and cultural isolation.
A good deal of supporting symbolism is required to prop it up instead. The wife wallops a hunk of meat with a cleaver. A torrential storm is forecast that will end the suffocating humidity. And, crucially, the filthy, broken engine of the café owner's van hangs over the stage like a big ugly verdict of guilt. When Law offers to take a look at the engine, plot, dialogue and symbolism converge. The husband says: 'He knows what's wrong with my engine. He's going to fix it.' And after Law has seduced the Mrs, he says of his host's water pump (an anachronism they couldn't cut): 'I fixed your water pump. It works beautifully.'
The dialogue is, however, a case in point. At first it sounds like van Hove and his English language amanuensis Simon Stephens have two sets of tin ears. But it becomes apparent that the dialogue is not only stilted, but deliberately shorn of all nuance or inflection lest our imagination be infected by banal reality. Under no circumstances must the language be thought to belong anywhere but eternity. Which is why a quintessentially Italian aria from La Traviata sung handsomely by Gus Scholten van Aschat as the husband must be travestied with a blast of Bruce Springsteen's cover of Woody Guthrie's song 'This land is your land'.
In its favour, the task that van Hove has set himself seems to be to find what is permanent beneath what is transient. But the founding principle in resurrecting something so steeped in the past is one of fungibility. The idea that then and now are interchangeable commodities traded in a theatrical stock exchange. As such it is the perfect cultural counterpart to a globalised world where free markets dissolve barriers of time and place. The characters' humanity is a transactable commodity.
But human beings are not abstractions. They are always found in a specific time and place. To universalise them in this way robs them of their pathos. What isolates us in time and place is every bit as potent as what unites us across time and place. But you can't have one without the other. Our mystery lies between the two. The permanent is only ever glimpsed from the point of view of the transient and eschewing transience risks losing permanence, too.
Van Hove says he removed all references to Italy (barring opera and names) so he could 'analyse the story of what real passion is'. Except that 'real passion' is a highly material, time-based phenomenon. It exists only in mutable flesh in vanishing moments. It always wears the colour and cloth of its era. Van Hove may be looking forward to a time when he can reduce performance to pure ritual, a digitally enhanced primal grunt. But if he succeeds, he'll find himself in a textureless void. He's almost there already.
Patrick Marmion is a playwright, journalist and associate lecturer at the University of Kent. He is currently adapting Will Self's Great Apes for the stage.
Obsession is at the Barbican Theatre, London, until 20 May.
Picture by: Barbican
To enquire about republishing spiked's content, a right to reply or to request a correction, please contact the managing editor, Viv Regan.