Call off this mad War on Sugar
Fizzy drinks v diet drinks: the health bores lose the plot.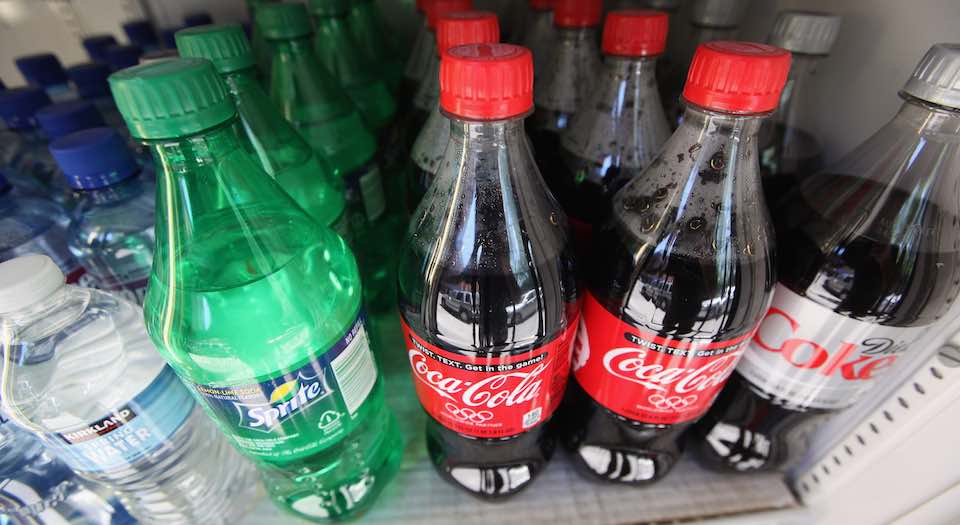 There were two new developments in the debate about soft drinks last week – apparently contradictory, and yet both so in keeping with modern trends around health. One was the latest skirmish in the War on Sugar. The other could mark the start of a War on Sugar-Free.
On Thursday, the NHS announced that leading retailers who run shops in hospitals – including WH Smith, Marks & Spencer, Greggs and Subway – had agreed to cut sales of sugary drinks to just 10 per cent of total drink sales. The restriction applies not only to obvious candidates like Coke and Pepsi, but also to hot drinks containing syrup and even fruit juice. Yes, fruit juice – the stuff we are encouraged to drink in moderation as one of our 'five a day'.
The chief executive of NHS England, Simon Stevens, said: 'A spoonful of sugar may help the medicine go down but spoonfuls of added sugar day-in, day-out mean serious health problems.' He added: 'It's great that big-name retailers are agreeing to take decisive action.' But to say that retailers are agreeing to these measures is a stretch – this is a 'voluntary' arrangement that comes at the end of a gun barrel. If retailers hadn't agreed to these measures, the threat was that all sugary drinks would be banned. 'Voluntary', in other words, means the opposite of voluntary. How very Orwellian.
The question is, will such a ban have any impact on health? Of course not. Like most public-health schemes, this is about being seen to do the right thing, leading us dimwitted plebs by example. It's the same kind of thinking that means hospital staff must scurry off-site just to smoke a cigarette, and patients who want to smoke must be consigned to special shelters hidden from public view. The NHS cannot simply treat people who are ill – it must embody the gleaming values of healthfulness, too.
What the sugary-drinks restrictions will do (and God knows how they will be implemented) is simply reduce choice. At present, if hospital visitors and patients want to avoid sugar, there are plenty of options to choose from. This new policy is about taking choice away, forcing us to do the right thing in the eyes of health officials.
While the NHS encouraged us to go sugar-free on the basis of dubious scientific evidence about the dangers of sugar, a study published on the same day seemed to be the starting pistol on an assault on sugar-free drinks. The study is based on the Framingham Heart Study Offspring data, which has been collected since 1971. In other words, the study simply dredges data that was collected for other reasons. It found that those who drank diet drinks were three times more likely to develop dementia, or have a stroke, than those who didn't. Sales of diet drinks, already showing signs of decline, will no doubt be hit further by this news.
As it happens, the NHS website actually provides a useful response to those headlines. 'Overall, when taking account of all health and lifestyle factors that could have an influence (confounders), the researchers actually found no link between artificially sweetened drinks and risk of dementia', it says. 'The figures reported in the media came from a model that wasn't adjusted for all confounders, such as diabetes, that could explain part of the link. For stroke, the links with artificially sweetened drinks were inconsistent. There were no overall links when looking at longer term patterns.'
But regardless of this clarification, past experience suggests that any future discussion of diet drinks will most probably mention that they have been 'linked' with strokes and dementia. Even that otherwise sensible NHS website story argues 'the lead author's reported statement that it is healthier (not to mention cheaper) to just drink water is sound advice'. Why is it healthier to drink water? What links have actually been made between diet drinks and ill-health? None, it would seem. How long before somebody suggests a crackdown on diet drinks, just in case?
The upshot of both the NHS sugary drinks restrictions and the misleading claims about diet drinks is to reduce our freedom to choose what we want. It is an attempt to put health above any other consideration – like whether or not drinks actually taste nice, for example. Nothing but boring old water will be the order of the day.
I'm not a fan of sickly sweet soft drinks – give me a cup of tea (no sugar, thanks) any day. But please stop meddling in our choices, and let us decide for ourselves such trivialities as what we want to drink.
Rob Lyons is a spiked columnist.
Picture by: Getty Images.
To enquire about republishing spiked's content, a right to reply or to request a correction, please contact the managing editor, Viv Regan.