Macron-Le Pen and the death of left and right
The old politics no longer holds. So what now?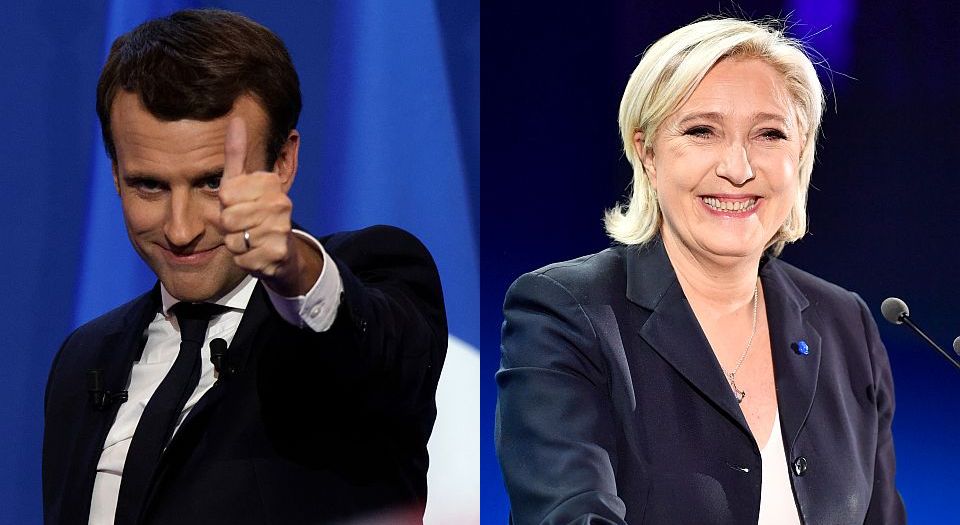 The idea of left and right was born in France, according to which side of the Assemblée Nationale people sat on in the revolutionary period of the late 18th century. Last night, it died there, as it has been dying in other nations.
On Sunday, neither major party succeeded in securing a candidate for the second round of the presidential election. Instead, centrist independent candidate Emmanuel Macron topped the results with 23.75 per cent of the vote, followed closely by far-right Front National (FN) candidate Marine Le Pen with 21.53 per cent. This is the first time in the history of the Fifth Republic (begun in 1958) that neither the main left-wing party, Parti Socialiste (PS), nor the main right-wing party, Les Républicains, have made it through to the second round.
As spiked has pointed out throughout this extraordinarily volatile campaign, the only certainty in this election is the disruption it will cause to the French political landscape.
It's a remarkable win for Macron, the civil servant turned banker turned politician. He has never held elected office and is only 39 years old. His victory last night left many in the European political establishment relieved. EU leaders – dreading a second-round run-off between Eurosceptics Jean-Luc Mélenchon and Marine Le Pen – tweeted their congratulations to EU-enthusiast Macron.
Similarly, those in the establishment parties have thrown their weight behind Macron, and are taking succour in the fact that he is likely to beat Le Pen easily in the next round. This is not only complacent, but a refusal to recognise the significance of last night's result. The mainstream parties are moribund. Even if Macron beats Le Pen – and nothing is certain – the established parties lose.
But talk of Macron revolutionising French politics is also overcooked. In a triumphant speech to his supporters on Sunday night, he said that his one-year-old En Marche ('Moving Forward') movement had 'changed the face of politics in France'. But his rise speaks less to his dynamism than to the corrosion of the old politics. After all, the biggest criticism of Macron is that his policies are vague and unprincipled.
Macron and his supporters were jubilant last night, celebrating as if he had already been made president. His speech was punctuated by chants of 'Macron président!' from the crowd. But with barely a two-point lead on Le Pen, it is hardly a resounding success. The reality is that less than one quarter of French voters thought Macron was worth voting for.
The durability of a potential Macron presidency is far from clear. The June assembly elections are still to come, and En Marche, more virtual movement than party, currently has no MPs. While Macron has announced he will field candidates for all 577 seats, success is by no means guaranteed. He may well need to depend on cutting deals with existing centrist members to govern effectively. But the blow to the established parties this presidential race represents still cannot be underestimated.
Last November, Francois Fillon pipped the favourite, Alain Juppé, to the post in the Les Républicains primary, and was on track to become the next president. But his campaign just wasn't strong enough to withstand the fake-jobs scandal, for which he is still under formal investigation. He lost a great deal of support within his own party. Fillon came third last night with 19.91 per cent of the vote.
Meanwhile, PS presidential candidate Benoit Hamon suffered an even more humiliating defeat, winning just over six per cent of the vote. He trailed far behind radical left-winger Jean-Luc Mélenchon, who came in fourth with 19.64 per cent. In his concession speech, Hamon called it a 'moral defeat' for the left. He's not wrong. The fissures within the party have become too deep. Indeed, key figures in PS, including former prime minster Manuel Valls, pledged their support to Macron before the election itself began.
Some commentators have suggested that outgoing president and current PS leader Francois Hollande engineered Macron's rise to power. 'One by one, obstacles to Macron's succession were ruthlessly eliminated and Hollande's fingerprints are everywhere', writes Jonathan Miller in the Spectator. Whether or not the PS holds sway over Macron, the idea that the PS would need to maintain its influence through him speaks to its collapse as a party.
A lightning Ipsos poll on second-round voting intentions has Macron crushing Le Pen with 62 per cent to 38 per cent on 7 May. Both Hamon and Fillon were quick to back Macron for president during their concession speeches, encouraging their respective supporters to do the same. But this 'lesser of two evils' approach, which saw Le Pen's father, Jean-Marie, defeated in the second round in 2002, only underlines the weakness of Macron's vision, and the disarray of the establishment now backing him.
Left-right party politics, the defining feature of modern political life, has been swept aside. It's the end of an era, and in many ways that's a good thing. It opens the space for new thinking, a new politics. So far, however, this break with history has only produced a race between the old, ugly right and an insider's outsider. The opportunity for something new, something progressive even, has not been seized. France deserves better.
To enquire about republishing spiked's content, a right to reply or to request a correction, please contact the managing editor, Viv Regan.